Torero Athletics: Basketball Teams Split WCC Games; Swimmers Fall to Villanova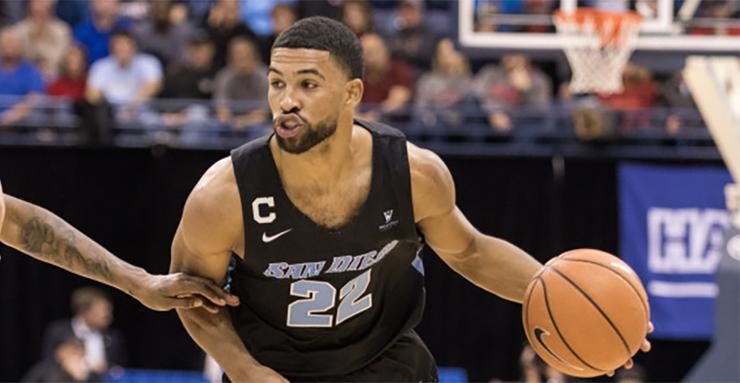 School might not be in session for USD's men's basketball players right now, but a split of their West Coast Conference games — an overtime win Jan. 4 at Portland and then a loss at Saint Mary's on Jan. 6 — gave Coach Lamont Smith's team a chance learn some valuable lessons as the season goes forward.
The Toreros survived an 81-74 overtime victory at Portland, led by junior guard Isaiah Wright's career-high 30 points.
"We are learning a lot about our basketball team," Smith said. "The thing I'm most proud of is in the past we would have folded. Both the coaching staff and the players huddled up knowing we were going into overtime without both Isaiahs and we took care of business with a 9-2 run. Olin Carter hit a big three and I thought Juwan Gray was just outstanding down the stretch for us. I was really excited about a bunch of guys contributing and gutting that win out."
Wright, despite fouling out, was joined in double-digit scoring by Carter (16 points) and Tyler Williams (10). USD finished 11-of-27 from beyond the arc, which marked their sixth game this season of making 10 or more three-pointers.
But the tough victory may have taken something out of them facing St. Mary's two nights later on the road. The Toreros battled the Gaels from start to finish, but lost 70-63. The Toreros fell to 12-4 overall and 3-1 in the WCC.
San Diego was paced by Wright (18 points), Isaiah Pineiro (17 points), and Gray (16 points).
"We battled but we got stuck from that 12-minute mark to the eight-minute mark in the second half that allowed them to get back in it," Smith said. "We got away from some things that we were having some success with and they made a great run during that stretch and that was the difference in the game."
The Toreros did enough good things to hold a 33-31 halftime lead over the Gaels. After the break, USD's Wright scored on a lay-in and was followed by a driving lay-in from Pineiro and free throw to make it 38-31. A three-point play from Wright pushed it to 43-35 and a driving left-handed lay-in from Cameron Neubauer pushed it to 47-39. The Gaels then used a 10-2 run to tie it at 49 and force the Toreros to call a timeout with 10:25 left. A 9-0 St. Mary's run made it 58-49 with 7:32 left. A 7-2 run by USD with a pair of free throws each by Pineiro and Carter and a three-pointer by Gray made it 60-56 with 5:31 remaining. Saint Mary's made six of eight free throws late — they went 25 of 32 in all from the free-throw line — to hold off USD.
January games: USD Men's Basketball at Pacific, Jan. 11, 7 p.m.; USD hosts Loyola Marymount, Jan. 13, 7 p.m., Jenny Craig Pavilion; USD hosts Portland, Jan. 18, 7 p.m., JCP; USD at BYU, Jan. 20, 6 p.m.; USD hosts Santa Clara, Jan. 25, 7 p.m., JCP; USD at Loyola Marymount, Jan. 27, 1 p.m.
For the second straight week in West Coast Conference play, the USD women's basketball team earned a split of its two games, which were its first home games of WCC play and its first games in 2018.
San Diego knocked off Portland 59-52 on Jan. 4 inside the Jenny Craig Pavilion. It was a back and fourth game that featured 15 lead changes and nine ties, but the Toreros outscored the Pilots 19-8 in the fourth quarter, taking the lead midway through it and then played lockdown defense to secure their second WCC win.
Maya Hood led the Toreros with 17 points and a game-high seven rebounds. Aubrey Ward-El had 15 points, going 8-for-8 from the line. Sydney Williams chipped in 10 points.
Two days later in an afternoon tilt against Saint Mary's, the visiting Gaels notched a 75-53 win over the Toreros, who were outscored 13-6 in the final quarter.
The Toreros were led by Ward-El, who scored 12 points. The Toreros' bench outscored Saint Mary's 26-6. Aside from Ward-El's effort, Caroline Buhr had 10 points and seven rebounds and Ana Ramos and Alexandria Young each chipped in eight points.
The Gaels were efficient all game, finishing the game shooting 64 percent from the floor. Saint Mary's went up by five points early in the first quarter and never trailed again.
USD was hampered by 15 first half fouls and trailed by eight points entering the second quarter before the Gaels pushed their lead to 15 points in the final minute of the first half. The Toreros scored the first basket of the third quarter to cut the deficit to ten, but that would be as close as they would get and trailed by double-digits for the remainder of the game.
January games: USD Women's Basketball hosts Pacific, Jan. 11, 6 p.m., Jenny Craig Pavilion; USD at Loyola Marymount, Jan. 13, 2 p.m.; USD at Portland, Jan. 18, 7 p.m.; USD hosts BYU, Jan. 20, 2 p.m., JCP; USD at Santa Clara, Jan. 25, 7 p.m.; USD hosts Loyola Marymount, Jan. 27, 2 p.m., JCP.
Kailyn Evans won two individual events to highlight the USD women's swim team's performance in the USD Shootout against Villanova at the Sports Center Pool on Jan. 6.
Evans finished first in the 200-yard individual medley in 2:09.81 and paced the field in the 50 breaststroke in 30.88. She also contributed to a second-place finish in the 400 medley relay for the Toreros.
Despite Evans' standout performance, USD ultimately fell to the Wildcats, 80-47. The meet was a "shootout" format which included preliminary, semifinal and final rounds of 50 yard races in each stroke.
The Toreros were well-represented in each 50 event, registering second-place finishes in each stroke in addition to Evans' top time in the breaststroke. The runner-up results included Alex Hubel in the butterfly (26.74), and Danielle Taylor in the backstroke (27.44) and freestyle (24.72).
USD ended the competition on a high note, as Sydney Wong, Mackenna Briggs, Maeve Murdoch and Hubel combined to win the 400 free relay in 3:36.02.
The Toreros were strong in the other relay event as well, finishing second in the 400 medley relay (3:53.51) behind strong performances by Taylor, Evans, Hubel and Briggs.
Briggs provided the highlight for the Toreros in the 200 free, touching in at 1:58.09 to finish third.
January meets: USD women's swim and dive hosts Fresno State, Jan. 13, noon, Sports Center pool; USD at San Diego State, Jan. 19, noon; USD hosts UC San Diego, Jan. 27, noon, Sports Center pool.
Keep up with all USD Athletics news, scores and information by visiting the website and following the Toreros on social media: Facebook, Twitter and Instagram.