Torero Athletics: Basketball Teams are on the Rise; Football, Volleyball Awards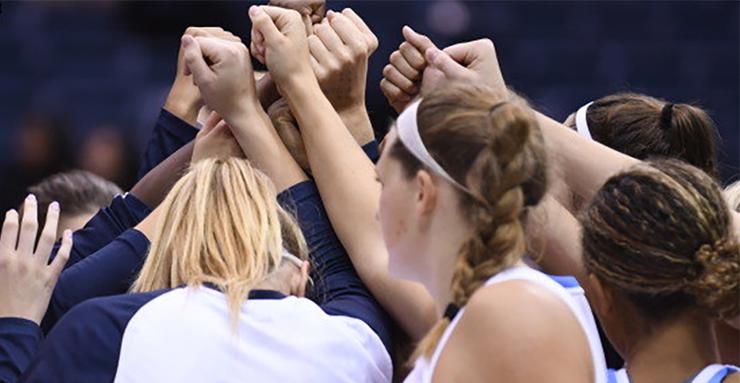 The University of San Diego men's basketball team heads into tonight's road game against Pac-12 Conference opponent, University of Colorado, feeling pretty good.
The Toreros owners of a 7-2 nonconference record with only three games left before West Coast Conference play starts Dec. 28, have won their last two games, a road win at New Mexico State and a home rout of Northern Arizona.
Every opponent and every game is a chance to see what this USD team is capable of becoming. In its two wins this past week, there were certainly things for Head Coach Lamont Smith to smile about.
Against New Mexico State, Isaiah Pineiro scored a game-high 23 points on 9 of 14 shooting, Isaiah Wright had 17 points and eight rebounds and Tyler Williams scored 13 to lift the Toreros to a nice 65-60 road win. The game was tied at 29 at halftime, but big 3-pointers from Pineiro, Wright and Williams in the second half gave the Toreros some momentum and enough to distance themselves from the Aggies.
In a 79-51 blowout of Northern Arizona, the Toreros' defense clamped down from the get-go and the result was a 26-3 run to start the game and a 38-18 halftime lead.
"We talked about how we would approach this game coming off a big win at New Mexico State," Smith said. "Would we be eager for competition and have a high energy to our approach? It showed a sign of maturity for our ball club. We respect all of our opponents and I thought our guys came out and competed and did it the right way on both sides of the ball."
The team's lone senior, Cameron Neubauer, led USD with 17 points, making 8 of 10 shots, including four 3-pointers. Pineiro had 16 points and Williams had 11. All nine of Olin Carter's points were on three-point baskets. This game was in hand early and USD was able to give playing minutes to 14 players.
This Week: Men's Basketball at Colorado, Tonight, 5 p.m. (Pacific), Boulder, Colo.; USD vs. North Texas, Saturday, 7:30 p.m., Jenny Craig Pavilion.
How best do you rebound from a road loss against a nationally ranked team? If you're the USD women's basketball team, the remedy for recovery from an 89-64 loss on Dec. 7 at No. 25 Cal is to schedule a home game against Minnesota, a Big 10 Conference team with a 9-1 record.
Oh, and having Sydney Williams on your team is a necessity.
Williams scored 25 points, which included making a pair of key 3-point baskets in the final stretch to lift USD to an impressive 72-69 win over the Golden Gophers.
Williams made a three-pointer with 2:25 left for a 66-60 lead and made another for a 69-63 Torero advantage with 1:51 left.
Minnesota had ample chances to pull out their 10th win in the waning seconds. With USD clinging to the three-point lead and less than 20 seconds left, Minnesota took three straight shots from 3-point range and missed them all to give USD its first win since Nov. 27.
Aubrey Ward-El scored 13 points and Maya Hood had 12 to support Williams and the Toreros (6-4). Williams and Hood each had seven rebounds. Myah Pace had five assists. Pace and Caroline Buhr's successful free throws gave USD its final points of the game.
In the loss at Cal, Williams again led the Toreros, scoring 18 points. Ward-El had 14, Hood had 12. Pace had a season-high eight assists and Patricia Brossmann had seven points and seven rebounds.
This Week: Women's Basketball vs. University of Texas-San Antonio (UTSA), Saturday, 5 p.m., Jenny Craig Pavilion.
Fall Sports Awards
Football: San Diego senior nickleback Max Michaels was named the 2017 Pioneer Football League Scholar-Athlete of the Year and was a first-team selection for the 25th annual Academic All-PFL Teams.
Michaels, of Poway, Calif., is majoring in accountancy at USD and has posted a 3.95 grade-point average during his academic career. In addition to being named the league's Scholar-Athlete of the Year, he earned his third consecutive First-Team Academic All-PFL selection. On the field, Michaels finished the regular season leading USD in tackles as the Toreros reached the Division I FCS postseason for a third consecutive season. He finished with 74 stops in 13 games this season and eight tackles for loss. Michaels had four passes defensed this season, including an interception.
Michaels was joined on the Academic All-PFL first team by teammates junior quarterback Anthony Lawrence (3.67 GPA, accountancy), senior receiver Justin Priest (3.40 GPA, finance), sophomore offensive lineman Jake Michaels (3.52 GPA, biology), junior defensive tackle Connor Spencer (3.78 GPA, electrical engineering) and senior punter/kicker Jack Flatau (3.45 GPA, communication studies). Academic second team members include senior defensive back Kishan Patel (3.42 GPA, international business) and senior kicker Patrick Murray (3.42 GPA, real estate).
Volleyball: Four Toreros were named to the Pacific South All-Region Team, the AVCA announced recently. Jennifer Petrie was named the region's Coach of the Year and Kristen Gengenbacher, Jayden Kennedy and Addie Picha made the All-Region Team. This is the first time since 2004 that three Torero players were named to the All-Region team. All three players are eligible for All-American consideration.
Petrie, who was named the WCC Coach of the Year, led the Toreros to a 25-5 record and a 17-1 mark in WCC matches to secure the program's 10th WCC Championship. USD lost two All-Americans (Lisa Kramer and Lauren Schad) and their all-time leader in digs (Hunter Jennings) from last year's team, yet the Toreros didn't miss a beat in 2017. They were ranked the entire year, finishing the regular season at No. 9 in the nation. This is Coach Petrie's second time winning the AVCA Region Coach of the Year Award (2013).
Gengenbacher, the WCC Player of the Year, finished the season 11th in the nation and first in the WCC with 11.46 assists per set. Her setting helped the Toreros average 14.92 kills per set, the fifth best rate in the nation. Kennedy finished first on the team and third in the conference with 3.84 kills per set. The senior had a career-best .309 hitting percentage and was an All-WCC First Team selection. Picha, an All-WCC First Team pick, finished 10th in the nation and first in the conference with a .413 hitting percentage, which is the second best single-season rate in program history. She also averaged a team-best 1.32 blocks per set. Picha had a season-high 10 blocks and 12 kills in the Toreros' NCAA second round playoff match against No. 10 seed USC.
Keep up with all USD Athletics news, scores and information by visiting the website and following the Toreros on social media: Facebook, Twitter and Instagram.