College Perks: Students Compete to Make Best Cup of Coffee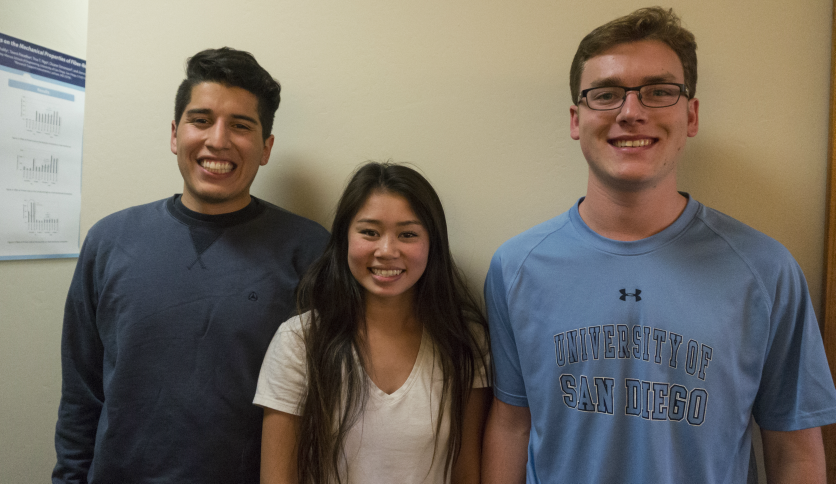 Students in a Shiley-Marcos School of Engineering class this fall discovered that coffee is about more than just good taste.
Through the introductory engineering course they learned about the physical and chemical transformations that occur during the roasting, grinding and brewing process, along with the production processes used around the world and their implications on agriculture, labor forces and societies.
A final project involved a design competition. The score for the student teams was based not only on the taste score of their final brew but also the amount of energy consumed during the coffee making process. The objective was to produce the best-tasting coffee – about one liter total – using the least amount of energy during roasting and brewing. This was one of the ways sustainability was incorporated into the course.
The Design of Coffee course also included four seniors from High Tech High Village Schools, Garrett Layton, Aspen Lee, Nathan McFarland, and Udeema Shakya, who took the course through USD's dual enrollment program allowing up to 24 students from the High Tech High Schools to take a course at USD each fall and spring semester for college credit.
Layton said the course was about more than just coffee or engineering. "It's also about understanding economics and learning through a global perspective."
The course serves as an introduction to how engineers approach and solve problems, demonstrated by the process of roasting, grinding and brewing coffee. "I love how the course involves different principles of engineering disciplines and not just one field," said Associate Professor of Industrial and Systems Engineering Truc Ngo.
"Not only did students learn the theoretical engineering and scientific concepts behind the coffee making process, design and execute experiments in the lab to test out the theories but they also had opportunities to visit local coffee companies. During these field trips, students learned how traders actually go from purchasing coffee beans that go to places like Ryan Bros. and Peet's Coffee. Social justice and how climate change has influenced the whole coffee industry were also discussed during these experiences," she said.
Lee was part of the winning team in the final coffee design competition. "We used a French press and a coarser grind," she said. Through experimentation, "we found that finer grinds were bitter and acidic."
Alex Oberman, who also was part of the winning team with Lee and fellow first-year USD student Ivan Hernandez, said getting outside feedback was key. It would have been easy to say "our coffee's great." But when others have similar feedback, "it validates our own experimentation," said Oberman, who plans to major in finance and took the class to fulfill his science requirement.
One of the judges, Chuck Patton, founder of Bird Rock Coffee Roasters, said he was impressed with the experimentation students did on grind size, brew ratios, filtration and other keys to producing good coffee. "We coffee professionals are doing the same things," he told the students.
-- Amanda Evertz '18 and Liz Harman
From left are Ivan Hernandez, Amanda Lee and Alex Oberman.