USD Volleyball Sets its Sights on NCAA Tournament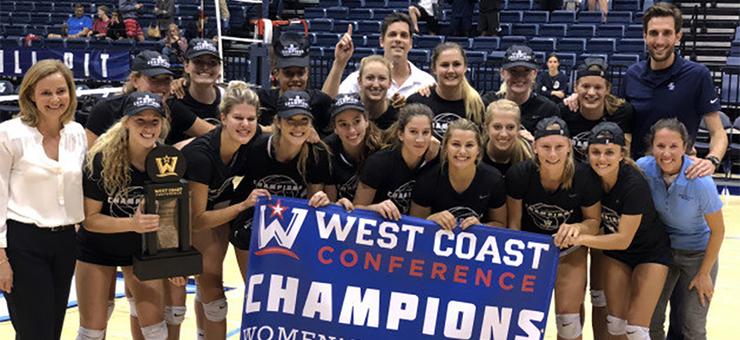 The University of San Diego women's volleyball team, fresh off another successful regular season in which they've played a tough nonconference schedule, won the West Coast Conference championship — the program's 10th title — and ranks among the nation's best, is ready for its next usual step at this time of year.
The NCAA Tournament begins this weekend and the Toreros will be a participant for the 21st time, the 16th appearance under the current coaching staff. USD will compete in a four-team regional hosted by USC on Friday and, with a victory, will play again Saturday. The Toreros (24-4 overall) face Louisiana State University (LSU) at 5 p.m. in USC's Galen Center. USC and Central Arkansas follow. Friday's winners will meet at 5 p.m. on Saturday.
A Good Feeling
There is a good feeling about this USD team. The 2017 edition enters the postseason on a 14-match win streak. They beat BYU at BYU. Nineteen of its 24 victories were by a three-set sweep, which is a record for a Jennifer Petrie-coached team. Petrie, head coach since 1999, believes she's got a solid team capable of delivering on that good feeling.
"I'm looking forward to some magic moments," Petrie said. "I just feel this team has it in them to do something special. It's exciting when you step onto the court Friday and know there's an opportunity to set a new standard for our program. These girls can really leave a mark on USD volleyball."
There's a bevy of senior talent on the roster and a strong mix of players overall. WCC Player of the Year Kristen Gengenbacher anchors the offense from the setter position. Gengenbacher, senior opposite Jayden Kennedy and junior middle blocker Addie Picha were each named to the WCC First Team. Senior middle blocker Kaity Edwards was a WCC honorable mention. Outside hitters include senior Merve Tanyel, junior Lauren Fuller, and Roxie Wiblin, who was named co-WCC Freshman of the Year. Defensively, senior libero Lizzy Tardieu is as solid as they come.
Put it all together and Petrie, who received her fifth WCC Coach of the Year award, is understandably pleased. Particularly important is how well the team approaches each match, set and point.
"It's more important what we're doing on our side than what an opponent is doing," Petrie said. "That's been a big difference. We've done a tremendous job of playing within ourselves, competing hard and being confident in tight situations where we could have dropped a set and could have extended matches, but we didn't. I'm really happy with the way they're playing heading into the tournament."
Clinching the WCC title in their regular-season finale at home against Pepperdine — USD and BYU shared the title with 17-1 records, but USD won the head-to-head total points tiebreaker — bodes well for the Toreros. The seniors had not won a WCC title until last week, an accomplishment not lost on what they'd like to do in this, their final NCAA Tournament appearance.
"When you've got these five seniors on your team, they know how to compete, they know how to win and they have a lot of confidence. There's nothing that shakes them," Petrie said.
Gengenbacher Sets a Tone
Especially Gengenbacher, with whom USD's success hinges on the most because she's trying to get everybody else involved. A consummate team player, Gengenbacher deservedly earned the WCC MVP this year. She is 11th in the nation and first in the WCC with 11.66 assists per set and she's helped the Toreros average 14.99 kills per set, fifth best in the nation.
"I've grown a lot in my time here at USD. One thing I've improved on is my set selection, to get the ball to the hitters at the right time so they can put the ball away and get them in a better position to score the ball," said Gengenbacher, who has played with the U.S. Women's Collegiate National Team the last two summers.
"There's a lot of consistency and leadership needed in that position and she's done a tremendous job," Petrie said of Gengenbacher.
Gengenbacher echoes Petrie's assessment of the team's approach. "As a team, something we continue to do well is to have a sense of urgency when we're on the court. We're not letting any ball go down without someone going after it. We have a lot of mental focus and stay upbeat, even if we're down by a few points. Even in conference we've been down by 10 points but we still won. It's good preparation for the NCAA Tournament because we know what it's like with all the adversity and pressure."
Playing LSU is an immediate test. The Tigers enter with a 20-9 record (11-7 SEC). There are no common opponents between USD and LSU and it is the latter's first NCAA appearance since 2014. USD is 2-0 all-time against LSU, playing them in August 2012 and August 2014 on a neutral court. In the NCAA Tournament, however, anything can happen.
The seniors have only reached the NCAA Tournament's second round once — a 2015 loss to USC. In 2014 and 2016, it was one and done.
"We learned our lesson last year to not take the first-round team for granted," said Gengenbacher of the 2016 tournament where a highly-anticipated rematch with UCLA in the second round fizzled when USD lost to Baylor in a five-set match. "It's going to be a battle no matter what. Everyone in the tournament is good. We just have to be ready and focus on that one game."
If USD wins, there's the potential to face USC, seeded 10th, in the second round. USC holds a 10-1 all-time series edge and 6-0 against USD in postseason play. The lone USD triumph? A four-set regular season win in 2013 in the Jenny Craig Pavilion when USC was ranked No. 1 in the nation.
Knowing the challenge ahead of them, it is important to savor the experience. For USD's seniors, this NCAA Tournament will conclude at some point. It will mark the end of their college volleyball careers.
"I remember it well, even as a freshman, our alumni would come back and they'd tell me they wish they could still be out there on the court," Gengenbacher said. "You don't know what that means until your senior year. This is it. Any game might be your last on a college court. We know that and we're ready to get after it and end on a good note."
— Ryan T. Blystone