USD's Fastest Growing Major: Behavioral Neuroscience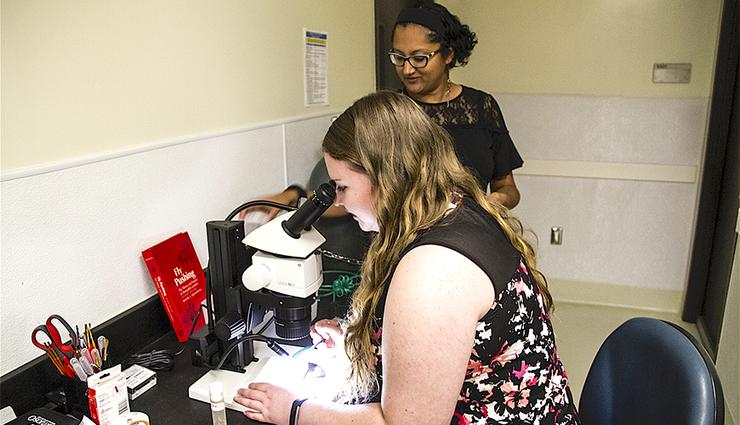 Quick, what's the fastest growing major field of study at the University of San Diego? Can't think what it might be? Well, to find the answer, you'll need to use one of the most vital organs in your body — the brain — to figure it out.
The answer to the fastest-growing USD major is Behavioral Neuroscience, a science-based field of study existing within the Department of Psychological Sciences. Students are increasingly interested in studying the brain, interested in learning how it functions and why we think and do what we do as a result.
When the major began in fall of 2012, it was assumed, Psychological Sciences Professor and Chair Jennifer Zwolinski states, "that there would be just a few majors. The first semester it was in the teens. By the spring semester it was 60. That was just the first year and it's gone up ever since. We're averaging 200 (behavioral neuroscience) majors now and that's also what we have in psychology."
Put those numbers together, around 400 students, add another 60 minors in psychology, and you've now learned that the largest department in USD's College of Arts and Sciences resides in Serra Hall.
"It's about understanding how our brain processes information and how that information is executed in the different behaviors that we perform," says Divya Sitaraman, assistant professor in the Department of Psychological Sciences in describing Behavior Neuroscience. "That's the most simplistic way of looking at neuroscience, but it is also the most important way of looking at it. We know neuroscience affects just about everything we do because every decision we're making involves our brain."
Why has Behavioral Neuroscience drawn so much interest as a major? That one is easy: Interdisciplinary functionality.
"Behavioral Neuroscience is really unique because it's applicable to everyone. It's something you can approach in all different disciplines," says Margaret Driscoll, an Honors Program senior behavioral neuroscience major and Spanish and Chemistry minor. "You can get a degree in neuroscience and go on into business and have a unique perspective on all of the problems you're dealing with. You can get a degree in neuroscience and go into the sciences or, like me, aim for the medical profession. It's immediately applicable to all kinds of areas."
This meteoric rise does cause a few issues. There is the need for more resources, faculty, lab space, research opportunities and more equipment to accommodate students' interest. Zwolinski praised College of Arts and Sciences and the Office of the Provost administrators for concurring with the program's needs for additional support. A recent department external program review was done to assess what the university could do to help.
The immediate result has been a bigger budget for supplies, but the next major enhancement appears to be a new behavioral neuroscience lab in Serra Hall in Fall 2018. Increased research lab space can help professors who already have up to 10 students at a time in their labs. Zwolinski says this potential new lab space will serve both behavioral neuroscience and psychology students.
Research is a critical component for any student in behavioral neuroscience and it has received some attention thanks to Dr. Sitaraman and her students.
Sitaraman, who arrived at USD in 2014, brought an initial study from her post-doctoral work at Yale University. The goal was to understand the sleep and behavioral rhythms in fruit flies from the perspective of single genes and neurons. How do neurons produce sleep behaviors and how do those sleep behaviors affect other behaviors? Sitaraman secured funding from Howard Hughes Medical Institute for the initial data, but the data collection work of USD students such as Driscoll and, before her, the since graduated Austin Pavin, enabled Sitaraman to apply and receive a three-year funded National Institutes of Health grant for $366,000.
"The grant aims to use fruit flies as an experimental system in which we can mechanistically dissect the neuronal underpinnings of the sleep control network and identify mechanisms by which conserved neuromodulators like dopamine regulate sleep," Sitaraman says.
The grant will enable the purchase of necessary equipment. Driscoll, who graduates in May, will continue to work in Sitaraman's lab during a gap year before applying to combination PhD/MD programs.
"I joined Dr. Sitaraman's lab spring semester my freshman year. I told her I was interested in how important research would be in my path because neuroscience majors are looking to go to graduate school and a big part of that is whether you've had experience with critical thinking and the planning that goes into that kind of research and the time and dedication it takes," Driscoll says. "It's a unique experience. If they're not in a lab, it's really hard to duplicate in any other setting."
Thus, Sitaraman and others in Behavioral Neuroscience know it is imperative to find ways in which all students can gain some type of undergraduate research experience, whether that's through more hybrid courses or collaborations with other departments on campus.
"The way the program has grown it has me thinking what is the future of neuroscience at USD," Sitaraman says. "We have wonderful faculty here and faculty in different departments who are interested in participating in the program. We have ongoing collaborations with life and natural sciences, social sciences and the humanities. We truly feel that USD is the perfect place for interdisciplinary neuroscience."
— Ryan T. Blystone