Torero Athletics: Football Wins PFL Title; Volleyball, Basketball Teams Triumph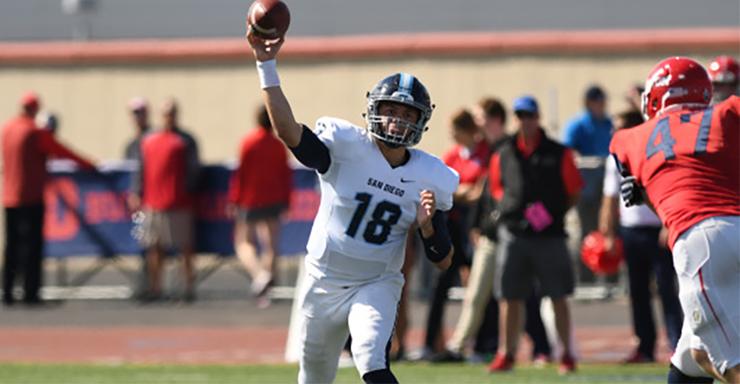 The Torero football team's blueprint for success each season is the same. And it works, year after year.
"Our goal every year is to win the Pioneer Football League Championship and earn a trip to the playoffs," said fifth-year head coach Dale Lindsey. "Going into the season we knew we had a lot of new pieces to make that happen again. We had great leadership from our seniors throughout the season and had a core group of freshmen that played a key role in our success. I couldn't be happier for our players, coaching staff and school that we are heading back to the playoffs."
San Diego's 63-7 road win over Davidson College in North Carolina on Nov. 11 clinched the PFL title outright and with it, the league's automatic berth into the NCAA Division I FCS playoffs. The Toreros, 8-2 overall and 7-0 in the PFL, are the first FCS team to clinch a playoff spot. It will be the program's third playoff appearance in the last four years.
Another similarity for the Toreros' success was the play of quarterback Anthony Lawrence and the USD offense making it a long day for the opposition.
San Diego amassed a school-record 706 offensive yards, led by Lawrence, who completed 24 of 28 passes for 403 yards and three touchdowns before his day concluded with USD ahead 49-7 in the third quarter. On Monday, Lawrence was named PFL Offensive Player of the Week.
Lawrence's touchdown passes went to receivers Justin Priest, Ross Dwelley and Michael Bandy. Priest had eight catches for 110 yards and a 13-yard TD. Bandy had a 25-yard TD reception to highlight his six-catch, 133-yard performance. Dwelley had an 8-yard score as part of his four catches for 99 yards.
The ground game was impressive too with Joseph Binda Jr., Blake Martin and Emilio Martinez all getting into the end zone. Other highlights included defensive lineman Jonathan Petersen, USD's all-time sack leader, playing a fullback role and scoring on a 1-yard run; Backup quarterback Alex Farina ran 87 yards for a score in the fourth quarter and later had a 12-yard touchdown pass to Alex Spadone to complete the scoring.
Defensively the Toreros were paced by Arrion Archie, Marcus Vaivao and Max Michaels, each with seven tackles.
This Week: Football vs. Marist, Saturday, 2 p.m., Torero Stadium. On Sunday, USD Football will learn about its first-round playoff matchup when the FCS bracket is announced.
The USD volleyball team concluded West Coast Conference road play by sweeping its two matches in the Pacific Northwest to improve to 21-4 overall and 14-1 WCC.
The team has now won 11 straight matches and on Monday, San Diego learned it has moved up one spot in the AVCA national Top 25 poll to No. 11.
Against Portland on Nov. 9, the Toreros won 25-16, 25-23, 25-14. The team's hitting percentage was .341 and four players had at least eight kills each, led by Lauren Fuller's 10. Jayden Kennedy chipped in nine kills and Roxie Wiblin and Kaity Edwards each had eight kills with Wiblin also contributing 10 digs. Kristen Gengenbacher had 39 assists with seven digs. Wiblin led the team with 10 digs. Merve Tanyel had nine and Lizzy Tardieu added eight.
At Gonzaga on Nov. 11, San Diego swept the Bulldogs 25-16, 25-23 25-16. This win was USD's 17th sweep of the year and the volleyball team's road record improved to 10-1.
Wiblin had a team-high 10 kills on a .556 hitting percentage while also contributing eight digs. Kennedy and Edwards chipped in nine kills each. Gengenbacher posted 33 assists and Tardieu had a game-high nine digs.
This Week: Volleyball vs. Santa Clara, Thursday, 7 p.m., Jenny Craig Pavilion; vs. San Francisco, Saturday, noon, JCP.
The men's basketball team, led by junior Isaiah Wright and teammates Olin Carter III, Isaiah Pineiro and Cameron Neubauer, put together a great opening-game performance in an 81-64 road win against San Jose State on Nov. 12.
Wright paced the way with a game-high 22 points to go with 7 assists and 5 steals. He was followed by Carter III with 18 points, and forwards Pineiro and Neubauer, each with 13.
"I thought we came out and dictated how the game was going to be played," said USD Coach Lamont Smith. "We did a great job in the first half from pushing the ball to defending. We have a little more depth this year and will be able to play nine or ten guys. It was a great team win. Isaiah (Wright) is our quarterback and we are going to go as he goes in a lot of ways. He sets the tone offensively by his push and he's our defensive guy at the top. He's just a tremendous basketball player and we are blessed to have him with our program."
Wright was named the WCC Men's Basketball Player of the Week on Monday.
For the game the Toreros shot 57.4 percent from the field (31-54), an impressive 52.9 percent from beyond the arc (9-17) and dished out 15 assists while totaling eight steals.
This Week: Men's Basketball vs. Robert Morris, Wednesday, 7 p.m., Jenny Craig Pavilion; vs. Norfolk State, Saturday, 7 p.m., JCP; and vs. Arkansas-Little Rock, Nov. 21, 7 p.m., JCP.
The women's basketball team opened their 2017-18 season with an 82-53 win over San Diego Christian in a rare game played at USD's Sports Center Gym, its former home site.
Caroline Buhr led the Toreros with 19 points on 8-for-10 shooting and grabbed 11 rebounds. Buhr was one of 10 Toreros to score in the game as San Diego jumped out to a double-digit lead in the first four minutes of the game and never looked back.
Patricia Brossmann, Myah Pace, Madison Pollock and Aubrey Ward-El each had at least six rebounds as well.
This Week: Women's Basketball vs. Southern Utah, tonight (11/14), 6 p.m.; USD at Bank of Hawaii Classic (Honolulu): vs. Boise State, 6:30 p.m., Friday; vs. Hawaii, 7 p.m. Sunday.
San Diego's season ended in heartbreaking fashion when Santa Clara's Andres Jimenez scored in the 85th minute to send the Toreros to a 1-0 defeat on Nov. 11.
Jimenez headed in a corner kick from teammate Javier Ruiz Duran for his first goal of the season to lift the Broncos (3-13-1, 3-3-1 WCC) to victory. It was a tough way to finish for the Toreros (8-6-3, 2-3-2 WCC), which went 0-3-1 in its final four matches of the season.
The defeat marked the end of an era as it was the final match of Seamus McFadden's 39-year head coaching career. He has been the only head coach in Toreros history and concludes his career with an all-time record of 385-285-70. Longtime assistant Brian Quinn, will take over as head coach and McFadden will stay on as an assistant.
The Toreros had their chances offensively throughout the match and were paced by Miguel Berry, who managed three shots. Berry's best opportunity came in the 72nd minute when he weaved through the Broncos defense and got a right-footed shot away just inside the 18-yard box that was on target. However, Berry could not get enough on his shot to beat the keeper.
Thomas Olsen played well in goal and made four saves to close out his outstanding collegiate career in which he is ranked among the top-10 in every goalkeeping category in program history.
On Tuesday, men's soccer learned it had six players receive All-West Coast Conference honors. Aaron Frey was named the WCC Freshman of the Year, the sixth USD player to earn that honor. Miguel Berry was named to the All-WCC first team, while Henry Lander and Olsen claimed second-team recognition. Djordje Babic, Freddy Polzer and Frey were honorable mentions. Frey was also named to the WCC All-Freshman team.
The men and women's cross country teams finished their season Nov. 10 at the NCAA Western Regional meet in Seattle. Despite an early hiccup in the women's race, the Toreros still placed 23rd out of 36 teams. The men's team finished 27th.
Early in the women's race, senior Julie Giannini was tripped up by fellow racers. However, she got back on her feet and finished the 6k race in 22 minutes, 09.6 seconds. Leading the pack for the women was freshman Madison Lambros who placed in the top 100 racers with a time of 21:31.6. Sophomore Cassidy Kuhn was the next Torero to finish, doing so in 22:09.5, followed by Giannini, Hannah Rasmussen and Hope McLaughlin.
The men had a tougher time, placing 27th out of the 30 teams. Senior Liam Burke had the best time for USD on the 8k loop, posting a 31:35.7 mark and placing an even 100th. Max Pedrotti was next in 32:29.8, then Patrick Burke, TJ Hodges and Isaiah Quiambao rounded out USD's top five.
Summer Mason was named to the All-West Coast Conference first team among four San Diego women's soccer players to earn conference honors.
It is the first first-team honor of Mason's career after being named an honorable mention in 2016. She led the Toreros in points (19), goals (9) and game-winning goals (3).
In addition to Mason's honor, Amber Michel and Tara Meier were named to the All-WCC second team, and Natalie Copenhaver earned WCC All-Freshman Team recognition. The group was instrumental in helping lead the Toreros to a third-place result in WCC play — the team's highest finish in conference play since 2011.
Keep up with all USD Athletics news, scores and information by visiting the website and following the Toreros on social media: Facebook, Twitter and Instagram.