USD McNair Scholars Program Gets Five-Year Funding Renewal from U.S. Department of Education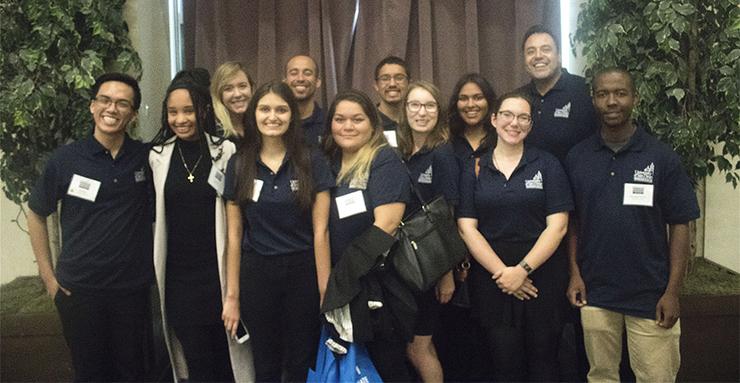 University of San Diego officials received confirmation from the U.S. Department of Education recently that funding for USD's TRiO McNair Scholars Program has been renewed for five more years.
The new funding cycle, which begins October 1, is for nearly $1.2 million that is spread out over these next five years. Nationally known as the TRiO Ronald E. McNair Post-Baccalaureate Achievement Program and named in honor of the late NASA astronaut, this program is funded by the Department of Education. The USD program also receives financial support from the university.
"We feel blessed that we'll continue to serve our students," said Assistant Provost Dr. Cynthia Villis of USD's Institute of College Initiatives (ICI) and TRiO, who wrote and submitted the proposal. The ICI oversees such on-campus programs as TRiO McNair Scholars, TRiO Student Support Services, TRiO Upward Bound, Black Student Resource Center and more.
The McNair Scholars program identifies and prepares high-achieving undergraduates for graduate studies by providing year-round academic and personal support for research training, scholarly experiences and assistance with the admissions and financial aid applications process. Students have opportunities to present their research at national academic conferences and are eligible to participate in the McNair Summer Research Program, which consists of an eight-to-10-week research project, attending a graduate school boot camp, producing a scholarly essay on their findings, and presenting their work at academic conferences.
"I am thrilled that USD has received funding to enable us to continue to offer the McNair Scholars program for another five years," said USD Vice Provost Thomas Herrinton, PhD. "Since McNair participants are either first-generation college students with financial need, or members of a group that is traditionally underrepresented in graduate education, having this program helps USD fulfill its strong commitment to diversity in higher education."
A commitment to not only diversity but also opportunity has been fortified through USD's McNair Scholars program since it received initial funding in 2003. The program has had refunding proposals awarded in 2008, 2012 and now 2017.
McNair Scholars Director Ramiro Frausto, who has worked alongside academic coordinators Laura Schwebel and Isabel Hermsmeyer, said there are 180 USD McNair alumni and 73 who've completed their graduate degrees. Many more students are currently working toward graduate and doctoral degree completion. There are currently 26 USD undergrads in the McNair Scholars program.
Student requirements to participate in McNair Scholars include completion of at least 60 units and a 3.0 GPA at USD; U.S. citizenship or permanent U.S. residency; qualifying as either a first-generation college student or being at a certain income level established by the Department of Education or is a member of a group that is underrepresented in graduate education; a desire to pursue doctoral study and a need for academic and other support to encourage the dream of graduate study.
The program's refunding comes soon after the McNair Scholars' stellar Class of 2017 cohort received their undergraduate degrees. Ten of 14 graduating students accepted fully-funded PhD opportunities and another, Chelsea McLin, was accepted into an English Literature master's program at the University of Maryland and she received a graduate assistant's position. Jane Henderson, who has started a Geography PhD program at University of California, Berkeley, received a prestigious National Science Foundation Graduate Research Fellowship.
The other PhD-starting McNair Scholars from the just-graduated cohort are Joylene Aguirre (Mechanical Engineering, University of Washington), Briana Capuchino (Industrial and Organizational Psychology, Texas A&M), Chyna Gray (Molecular Biology, Cell Biology and Biochemistry, Brown University), Olivia Gonzalez (Communications, University of Southern California), Micaella Jorge (Chemistry, Vanderbilt), Jessica Noe (Communications, University of North Carolina-Chapel Hill), Kyle Proctor (Water Resource Engineering, Oregon State), Jessica Ruiz (Clinical Psychology, University of Central Florida) and Ciera Villegas (Environmental Sciences, Oregon State).
"It's their high-level commitment," said Frausto when asked what he appreciated most about the program's 2017 graduates. "It can be scary to put yourself out there and say I'm applying to a PhD program. It's scary to say this is the next step when for so many of our students, getting an undergraduate degree is an amazing accomplishment on its own. They are the first to do it, the first to blaze the trail."
The commitment shown by McNair students is matched by another prime resource that's paramount to the program's success — USD faculty and mentorship to the students. Both Villis and Frausto praise faculty who consistently support and champion the program.
"The McNair Scholar program at USD provides invaluable mentorship, research experience, and a sense of community for students with the goal of attending graduate school after college," said Dr. Jennifer Prairie, an assistant professor in USD's Department of Environmental and Ocean Sciences, who mentored the Oregon State-bound PhD students, Proctor and Villegas, in the 2017 cohort. "I was so impressed with them. They were not only bright and motivated, but they showed a passion for learning and capacity for creative thought that was very inspiring as a mentor. Because of McNair, they were able to present their research at national conferences, and now both are enrolled in top PhD programs."
— Ryan T. Blystone
Class of 2017 USD McNair Scholars video by Yajaira Peraza-Nuñez