Torero Athletics: Agnew Scores NFL TD; Cross-Country Teams Third; Roundup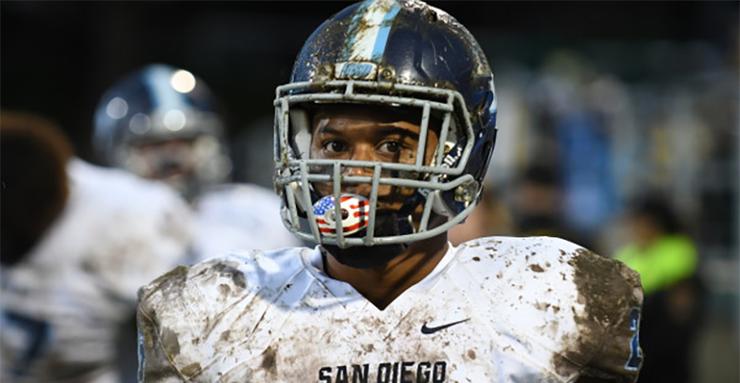 Jamal Agnew, a four-year standout for the University of San Diego football team who was selected in the fifth round of the NFL Draft by the Detroit Lions this past spring, made a great rookie impression on one of the biggest regular-season stages possible: Monday Night Football.
The cornerback and kick returner returned a punt 88 yards for a touchdown early in the fourth quarter to put the finishing touches on a 24-10 Lions' victory over the New York Giants on ESPN Monday night. It's Agnew's first NFL touchdown.
Asked about the play, Agnew's excitement was palpable. He is quoted in today's Detroit Free Press, saying, "Oh it's surreal … I still can't believe it happened but I'm going to go look at the film, and it'll be real."
Agnew's punt return for a score — he also returns kickoffs for the Lions — is his first for a touchdown since he returned one 63 yards for USD in a Pioneer Football League game against Valparaiso in 2016.
Cross Country Teams Finish Third in Home Meet
The Torero cross-country teams hosted the USD Invitational on Sept. 16 at Mission Bay's Tecolote Shores at Mission Bay and both the men's team and women's team finished third in their respective races.
Freshman Hannah Rasmussen had the top time for the women, finishing the six-kilometer run in 22 minutes, 33 seconds to finish sixth overall. Max Pedrotti paced the Torero men, in a time of 25:48 for the eight-kilometer race to finish ninth overall.
Nationally ranked Stanford won both team events. They had four women tie for first and on the men's side had all five of their runners finish in the top six. UC San Diego's Aren Johnson finished first in the men's 8k with a time of 25:20.
"Overall I'm very pleased. Both races were very competitive," USD Coach Will Guarino said. "We put on a great meet at a phenomenal location and had great weather. You couldn't ask for a better cross-country environment."
The USD women's team's top five runners all finished in the top 14, finishing with a team score of 48, just behind UC San Diego's 47.
Rasmussen impressed in her collegiate debut. Behind Rasmussen was Madison Lambros (seventh, 22:36), Hope McClaughlin (10th; 22:52), Julie Giannini (11th; 22:57) and freshman Caitlin Stoner (14th; 23:06).
The men were led by the senior duo of Pedrotti and Liam Burke (10th; 25:54). Isaiah Quiambao (14th; 26:27), TJ Hodges (16th; 26:35) and Mitch Manis (17th; 26:56) completed the scoring.
The Toreros return to action in the Rim Rock Classic in Lawrence, Kan., on Sept. 30.
Football
The Torero football team lost its second straight road game to a quality opponent as a battle of teams that each won their league title last season met in the season-opening game for host Princeton.
The Toreros rallied from an early 14-0 deficit, but the Tigers did just enough to pull out a 27-17 nonconference victory.
USD (1-2) scored 10 points in the second quarter on quarterback Anthony Lawrence's 3-yard touchdown pass to tight end Michael Keating and a 26-yard field goal by Patrick Murray to make it 14-10 at halftime.
Princeton got a pair of field goals for a 20-10 lead going into the fourth quarter. A 23-yard touchdown on an option pass play from Brooks to Justin Priest narrowed it to 20-17 with seven minutes left, but Princeton had a 12-play, 66-yard drive that ended with a 3-yard touchdown pass from Chad Kanoff to Stephen Carlson with 1:36 left in the game. Lawrence's pass on USD's last chance drive was intercepted in the end zone to seal the win for Princeton.
Lawrence finished with 27 for 42 for 293 yards and Priest's best game statistically had him with 11 catches for 142 yards and the score.
USD now turns its attention to Pioneer Football League (PFL) play. The Toreros host Butler this Saturday at 2 p.m. The opening home PFL game each year will be known now as the Brian Fogarty PFL Classic, which honors the Toreros' winningest football coach who retired on August 31 after 34 years with USD Athletics as head coach for 13 years and the last 21 in fundraising and development.
Women's Swim/Dive
The San Diego women's swim and diving team opened its 2017-18 season with its annual pentathlon against host San Diego State, dropping a 33-24 decision to the Aztecs on Sept. 15.
It was the first event of the season for both teams and gave each squad their first chance to compete in a variety of strokes in a competitive environment. The first five events of the day, 100 freestyle, 100 butterfly, 100 backstroke, 100 breaststroke and 100 individual medley, were combined to make up the pentathlon, with points being allotted accordingly. The meet concluded with a set of sprints followed by the 400 IM and 500 free. Times for each individual from the first five events were combined and swimmers were ranked accordingly.
Mackenna Briggs was the top USD finisher with a time of 5 minutes, 13.95 seconds. Kailyn Evans followed with a 5:16.11 and Alex Hubel produced a 5:22.53. Hubel was impressive in the 100 fly, finishing second among all swimmers with a 58.27. Evans earned a top-five finish in the 100 IM with a 1:02.73. USD had multiple impressive finishes in the sprints competition. Dani Taylor made quick work of the competition in the 50 free, finishing with a meet-best time of 24.62. She also finished first in the 50 fly (26.69), while Hubel was third (27.16). Evans was third in 32.24 for the 50 breast. Briggs highlighted the 500 free, finishing first in 5:15.37.
The Toreros will host USC at 2 p.m. this Friday at the USD Sports Center pool.
Volleyball
The USD women's volleyball team swept San Diego State in its lone match last week, to improve its overall record to 7-3. Having this past weekend off from match play, the team spent part of its Saturday morning cheering on the men and women's cross-country teams at Mission Bay.
But the Toreros, ranked 17th in the latest AVCA National Top 25 poll, are back and they're focused solely on the West Coast Conference opposition. USD will open WCC play this week on the road, at San Francisco in a 7 p.m. match Thursday and then Saturday at 1 p.m. against Santa Clara. The Toreros' first WCC home match is at 6 p.m. on Tuesday, Sept 26 against Loyola Marymount.
Men's Soccer
Henry Lander scored what seemed to be a game-winning goal late in the second half but San Diego's men's soccer team was unable to hold on for the victory against Lipscomb, falling 3-2 in double-overtime on Sept. 15.
Lander sent a glancing header on a corner kick to the back of the net in the 79th minute to break a 1-1 tie. However, the Bisons (4-2) Ivan Sakou responded less than five minutes later with an equalizing goal to send the game to overtime.
Sakou struck for a second time in the second overtime period, looping a header over the head of Toreros goalkeeper, Thomas Olsen, for the deciding goal.
It was a tough defeat for USD, which entered the match on a three-game winning streak and played well enough to win throughout the contest.
On Sept. 17, the Toreros played at Cal State Fullerton and came away with a 1-1 tie. The Toreros' lone goal was scored by Miguel Berry in the 45th minute. The Toreros (3-3-1) held advantages in shots (13-10) and corner kicks (7-6) but could not generate the deciding goal. Fullerton scored on its first shot of the game in the 14th minute. The Titans' Diego Sanchez sent a corner kick into the box that found the head of Ross McPhie who finished his opportunity for the early lead. Olsen was excellent in goal, making three saves on 10 shots.
San Diego hosts Cal State Northridge this Friday at 7 p.m., then plays at San Jose State at 3 p.m. on Sunday.
Women's Soccer
The USD women's soccer team dropped two home matches this past Friday and Sunday, but there were highlights for the Toreros despite the setbacks.
Goalkeeper Amber Michel stopped a penalty kick and made five saves but it was not enough to overcome an early deficit as San Diego dropped a 1-0 decision against UC Irvine on Sept. 15. UC Irvine's Grayson Galbraith scored the game's lone goal in the 16th minute.
On Sept. 17 against defending national champions and current No. 12-ranked USC, the Toreros' Summer Mason scored 18 seconds into the game for a quick lead. Unfortunately, San Diego was unable to keep its momentum going, falling 3-1 to the Trojans
The goal was two seconds shy of the Torero record for the quickest goal scored. Mariah Hobbs scored in 16 seconds against Gonzaga on Oct. 19, 2007.
San Diego is on the road this weekend, playing a 7:30 p.m. game Friday against Cal State Fullerton and then a 2 p.m. contest Sunday against Cal State Northridge. USD opens West Coast Conference play Sept. 29 at BYU.
Keep up with all USD Athletics news, scores and information by visiting the website and following the Toreros on social media: Facebook, Twitter and Instagram.