Mass of the Holy Spirit: Message of Sacrifice, Integrity Seek to Inspire Toreros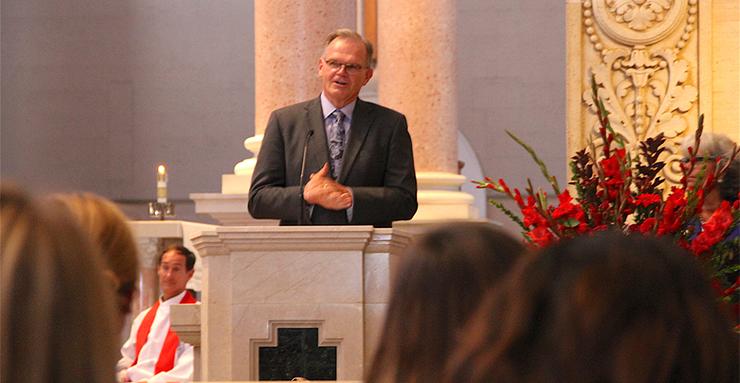 The Immaculata Catholic Church stands out on the University of San Diego campus. Not only for its beautiful, physical appearance, its ability to draw people to it for picture-taking or the fact that it can be viewed from the nearby freeways. It is, as always, what is on inside that makes The Immaculata such a special place for inspiration, knowledge and wisdom.
At the beginning of each USD fall semester, notably within the first week of classes, the Mass of the Holy Spirit is a traditional campus event for all Toreros. President James T. Harris attends. New Vice President and Provost Gail F. Baker, delivered the first reading of the Mass (Numbers 21: 4B-9). Students, — including this year's Associated Students officers and graduate school representative leaders who were blessed during an installation ceremony — faculty, administrators and staff filled the pews to be present and to be in community.
Most Rev. Robert W. McElroy, Bishop of San Diego, presided over the Mass as he has each year since 2015. In greeting the campus community, including a specific and comforting expression of support for those identifying as Deferred Action for Childhood Arrivals (DACA) students, Bishop McElroy was as respectful and admired a voice during the Mass of the Holy Spirit as the "Welcome" sign that's posted above the foyer's entrance into the church does in 14 different languages and dialects.
The Mass also featured numerous co-presiders to assist Bishop McElroy, including Deacon Jeffrey Burns, director of USD's Center for Catholic Thought and Culture, Rev. Monsignor Daniel Dillabough, Immaculata Rev. Father Matthew Spahr and there was also the presence of seminarians through the San Diego Diocese program on hand.
The Mass of the Holy Spirit is a prime opportunity, though, to share a positive, uplifting message that can resonate with everyone in attendance. Bishop McElroy took this opportunity to speak to the importance of sacrifice and how it can bring out the best in each of us.
Using plotlines from the 1981 Academy Award-winning film, "Chariots of Fire," as a backdrop, Bishop McElroy connected it to the Mass' second reading (Philippians 2: 6-11, read by Assistant Professor of Theology and Religious Studies Victor Carmona).
"Sacrifice really speaks to the question posed in the today's second reading. When Christ entered into the world to live and to die and preach on our behalf, he emptied his soul in sacrifice," McElroy said. "This notion of sacrifice is at the heart of us and it is, in many ways, part of what you undertake during this academic year, whether you are students or faculty, administrators or staff. But what does sacrifice mean? How do we think about sacrifice, and not in a service dimension, but at its core?"
The two main characters in the film are track runners, Harold Abrahams, who is Jewish, and Eric Liddell, a Christian, who were both part of the 1924 British Summer Olympics team that competed in Paris. Both were successful runners, but both faced personal challenges. Abrahams' Jewish heritage subjected him to anti-Semitism comments and prejudice at every turn. Running became his passion and, in 1924, he won the 100-meter run Olympic gold medal, which served to counter the hate that had enveloped him and used it to inspire others.
Liddell's challenge centered on his religious beliefs. "His faith in God was at the center of his life," Bishop McElroy said. While on course to compete in the Olympics, Liddell learned that his race was scheduled for a Sunday. Sticking to his moral beliefs to not compete on the day of the Sabbath despite pressure to do so, he did not run. Another teammate, Lord Andrew Lindsay, recognized this act of sacrifice and integrity and promptly gave up his spot in the 400-meter race so that Liddell could compete. Lindsay's noble gesture led to Liddell winning the race and the gold medal.
Bishop McElroy offered these stories as a parallel to the USD community as it embarks on a new academic year. Having the ability to recognize and act on the importance of sacrifice and integrity are conduits to achieve excellence in everyday life.
The Mass of the Holy Spirit continued with prayers for the faithful that included support for those affected by violence around the world, those who've suffered from natural disasters such as hurricanes, fires and earthquakes and well-wishes for all on the campus community to have a safe, healthy and productive year. Founders Chapel Cantor Ensemble performed beautifully throughout the Mass.
The contributions of everyone in the USD community were on display, including three USD employees — Carlos Olivas in building maintenance, Isauro Perezchica in grounds maintenance and Maria Zuniga in custodial services — who were the designated gift bearers during the preparation of the altar and gifts for the Eucharist.
Following communion, Carmen Vazquez, vice president of Student Affairs, recognized each of the undergraduate student government executive board as well as graduate school leaders.
President Harris followed that by leading the audience in reciting the Prayer to the Holy Spirit, which was adapted from a prayer by St. Augustine:
Breathe in me, Holy Spirit, so that throughout this academic year, my thoughts may be guided by your wisdom. Act in me, Holy Spirit, so that my life may further God's reign. Fill my heart, Holy Spirit, so that I may love with great compassion. Strengthen me, Holy Spirit, so that I may defend the poor and vulnerable. Embolden me, Holy Spirit, so that my life may be a witness to your truth. Preserve me, Holy Spirit, so that I may always remain receptive to your energizing, transforming grace. Amen.
The Mass ended, signaling the blessing of all and a renewed spirit to hold onto during this new academic year.
— Ryan T. Blystone