Torero Athletics: Successful Orientation Weekend for Students and Fall Sports Teams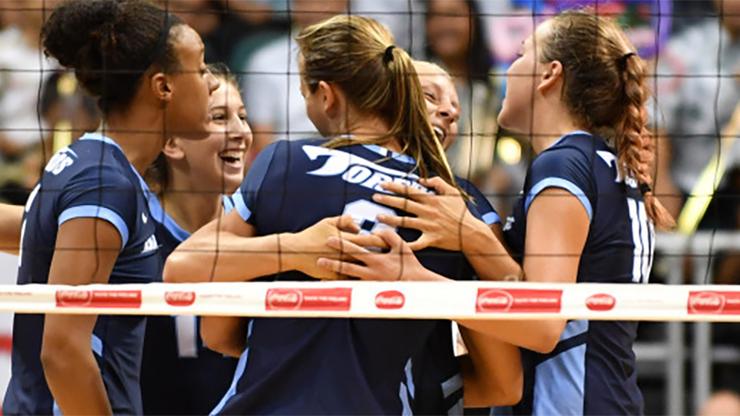 If the just concluded Olè! Weekend is an indication on how USD sports teams perform on the field and on the court, the University of San Diego's new student orientation program leadership might want to extend its programming longer than just a few days.
The presence of new faces and new energy may have indirectly helped USD sports teams post a 5-1 record during this past weekend. Football won. Men's soccer and women's soccer each recorded their first goals and wins of the season and volleyball, which won two of three matches, had a record-breaking crowd for its headline match of its weekend tournament.
Volleyball
The women's volleyball team, following three-game sweeps of Georgia Tech and Villanova in its first two matches of the USD Tournament, had a fired-up, record-setting crowd of 4,222 inside the Jenny Craig Pavilion for a headliner matchup against No. 4-ranked Texas.
The fans' presence gave a home-court lift especially when the Toreros took the opening game of an eventual four-set match loss to the Longhorns. Jayden Kennedy and Roxie Wiblin each had 12 kills and Kristen Gengenbacher had 37 assists and 12 digs for USD (4-2) against Texas.
Against Georgia Tech, Lauren Fuller led the Toreros with 14 kills with Kennedy and Kaity Edwards adding 10 kills apiece. Against Villanova, Edwards and Wiblin each had 12 kills to pace USD.
The Toreros will travel to Salt Lake City, Utah, to play in the University of Utah Classic on Friday and Saturday. USD plays Utah Friday at 6 p.m., then faces Missouri at 9 a.m. and Green Bay at 4 p.m. on Saturday.
Football
The USD football team, playing in front of 2,247 fans, won its season opener, 34-20, against Western New Mexico at Torero Stadium. While Western New Mexico led 13-0 early, USD took control by halftime (17-13) and got it to 27-13 before a touchdown by WNM cut the lead to seven. Freshman running back Emilio Martinez's 13-yard run with 8:43 left in the fourth quarter gave USD the final cushion it needed. Martinez had 96 yards rushing and junior quarterback Anthony Lawrence passed for 187 yards and touchdown passes to Ross Dwelley (two yards) and Justin Priest (58).
The Toreros next play at UC Davis in a 6 p.m. game on Sept. 9.
Men, Women's Soccer
The men and women's soccer teams each scored their first goals of the season and also recorded their first wins of the season for 39th year men's head coach Seamus McFadden and first-year women's coach Louise Lieberman.
The men's soccer team, on a goal in the 17th minute by Miguel Berry and a defensive stop in the waning seconds by Henry Lander, enabled USD to edge UC Santa Barbara 1-0 on Sept. 1 at Torero Stadium. The victory, USD's first after being shut out in a pair of tough road games against Notre Dame and Indiana the weekend before, improved the Toreros' record to 1-2.
The men's team play a pair of Northern California foes this weekend, at Sacramento State on Sept. 8 at 4:30 p.m. and then Sept. 10 at UC Davis in a 2 p.m. tilt.
The women's soccer team, which scored its first goal of the year on a tally by Kelley Carusa, in a 3-1 loss at San Diego State on Sept. 1, returned to Torero Stadium on Sept. 3 and dominated the University of Denver for a 3-1 win. Against Denver, USD's Kelsi Dantu scored in the second minute, Jessie Dancy tallied in the 17th minute and Summer Mason scored in the 18th minute to improve USD's record to 1-4.
The women return to action on Friday, Sept. 8 in a 7 p.m. game at Long Beach State.
Men, Women's Cross-Country
The men and women's cross-country teams went to Brea, Calif. and competed in the season-opening Mark Covert Classic hosted by Cal State Fullerton. USD's women's team finished third among the 12-team field and the men were ninth.
Top Torero female runners in the five-kilometer race were led by Julie Giannini (19 minutes, 34.6 seconds, 25th place), followed by Hope McLaughlin (19:45.1, 32nd), Madison Lambros (19:46.3, 33rd), Maggie Scholle (19:49.4, 35th) and Molly Klein (19:56.4, 40th). The top male runner for USD, competing in an eight-kilometer race, was Mitch Manis, 31st place, in a time of 26:34.8. Jackson Pearce was next for the Toreros in 27:18.5.
The USD cross-country teams return to action on Sept. 16 when they host the USD Invitational at 8 a.m. at Mission Bay in San Diego.
Keep up with all USD Athletics news, scores and information by visiting the website and following the Toreros on social media: Facebook, Twitter and Instagram.