USD Baseball Approaches MLB Draft Through a Commitment to Development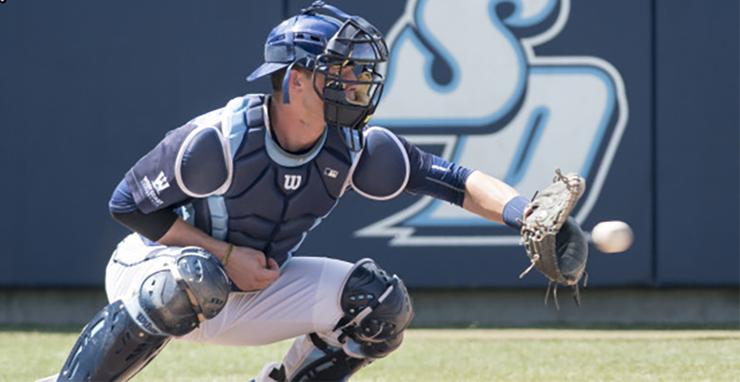 When Major League Baseball's First-Year Player Draft arrives in June, there's always a major sense of the unknown. The draft, which runs June 12-14 this year, includes high school standouts, community college prospects and third-year or higher players at the four-year college level. The unknown comes from what may or may not happen for anxious draft-eligible players and also college coaches and their programs.
Players wonder what round they'll be drafted, by which team and they want to know the amount of bonus money they'll be offered. If they're a top high school prospect, there's the anxiety of knowing that information and then weighing a decision to go pro now and go to the minor leagues or if they should attend a college they've been recruited by where they can gain experience, work towards their education, and potentially get drafted, maybe even higher, after their third year.
For college baseball coaches, the draft can feel like a lose-lose situation. Solid players who've just completed their third year, yet still have eligibility and could still help the program, are drafted. Sometimes, too, a player is drafted sooner than expected and was leaning towards coming back, only to now decide to go pro. And then there's the high school recruit who has already verbally committed to your college, but when he's drafted that puts the coach into a second round of recruiting, this time against a major-league team.
"The draft is so unpredictable that the only thing you know is that you don't know," says University of San Diego Head Baseball Coach Rich Hill.
While it's true in a sense, Hill does know plenty about the draft and what it means to his players and the Torero program.
USD Baseball Draft Successes
There's the instant USD successes, meaning those who are first-round selections: Reigning World Series champion and National League Most Valuable Player Kris Bryant (second pick overall, Chicago Cubs, 2013), pitcher Brian Matusz (fourth pick, Baltimore Orioles, 2008), infielder Connor Joe (39th pick overall, Pittsburgh Pirates, 2014) and shortstop Kyle Holder (30th overall, New York Yankees, 2015).
Additional Torero draft successes during Hill's coaching tenure include having Bryant, a third baseman, and five Torero pitchers currently on major league rosters: A.J. Griffin (Texas Rangers, 13th round by Oakland, 2010), Sammy Solis (Washington Nationals, second round, Nationals, 2010), James Pazos (Seattle Mariners, 13th round by New York Yankees, 2012), Dylan Covey (Chicago White Sox, fourth round by Oakland, 2013) and Paul Sewald (New York Mets, 10th round, Mets, 2012).
Last year's top USD draftee, shortstop Bryson Brigman, was picked in the third round by Seattle.
Toreros 2017 Draft Outlook
This year's highly possible USD draftees from a team that went 35-18-1 overall and 18-1 in West Coast Conference play figures to be WCC Player of the Year Riley Adams, a junior catcher, and Jonathan Teaney, a junior right-handed pitcher. Redshirt junior outfielder/catcher Colton Waltner still has playing eligibility despite graduating with his degree last month, but he could be drafted. Other USD draft targets include first baseman Roman Garcia, outfielder Hunter Mercado-Hood and left-handed pitcher/closer Troy Conyers. All three players were seniors in 2017 and have completed their college eligibility.
Hill and his staff will be closely watching high school and community college players USD has recruited to see where they wind up in the draft. While it is possible the Toreros could lose a top prospect or two, Hill understands that circumstances are different for each player and it is a situation that's not fully under his control.
A Commitment to Development
But what Hill and his coaching staff are doing is to train their players — draft eligible or not — to be mentally focused, play in the moment and eliminate what can happen if someone gets too wrapped up in the hoopla, anxiety and fear that only serves as a distraction. "It can paralyze you," Hill says.
Hill's philosophy for USD baseball is a "commitment to the development of the person that's consistent with the mission and values of the University of San Diego. We want to make our guys better players and better people. We want our players to focus on the importance of being a great teammate, being mentally tough and developing their skill set."
For Hill, that happens at the college level. High school players do get drafted very high, sometimes even atop the first round, but, he said, "it's a very, very small percentage of players who do."
Hill's commitment to players means having them become the best person they can be — and it's not only taught on game days on Cunningham Field at Fowler Park. It happens in practice, in the classroom, in the weight room, or by taking care of the playing field with a water hose or rake. It's seen in community service projects done to give back — from building a home for a family in Mexico, doing a skills clinic with special needs children from the local Miracle League or working with a nonprofit organization that assists autistic children.
So, as the draft unfolds and selections are revealed, be sure to take a closer look at those from USD who are drafted. Adams, likely to be among the top catchers available in the draft, should hear his name called much sooner than in 2014 when he was the Cubs' 37th-round selection out of high school. Teaney was a 35th-round selection by the Mets in 2014. Conyers was so committed to USD that he didn't want to be drafted out of high school. He was the WCC Tournament MVP his freshman year and he notched 13 saves as USD's closer this season.
"The most joy and pride our staff can have is seeing our guys get drafted, especially those who were drafted low or non-draftees (out of high school). It's a direct reflection of the commitment to developing our players," Hill said.
Knowing this can help major league teams and their scouts make a wiser selection on these draft days, thus lessening the unknown.
— Ryan T. Blystone