USD, The Immaculata Host Holy Week Events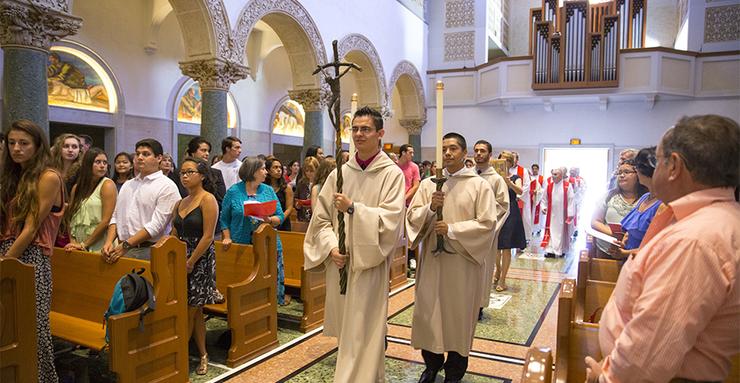 The University of San Diego campus will be the site of reflections, special events and Masses, as Holy Week begins on Palm Sunday, April 9. Easter Sunday is April 16.
The university and The Immaculata's programming during Holy Week begins with Palm Sunday morning Masses at 9 and 11 a.m. in The Immaculata Church as well as Founders Chapel Masses at 7 and 9 p.m.
On Monday, April 10, in addition to regular church services at 8 a.m. in The Immaculata and 12:15 p.m. at Founders Chapel, USD's Frances G. Harpst Center for Catholic Thought and Culture and University Ministry will co-host the first of two films being shown during Holy Week.
All are welcome to Monday's 4 p.m. film screening of "Silence," a movie directed by Martin Scorsese, written by Jay Cocks and Scorsese. Based on a novel by Shusaku Endo, the movie explores the meaning of Christian martyrdom and the reality of the Jesus who suffers with us. The film screening takes place in the Hahn University Center's Forum B.
On Tuesday, April 11, at 4 p.m. in the Joan B. Kroc Institute for Peace and Justice, Room D, the film "A Holy Week Journey" will be shown and a presentation will be given by Susan Caperna Lloyd, an Italian American photographer, filmmaker, and author who has documented Holy Week in Hispanidad (countries colonized by the Spanish in the 16th century) for 25 years. Her photographs and film, Processione: A Sicilian Easter (Blue Ribbon, American Film Festival), document Holy Week in Sicily, Spain, Mexico, Guatemala, New Mexico, and the Philippines.
From 5:30 to 7 p.m. on April 11, University Ministry's next Spirituality is Served event that is a community dinner and dialogue, will occur in Maher Hall's Salomon Hall.
Regular Masses will be held on Tuesday, Wednesday and Thursday at 8 a.m. in The Immaculata and at 12:15 p.m. in Founders Chapel. Furthermore, the Mass for Peace service will also take place at 9 p.m. Wednesday in Founders Chapel.
Because there are no classes at USD on Thursday, Friday or on Monday, April 17 and the USD campus is closed on Good Friday, The Immaculata Church will be the sole space for worship on campus during Holy Week beginning Thursday evening.
• Holy Thursday, April 13: Mass of the Lord's Supper, 7 p.m.
• Good Friday, April 14: Outdoor Stations of the Cross, noon; Passion of the Lord, 7 p.m.
• Holy Saturday, April 15: Easter Vigil Mass, 8 p.m.
• Easter Sunday, April 16: The Resurrection of the Lord, 7:30 a.m., 9 a.m. and 11 a.m.