Students Supporting Students: USD's Senior Class Legacy Program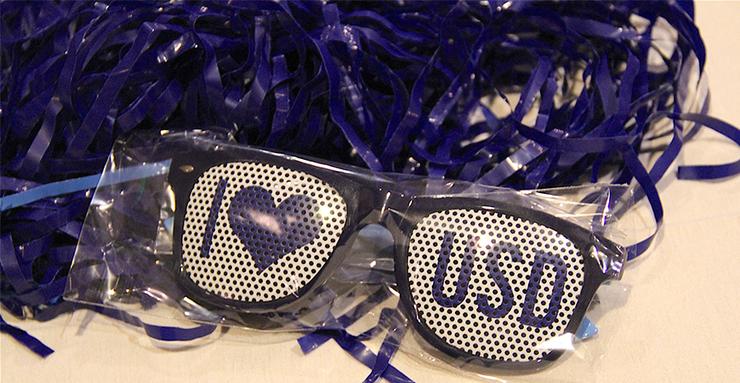 It's your senior year of college. Think about it. Think about all of the knowledge gained and experiences you've had. Remember great friendships formed, clubs you've been part of and professors who've mentored and supported you. Think about the internship or career advice that's solidified the post-graduation path you want to take.
Now think back to when you were an incoming first-year college student, maybe even a first-generation college student. Your depth of knowledge wasn't so polished. Maybe you were shy and unsure as you entered this strange new world. You hoped you'd make friends quickly, find your way around campus and get the support needed to succeed and, one day, to graduate.
As a University of San Diego senior, both scenarios are likely to be on your mind these next few months. Graduation is near. You've come a long way since Fall 2013 (earlier or later for some) and it's natural to look back on how much you've grown.
But something else to be mindful of is the realization that no one does it alone. It's a big reason why a graduating senior's participation in Senior Class Legacy is an essential part of being a Torero.
Senior Class Legacy is a scholarship program created by students for students. In 1989, Sam Attisha, then USD Associated Students president and graduating senior, wanted to make an impact on future Toreros. Alongside supportive student leaders and classmates such as Cindy Basso, David Reiling and Kerry O'Heany, the program was born.
"For all of us, it was about giving back," said Attisha, now the senior vice president and region manager for Cox Communications California. "We all had a great experience at USD and we were trying to think about what could we do? We just rallied around this idea. We know there's a lot of us who came here by the grace of other people or the opportunity to get scholarships or financial aid. We said 'Let's not give a bench or a tree. Instead, let's try and put some money into a scholarship to give back and do it in a sustainable way."
Now in its 26th year, what started as a senior "gift" is now a tradition for each USD graduating class to contribute to, ensuring that the USD experience is available to future Toreros. The original vision of the scholarship, and part of the current criteria, is that scholarship support goes to students who have financial need and are making a lasting impact on the university.
"It's a great way for the senior class to leave a legacy at USD and help out a fellow Torero," said Jessie Szumski, assistant director for USD's Office of Annual Giving. "When the seniors were freshmen, the senior class was doing this for them. So if you received a scholarship, it was partially because the senior class got together and raised this money to allow a student who may not be able to afford USD to attend and get their education."
Szumski said senior participation has grown each year, yet last year's percentage was still less than 50 percent. "We're trying to instill philanthropy into our students so when they graduate they'll understand the importance of giving back. Even a five-dollar gift helps. That amounts to buying one less coffee. Imagine the value if everyone gave at least five dollars to provide for a scholarship."
Szumski currently seeks seniors interested in joining the 2017 Senior Class Legacy committee. Students can gain valuable experience in event planning, marketing, fundraising/sales and social media as a committee member.
Attisha, the 2016 recipient of USD's Mother Rosalie Clifton Hill Award given each year to an alumnus or alumna who embodies the mission and values of the university, has generously given his time, talent and treasure to the university countless times. He enjoys returning to campus each year to meet students who were like him in 1989.
Helping to create the Senior Class Legacy makes for a senior year moment that Attisha will remember and cherish forever.
"Being here, humbly, it's exciting to know that 26 years later other kids look at (Senior Class Legacy) the same way we did — to help those who are behind them and paying it forward," he said.
— Ryan T. Blystone
To learn more about giving to the Senior Class Legacy or to join the committee, email Jessie Szumski at jszumski@sandiego.edu