Ten Toreros to be Feted at Alumni Honors April 30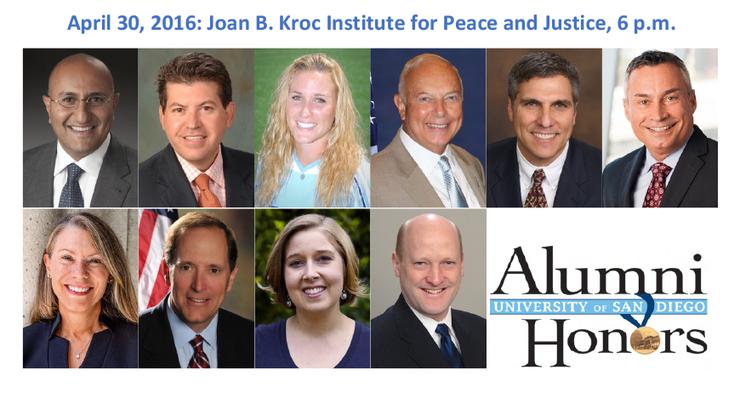 The University of San Diego is a special place. It is home to a rigorous and dynamic education in the Catholic Intellectual tradition, top-notch faculty, knowledgeable leadership and some of the best and brightest students from all over the world. But what also makes USD so special is its more than 60,000 alumni.
And what better way to celebrate them than to recognize those who've taken their education and opportunities they had at USD and applied themselves and made their mark locally, nationally and/or internationally. On Saturday, April 30, USD is hosting its annual Alumni Honors, an event that will recognize 10 stellar alumni who exemplify Torero success through dedication, hard work and difference-making abilities and actions.
The 2016 Alumni Honors class consists of:
• Sam K. Attisha '89 will receive the Mother Rosalie Clifton Hill Award for exemplary service to the university.
• Miguel D. Vasquez '94, is this year's recipient of the Bishop Charles Francis Buddy Award for contributions to humanitarian causes.
• Leigh Ann (Robinson) Brown '08, is a former USD and professional women's soccer standout and the newest Chet and Marguerite Pagni Family Athletic Hall of Fame inductee.
Five alumni will receive the Author E. Hughes Career Achievement Award:
• College of Arts and Sciences: Major General (retired) William M. Matz Jr. '73.
• School of Business: Vincent J. Kasperick '84.
• Hahn School of Nursing and Health Science: Pablo Velez '06.
• Joan B. Kroc School of Peace Studies: Janice Deaton '10.
• School of Law: The Honorable Dave Camp '78.
Two USD alumni will receive an Alumni Emerging Leader Award:
• School of Leadership and Education Sciences: Diana Combes Neebe '08.
• Shiley-Marcos School of Engineering's Andrew Putnam '03.
The April 30 event begins with the awards program at 6 p.m. in the Joan B. Kroc Institute for Peace and Justice Theatre. Following that is the Starlit Soiree. Guests will enjoy live music and dine on tantalizing fare from an array of food stations. Dress is cocktail attire.
Tickets for Alumni Honors are $75 per person, $55 for young alumni (graduates from 2005-15). Purchase tickets.
For any additional information, please visit the Alumni Honors website.