Quality Family Fun at USD's Grandparents Weekend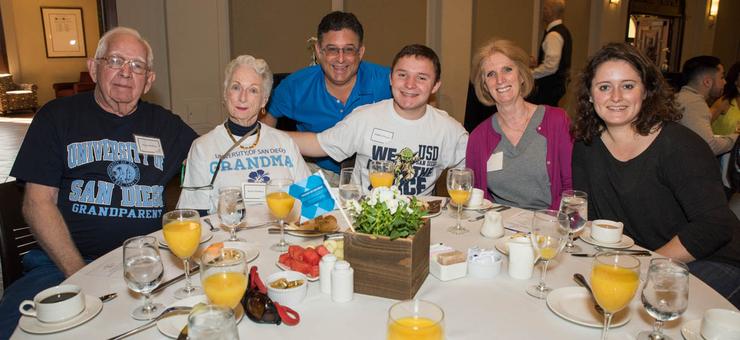 One grandparent described their experience like walking around Disneyland because everyone seemed so happy and smiled. Others appreciated a guided tour of USD's Founders Chapel, enjoyed a directed painting experience, a cooking class or learned more about San Diego and the military during an afternoon harbor cruise.
Most of all, though, the University of San Diego's 12th annual Grandparents Weekend Feb. 19-20 was special because of the quality family time.
"Thank you for making our Grandparents Weekend so much fun," said Peter and Nancy Kautz. "Everything was so organized and friendly and it was truly something we will remember for a long time. Even our grandson had a good time with us, which is a blessing right there."
Pat Whalen, founder of Grandparents' Weekend, attended both the welcome reception and brunch with her husband and two granddaughters who both attended USD.
The Office of Parent Relations hosted the two-day event that offered something fun for everyone. There was a yoga class, a class discussion with USD Communication Studies Professor Leeva Chung, PhD, a tram tour of Alcala Park and a Welcome Brunch with USD President James T. Harris III, DEd.
The weekend's signature event, Be True to Your School Party and Auction, was also a hit. More than 100 people attended with silent and live auctions for great prizes, a DJ, food stations, a photo booth and visit by USD's mascot, Diego Torero. Another highlight was having Clarione Gutierrez, a Launch Live artist, perform and paint original artwork of USD's Immaculata Church on-site.
The auction and Fund a Torero activities at the Be True to Your School event helped the Parent Partnership Fund raise nearly $27,000. The fund has helped more than 70 students stay at USD and graduate.
Photos by Cory Immele