WorldLink Summer Interns: Empowering the Next Generation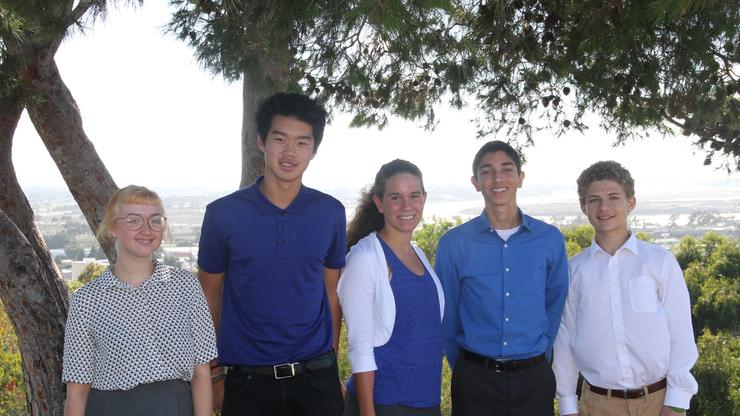 For better or for worse, youth are the world's future. Luckily, WorldLink, a practice-based research and internship program for high school youth in San Diego and Baja, Mexico, tackled the topic of youth's influence over the summer. Five high school interns, Skylar, Elias, Jiayong, Marthapaola and Amir, were invited to USD to partake in WorldLink summer research. But even more importantly, the five students were provided with a platform in which their ideas and academic findings could be heard.
Culminating in the Student Leaders Program, hosted by the U.S. Department of State's Middle East Partnership Initiative (MEPI), the summer researchers had the opportunity to present their findings, and for Jiayong Li, a senior at Torrey Pines High School, the opportunity to be heard and taken seriously as a researcher was life-changing: "I couldn't believe so many of the MEPI students were interested in what I had to say. Being from the Middle East, they had experienced the Arab Spring firsthand, yet here they were interested in my summer research regarding youth's influence on policy."
In addition to presenting their research, the WorldLink students will also have their findings published in the WorldLink Reader, a yearly publication that serves as a resource for high school students and teachers. With topics ranging from technology to government policy and sustainability to economic strategy, the long-term impact and reach of the students' research is vast.
However, the interns aren't the only ones who reap the program's benefits. Debbie Martinez, the Senior Program Officer for Youth and Peacebuilding, explains that the advantages extend to the University of San Diego:
"The University of San Diego is dedicated to preparing ethical, compassionate and well-informed leaders who make a lasting, positive impact in our ever-changing, interconnected world … It is through support [from USD] that the WorldLink program is able to inspire youth to add their voices to a civil atmosphere of problem solving and model responsible global citizenship, which are key values at USD."
The WorldLink program provides the university with additional outreach opportunities with prospective students, and it also provides a concrete and effective way to implement the university's values. But even beyond, the program empowers the leaders of tomorrow.
Perhaps WorldLink intern Li explains it best: "A quarter of the world's population is comprised of youth, from the ages of 10 to 24. This gives youth a tremendous power to make change. We are the future politicians, future leaders and future innovators of the world, and we have a massive voice in determining our own futures. However, if we don't use our influence effectively and efficiently to make a change, we cannot make a positive impact in our political and social systems. We must use our influence to make an impact."
— Taylor Milam