Letters from West Africa (#5)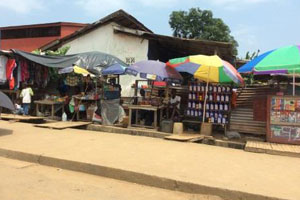 Accra, Ghana
Accra is a bustling city that seems to always be under construction; perhaps that describes most cities in the world! There's a huge outdoor marketplace that has all the crafts of Ghana: beautiful baskets, incredible wood carvings, colorful kente cloth, and jewelry made from shells, wood, glass and gold among other things. In addition, Accra has two large modern malls.
Professor Hubbard and I are interviewing candidates to be Edify's Director of Education for Ghana. We have six finalists and we will narrow the number to two. Then when Dr. Joi Spencer arrives next week, she will conduct the interviews with the two finalists and make a recommendation to Ken Appenteng-Mensha who is the Africa VP for Edify. The Education Director will liaise with more than 200 schools that receive micro-loans from Edify. By the way, the names of the schools are as fascinating as the shops: Servant King International School, Father's Legacy International School, Crown of Gold Academy, Peculiar international School, and God Still at Work Academy, to name a few.
Before we leave Ghana late this evening we will do a bit of sightseeing, have lunch and then head back to the US. In spite of the length of time it takes to get to West Africa (San Diego to New York and then to Accra is about 17 hours flying time), Professor Hubbard and I are looking forward to returning. Also, we are hoping to design some international education development courses. If anyone reading this is interested in volunteering in Ghana, Liberia, Burkina Faso, Rwanda, Dominican Republic, or Peru — all the countries Edify is working in — let us know!
Paula A. Cordeiro
Dean & Professor
School of Leadership and Education Sciences
University of San Diego
Read the first letter.
Read the second letter.
Read the third letter.
Read the fourth letter.