Letters from West Africa (#4)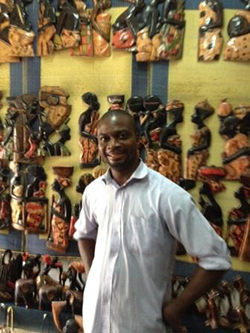 Cape Coast, Ghana
It's great to be back in Ghana. This is my fourth visit and there is an amazing amount of construction. We flew Arik Air (a Nigerian airlines) from Monrovia, Liberia to Accra, Ghana in about one and a half hours. Accra is the capital city of Ghana, with an estimated population of 2.3 million. It stretches along the Ghanaian Atlantic and it originally served as the capital of the British Gold Coast from the late 1800s until 1957. It's a modern city but it's architecture also reflects this history. Accra has 19th-century buildings as well as modern skyscrapers and apartment blocks.
I love the names of the small Ghanian shops you see along the roads. Here is a sample: By Grace Coffin Shop; Amazing Grace Enterprises; Glorify Refrigeration; Passion Furniture Works; God of Israel Welding Shop; Peace and Love Jewelry; Good Mother Entertainment; Wisdom Laundry Service; God is Our Provider (telephone store); Seek Solace (bedding store); Anointed Hands Beauty Saloon; God is Still at Work Lubricants; and, Glory Oil Gas Station (chain). These names bring a smile to our faces.
Once we landed in Accra we drove three and a half hours to Cape Coast, a lovely city along the ocean with huge swaths of sand and coconut palms swaying in the wind. Lea Hubbard and I conducted a seminar at Cape Coast University (CCU) along with the Africa VP of Edify, Ken Appentang Mensah. We had about 50 students who are studying to be teachers. Students from all over Africa come to CCU. They have about 60,000 students and offer bachelors, masters and doctoral degrees. According to their prospectus, CCU was the first teachers' university in Africa. I hope that CCU can partner with Edify. The goal in development is to build local country capacity. So, hopefully one day soon, USD can first partner and then transfer our work over to CCU.
The sunset sets early in Ghana--at about 6:30. I'm off to dinner to eat keliwili!
Paula A. Cordeiro
Dean and Professor
School of Leadership and Education Sciences
University of San Diego
Read the first letter.
Read the second letter.
Read the third letter.