Letters from West Africa (#3)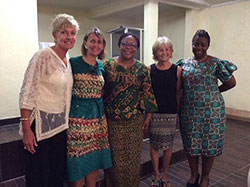 Monrovia, Liberia
Today was our final day in Liberia. Our fabulous host, Deborah Lindholm, founder of the Foundation for Women (pictured, far left) which is based in San Diego, arranged for us to meet Nobel Peace Laureate Leymah Gbowee (pictured, between me and Dr. Hubbard). Leymah (pronounced Lima) has a foundation and focuses on developing leadership in young women. It was an honor to meet about 25 young women between the ages of 17-30 who were attending today's workshop. They are university students from throughout the nation and are achieving much success in spite of incredible challenges ranging from living in poverty to not having sufficient money to pay their university fees. Yet, they were so passionate about obtaining an education! We also met four US students who are doing a two-month internship at the Gbowee Peace Foundation of Africa. The foundation has housing so if there are USD students who would like to do an internship with the foundation, we can arrange this.
Dr. Hubbard and I also visited two low-cost private schools that receive micro-loans from Edify. One of the schools called Covenant Nurturing Center was a really great school for children. The founder, Mrs. Adjobi Delores Mensah studied education at Spelman College and really knows a lot about teaching and learning. It was a pleasure to meet with her!
I'm not sure if you know that Liberia was founded by former slaves from the US. In the early 1800s, freed slaves left the South and settled in Liberia. The country has many towns and counties named after US states and the capital city, Monrovia, is named after President James Monroe. The freed slaves became the elite of Liberia and were called the Americo-Liberians or Congo people. A fascinating, but sad history.
One of the things that becomes so obvious when you visit developing nations is that the one thing all children on our planet need -- more than possessions -- is unconditional love of the adults in their lives. If all children had that love, I would not worry so much about the future. I better understand the African proverb referring to "it takes a village" since it's so obvious in Liberia that, despite a horrific civil war in which many parents died, children are being raised by the extended family and friends.
Tomorrow we are off to Cape Coast Ghana where we will be visitng with students and faculty at the university.
Paula A. Cordeiro
Dean and Professor
School of Leadership and Education Sciences
University of San Diego