Getting to Know Grant Forrest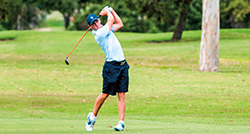 From USD Magazine -- Getting to Know...
GRANT FORREST
AGE: 20. HOMETOWN: East Lothian, Scotland.
SUPERLATIVES: The reigning West Coast Conference (WCC) player of the year for 2014, Forrest is a three-time First-Team All-WCC performer. Before arriving on campus in 2011, he was crowned the 2010 Scottish Boys Golf Champion.
LEADER: The Toreros' team captain and steadiest performer, his game is on an upward trajectory. "I want to be a first-team All American before I graduate, and I want our team to win the WCC Championship and qualify for the NCAA Championships. We've got the ability, and we need to aim high."
FIRST IMPRESSION: As a Scotsman, fall weather meant waterproofs and galoshes, not swim trunks and sandals. Imagine his surprise and delight when visiting USD for the first time on an 80-degree November day. "Everyone was tan and looking as if they'd just come from the beach. I mean, shorts? In November?"
TIGER OR PHIL? Sorry, Forrest won't pick a side. "Like a lot of players my age, I grew up idolizing Tiger. It was just amazing to watch him take apart a golf course when he was on top of his game. I was recruited to USD by Tim Mickelson (Phil's younger brother), and had a chance to talk with Phil in the parking lot at last year's Open Championship. He was great. So, I guess I like them both. Is that OK?"