Christina Prejean's Afghanistan Deployment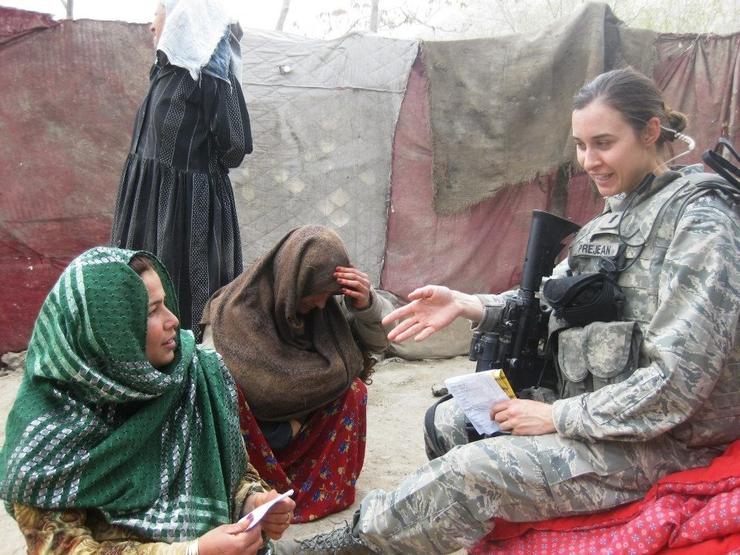 San Diego (March 31, 2014) – Christina Prejean, '16 (JD), spent a year deployed at a NATO base in Afghanistan as a convoy mission commander. When she was a student at Westmont College in Santa Barbara, Prejean had driven to Los Angeles on Fridays to complete her ROTC training, and in 2008 she commissioned into the Air Force. Her first duty station was in Mountain Home, Idaho. Because she was from San Diego, she felt isolated there far from family and any major city, so Prejean was excited when in the third year of her four-year term of service she was deployed to the NATO base where she met soldiers from all over the world.
Prejean was one of four officers in charge of fifty combined Army/Navy/Air Force/Marine enlisted troops. Her job was to provide security and transport for visiting VIP's such as high-ranking generals and department of defense officials. Driving or walking in the streets outside the relative safety of the base was potentially dangerous work, so Prejean rode in a bulletproof, but not IED proof, black Suburban; wore a bulletproof vest, helmet and protective eye gear; and carried an M4 rifle and an M9 pistol on every mission.
Not surprisingly, Prejean had memorable experiences in Afghanistan, many relating to women's issues. While there, she received special training that allowed her to volunteer as a victims advocate in sexual assault cases. "I accompanied a victim to interviews and hearings, providing moral support." Prejean's view is that until women are represented in the military in numbers equal to men and in greater numbers holding positions of higher authority and rank, the issue of sexual assault will continue to be a problem that is all too often not taken seriously enough. Prejean hopes to tackle this issue in the future.
Prejean was also able to work with Afghan women during her deployment. "They were very eager to speak to me, especially since they were not allowed to interact with male soldiers." She found that Afghan women educated before the 1980's knew what freedom was, but that the repressive elements in control since then had denied many younger women access to education. Many were illiterate, and there was little access to books, the internet, or other outside sources of information.
In many cases, Afghan women had to rely on tribal elders for their knowledge of the world, and the information they received was sometimes very misleading. "I met women who believed that menstruation was a curse visited on Afghan women alone; they were stunned when I explained to them that all women have the same basic biology. When I spoke with them about what to do in case they were sexually assaulted, they seemed amazed that there could be any recourse for them other than suicide."
Because Afghan men can refuse to allow their wives and daughters to be examined by male doctors, and because very few women are allowed to obtain enough education to become doctors, there are almost no female doctors, putting Afghan women's health at risk. And women's ability to earn money to help their families is also very restricted. Prejean recalls one Afghan woman who came to the shops on the base to sell scarves and souvenirs. "She explained to me that she had to lie to her family and her community about what she was doing because they would have considered her a prostitute for going on a military base and talking to men."
Prejean felt at odds with some of her superiors who believed that the U.S. could foster progress in Afghanistan without considering the position of women. "If respecting the culture means ignoring the rights of half the population, that's a problem."
"It was very sad. I saw firsthand what life is like when there is no justice, no equality."
Prejean now serves in the Air Force National Guard one weekend a month. She loves law school and is an SBA section representative. She manages the stress of law school by writing down a list of what she has left to do at the end of each day: "Then I just let it go. Besides, when you've stayed up all night with rockets shooting at you and you've learned to just wake up the next day and do your job, law school seems pretty manageable."