Students Excited for Prizes, Madrid this Fall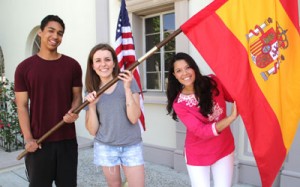 From Inside USD -- Erin Snoke was in class on Monday evening when she received a friend's text message. Instead of look at it right away, she patiently waited for a scheduled class break to read it and find out that St. Patrick's Day was a lucky one for her.
Snoke, a sophomore international relations major and Ethnic Studies and Spanish minor, learned her name had been picked in a big prize drawing for USD students who had signed up by the March 17 noon deadline to apply for the study abroad program in Madrid, Spain this fall.
Snoke (pictured, center, with Golden and Figueroa) won the grand prize, a round-trip airline ticket to Madrid, which is a $1,500 value. A few days later, the joy in her voice remained as she retold the story.
"I read my friend's message and naturally, I was in shock. I thought that maybe she had misheard my name. I always say I never win anything, but then there was the anticipation of getting a conformation email that I'd won," she said. "When I got it, I immediately called my mom to tell her the great news."
The airplane ticket was one of three prizes presented by the USD International Center. Fellow sophomores Jordan Golden, a business finance major and political science minor, and Lena Bianca Figueroa, an international business major and music and math minor, won an iPad Mini ($400 value) and three-piece luggage set ($200), respectively.
"It'll be taking most of the pictures for me," said Golden of the iPad Mini. "I'll enjoy taking lots of pictures of all the artwork and everything."
Figueroa said she had a recent conversation with her mom that shopping for new luggage would be on the pre-Madrid trip purchase list. Not anymore. "No mom, it's now coming to me," she said in a follow-up conversation.
The prize drawing was a fun incentive open to all undergraduate students who applied for the Madrid Fall 2014 study abroad semester by the imposed deadline. Golden and Snoke said they'd applied prior to the drawing announcement and Figueroa said she filled out her application just prior to Spring Break.
Equally important was that the drawing helped celebrate the upcoming opening of USD's first permanent international studies facility, the USD Madrid Center.
The 10,000 square-foot space, located in the heart of Spain's largest city, is a successful example of USD President Mary E. Lyons' strategic initiative to expand the university's global reach. Denise Dimon, associate provost for international affairs, said the facility is expected to open in late summer for graduate programs run by the School of Leadership and Education and the School of Business Administration.
Snoke, Golden and Figueroa will be among the first group of undergraduate Toreros to take courses in one of four classroom spaces in the new center. Snoke plans to take 15 units while Golden and Figueroa are taking 18. All three said Madrid was their top choice and that it will be their first trip to Spain. All three added that enhancing their Spanish language skills is a top priority.
"Because there's the option to live in a home stay where I'm forced to speak Spanish, I will definitely learn to speak Spanish," Figueroa said. "I'm really looking forward to immersing myself in the culture. I'm beyond thrilled to go."
— Ryan T. Blystone