USD Establishes Permanent Madrid Center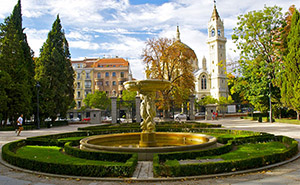 From Inside USD -- The University of San Diego is a leader in providing international education experiences for students through study abroad programs in more than 30 countries. But later this month, USD will establish its first permanent international studies facility in Madrid, Spain.
Denise Dimon, USD's associate provost for international affairs, said the university is signing a lease in mid-March for a 10,000-square-foot space in the heart of Madrid, near Retiro Park, the Prado Museum and tree-lined streets with sidewalk cafes, shops and more.
The opening of the USD Madrid Center once again raises USD's international profile, which has been nationally ranked among the top three universities for undergraduate study abroad participation percentage in each of the last five years via the Institute of International Education's Open Door Data. The Madrid Center falls in line with a strategic initiative goal set forth by USD President Mary E. Lyons, PhD, to expand USD's global reach.
"This is a natural progression. This is about expanding our footprint," said Dimon, a veteran USD Economics professor and director of the International Center and Ahlers Center for International Business, about the new facility. "There is something very special about Madrid. The foundation of USD being in Spain is quite important. It's about the Spanish culture, the people, the language and the city itself — it's a popular place. There's so much about it that makes sense."
To celebrate this historic announcement, the International Center is conducting a special drawing on Monday, March 17. The grand prize is a free round-trip flight for one lucky student to Madrid, which is valued at $1,500. The drawing is open only to undergraduate students who submit a completed application for the Madrid Fall 2014 study abroad program by noon on March 17. Two additional prizes, an iPad Mini ($400 value) and a three-piece luggage set ($200 value), will be awarded to student applicants entered into the drawing. Winners will be announced at 5 p.m.
Equally exciting is how the space will be utilized. Dimon said the facility will have "lots of active learning spaces," with multiple classrooms, mobile learning technology capabilities, meeting and study spaces and a library. Dimon envisions the USD Madrid Center being a valuable resource for everyone at the university.
"One of the greatest strengths we have at our university is our international programs," she said. "Being that we're located near the U.S.-Mexico border, we're on the Pacific Rim, all of the study abroad opportunities through the International Center [and] the schools [as well as] the immersion trips through University Ministry and Center for Community Service-Learning … everyone does something. It's a real strength. It's part of our DNA. And now, in Madrid, we'll have a facility that ties us more into its communities."
Dimon said the USD Madrid Center is scheduled to open for summer programs offered by the School of Business Administration and School of Leadership and Education Sciences (SOLES). Undergraduate students get their first exposure to the center this Fall.
Having a presence in Madrid puts USD students in close contact with USD history. About 25 miles northeast of the city is the Universidad de Alcalá, where USD founder Mother Rosalie Clifton Hill was inspired by the architecture and designed then-developing San Diego College for Women with a similar look. Mother Hill's decision to feature 16th century Spanish Renaissance architecture throughout the campus remains intact, 65 years after its founding in 1949.
The USD Madrid Center is an idea the International Center has been working toward. Students have studied abroad in Madrid for more than a decade with courses in business and multiple College of Arts and Sciences subjects. Students with advanced Spanish language skills can take classes at Madrid's Universidad Pontificia Comillas, a USD partnership that Dimon said will continue for interested USD students. All students live in a home stay, thus deepening their connection to Spain's culture and people.
One of the unique offerings within USD's study abroad program in Madrid is the Travel Seminar that all students participate in shortly after arrival. Students, accompanied by area specialists, take a 10-day tour of other Spanish cities and can choose to receive credit in Spanish, History, Political Science or Business.
That's one of several reasons to be excited about the USD Madrid Center, a place where the possibilities for USD students to become better prepared global citizens has a permanent address.
"I think this can put USD on the map," International Studies Abroad Director Kira Espiritu said. "We feel this shows that USD is not just talking about international education, we're walking. If you can be somewhere and immerse yourself in it and have something that's available to the whole campus, for different purposes, it's going to make everyone more globally aware. When students return from Madrid they'll know they've had a true international experience."
— Ryan T. Blystone