Ring in the New Year with Study Abroad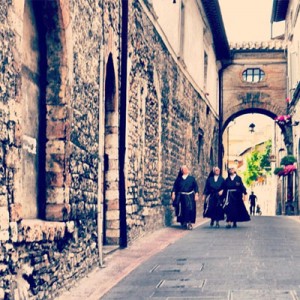 From Inside USD -- The turn of the calendar to a new year, now 2014, gives everyone a clean slate, a fresh start and new opportunities to explore, learn and grow. For most of January, hundreds of University of San Diego undergraduate and graduate students are taking this approach to heart by way of an Intersession study abroad class.
Students, just the fall and spring semesters and summer, can choose from an array of courses taught by USD professors in foreign countries. Undergraduates can take classes in business, English, Spanish, Political Science/International Relations, Theology and Religious Studies, Art History and more, while also visiting countries throughout Europe (London; Paris; Vienna, Austria; Brussels, Belgium; and Istanbul, Turkey), in China (Shanghai), Argentina (Buenos Aires) and United Arab Emirates (Dubai).
Sophomores, especially, get a chance to connect with fellow class members in the Second-Year Experience Study Abroad program. Exclusively open to sophomores — who actually sign up for the trip their freshman year — they are traveling to Florence, Italy and Seville, Spain this month. Students attend class and have a host of activities, field trips and group reflections with a cross-section of USD staff and administrators along for the trip. Information is already available for freshmen interested in the January 2015 SYE Study Abroad trip.
Graduate programs offered through the USD Ahlers Center for International Business, give students enrolled in MBA/IMBA, MS Global Leadership and MS Real Estate a chance to put their learning into practice. Students get to experience the global marketplace firsthand, understand the realities of doing business from many aspects, including culturally, and how to solve problems. This month, MBA/IMBA students are in Rio de Janeiro, Brazil; Buenos Aires, Argentina; La Romana, Dominican Republic; Shanghai and Hong Kong, China; Bangalore, India; and Dubai, UAE. Some trips consist of a class and an international practicum, while some just offer the latter. The MSGL cohort is in Buenos Aires while MSRE students learn in Hong Kong.
Students in the Hahn School of Nursing and Health Science Master's Entry Program in Nursing (MEPN) get hands-on international experience working with village populations in Haiti and the Dominican Republic. Leadership Studies students in the School for Leadership and Education Sciences can fulfill their international requirement this intersession via a course offering in Sri Lanka.
But some USD students, through programs in Washington D.C. and Park City, Utah, won't even leave the United States this month to have a rich, rewarding experience to start 2014.
Students studying Political Science and International Relations are heading to the nation's capital to participate in a two-week Washington Center Academic Seminar. Here, they'll hear from and ask questions of political and media figures, lobbyists and learn more about current political issues. From there, they'll explore career opportunities and learn about the political process. Past groups have attended the U.S. Presidential inauguration ceremony (2013 group pictured, right, at last year's event).
Meanwhile, in Utah, USD offers a Communication Studies course that takes students to the popular Sundance Film Festival in Park City. This year's event, Jan. 12-24, marks the 10-year anniversary of USD's course offering. USD Professors Eric Pierson and Roger Pace have their students choose 10 films to view during the festival and follow up with a written critique and discussion of the films they see.
All in all, what happens in January for USD study abroad students, regardless of destination, is a new appreciation for learning and, with eyes wide open, potentially life changing.
— Ryan T. Blystone
Photo courtesy of USD student Audrey Bullwinkel