USD School of Law Wins First Place in Mock Trial Competition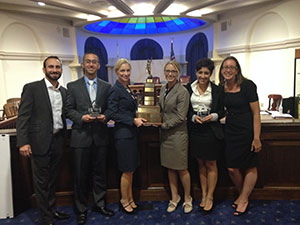 Two teams from University of San Diego School of Law (USD) competed in the 23rd Annual San Diego Defense Lawyers (SDDL) National Mock Trial Competition. The winning team, coached by alumna Kate Kirschbaum '11, consisted of Ashley Breen, Amanda Ewell, James Valoria, and Yara Zokaie. USD's second team comprised of Danielle Garcia, Nicholas Graham, Michael Panikowski, and Jessica Wilson, was coached by Head Coach Frankie DiGiacco '09.
Held October 17-19, 2013 at the Superior Court and USD School of Law, 20 teams from law schools across the country competed in the SDDL National Mock Trial Competition, including Georgetown, UC Hastings, Stanford, and Pepperdine.
In this year's fictional case, Thomas Aaron v. Belmont College and Michael Scott, a prominent collegiate baseball player suffered post-concussion disorder after being hit in the head twice during a game - once on a slide into second base in the fifth inning and again by a pitch in the ninth inning. The player alleged that the team's trainer negligently evaluated the player for a concussion and negligently allowed him to go back into the game, suffering greater injury when he was hit by the pitch in the ninth inning. Given the rising attention to concussions in sports, this case provided a real-world example of litigation attorneys may soon see in legal practice.
Both USD teams were undefeated in the preliminary rounds, besting teams from Pepperdine, Whittier, Texas Tech, and Santa Clara to advance to the semi-final. Competition seeding rules resulted in a USD matchup. USD's teams faced off with the team of Breen, Ewell, Valoria, and Zokaie ultimately advancing to and winning the final round. The Honorable Kenneth Medel, Superior Court judge, presided over the final round.
"I am unbelievably proud of Ashley, Mandy, Yara, and Jimmy. They spent countless hours on nights and weekends preparing for this competition and their hard work definitely showed! In each of the rounds, they were poised and professional, yet passionate about the case. Their knowledge of the facts and law and their realistic style of advocacy made them unshakable in the competition and ultimately earned them a first place trophy," said Coach Kate Kirschbaum.
Head Coach Frankie DiGiacco coached the semi-finalist team of Garcia, Graham, Panikowski, and Wilson, all second-year students. DiGiacco said, "As second-year students, they have never competed in a national mock trial tournament. They competed at an incredibly high level for any participant with any degree of experience, and at an exceptional level for newcomers. Specifically, their command of the rules of evidence received commendation from each of the judges they appeared before. These students showed that they are not only ready for mock trial, but for the practice of law they will soon face."
USD School of Law is dedicated to preparing graduates for successful and rewarding legal careers. Participation in the National Mock Trial Team offers students the opportunity to develop practical advocacy skills necessary to become strong future litigators. By combining traditional legal education with hands-on advocacy and litigation training, students are well-prepared to begin their careers.
San Diego Defense Lawyers
With over 300 members, SDDL is comprised of trial attorneys representing defendants in civil litigation. For the last 23 years, SDDL has hosted the National Mock Trial Competition.