AS Senate in Session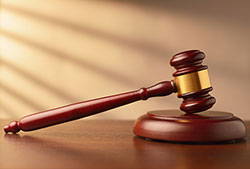 You might recall just a few weeks ago that Associated Students had their Fall Elections for the remaining positions on AS Senate. Now that the results are in, the team is complete, and the training has been done, AS Senate is in session every other Thursday!
Trenton Mendenhall, the AS Speaker of the Senate, has high expectations for this year's team and is excited for the school year, especially after the great discussion that took place AS Senate's first session.
What can students expect from AS Senate? Mendenhall explained that there will be a "strong focus and emphasis on the student issues that are facing USD this school year, as well as the development of initiatives that will contribute to the growth and development and improvement of the university." AS Senate has also decided to focus more attention on the residential and academic component of the university than in years past.
Senate is not limited to the Associated Students team, but is open to the whole student body. If you have a student issue, please attend an AS Senate meeting. AS Senate is held two to three times each month on Thursdays in Salomon Hall beginning at 12:15 p.m. There is a specific time dedicated to the members of the public to address the AS Senate on issues or concerns they might have.
You can find out more about Associated Students Senate, including information about who the senators are, when AS Senate convenes, and what has been discussed at previous senate sessions, by checking out the AS Senate website.