Yvette Fontaine: USD's International Treasure Retires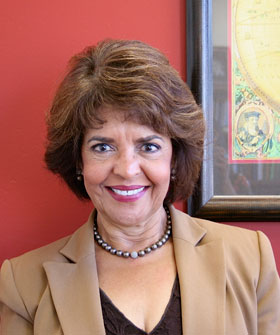 From Inside USD -- When the University of San Diego introduced the opening of the International Center six years ago, no one was happier than Yvette Fontaine.
Having university leadership designate a campus space — Serra Hall 315 — where the Office for International Students and Scholars (OISS), Undergraduate Study Abroad, International Student Organization (ISO) associate director and the associate provost of international affairs can better serve the needs of a growing campus community takes internationalization to a higher, more visible, level.
"It's a one-stop office," Fontaine said. "The atmosphere in the center is wonderful. There's a lot of cooperation. I've done presentations for study abroad students. We work on social and education needs, international students can talk to advisors, get health insurance and we have weekly international coffee hours and international social events monthly. Students who come here can always talk to somebody."
Fontaine, an architect of USD's internationalization efforts on campus as international alumni from Afghanistan to Zimbabwe can attest, has been that somebody. She's often the first person to greet new international students, doing so in their native language. She engages, listens, helps in a pinch, laughs with and comforts them.
Earlier this summer, however, Fontaine retired after 30 years of foundational and dedicated service to USD and a personal commitment to internationalization. She's officially passed the torch to those who've worked with, watched and learned from her.
"Yvette's enthusiasm for international education and cross-cultural exchange is infectious," said Kira Espiritu, director of undergraduate study abroad programs. "I've learned the importance of remembering details about people, their families and their cultures. She has a special way with people. Watching her interact with students and faculty over the years has taught me the value of a warm smile, a compassionate ear and what it means to truly be present with others."
Fontaine, born and raised in Havana, Cuba, came to the U.S. more than 40 years ago. The impact of her time on the campus and where she is now go hand in hand.
"What I associate with America is USD," she said. "My experiences in this country have happened here. So much of my life is linked to this place."
Her 1983 arrival at USD came in a part-time role in the School of Law. She organized paperwork, transcripts, wrote letters and counseled international students enrolled in the Master of Comparative Law, now Master of Laws (LLM) program.
"I was so into it, I was so happy to be in an educational atmosphere. I had five international students when I took it on and they all are still in touch with me," Fontaine happily noted.
She enjoyed it so much and saw its potential that she went to USD's library and made a list of 500 universities around the world. Fontaine wrote letters, included a brochure, and sent them out in an effort to increase awareness. "That first year we got 125 applications and the program took off," she recalled.
She worked closely with Joe Darby and later Ralph Folsom in the law school until Sister Sally Furay, academic vice president and provost at the time, took notice of her work. Furay hired Fontaine to work with USD's entire international student population.
"I had an office in the law school in the morning and Student Affairs in the afternoon," she said. "Soon after, Tom Burke moved me full-time to Student Affairs. He knew what I could do. He made me the director of International Resources. It was wonderful because with this title I could provide more services, more resources for the entire international community."
Fontaine's dedication truly shined. Tom Cosgrove gave her funding to host an international students orientation during Torero Days. She founded the first international fashion show, which in May 2013 celebrated its 28th year. This go-to student event involves a free international buffet and features USD students who, dressed in the fashions of other countries, appear as runway models or perform traditional music or dance. They express themselves because of the caring and support of Fontaine and her staff.
"I always enjoy seeing Yvette's interactions with new students and families as she always has a way of making them feel at home in our office almost immediately," said OISS Assistant Director Rhona Reyes. "I've seen her break out in rapid Spanish for animated conversations with Spanish-speaking students and parents. I've also seen her drop a few Insha Allahs ("God willing") with our Arab students. I know students left our office reassured that a) they came to the right school; and b) they'd be alright because Yvette took care of them."
Fontaine's role often went beyond normal work hours. She'd help students with issues, most beyond their control, whether it was local, in Tijuana, at the Los Angeles airport or somewhere else. She was committed to solving problems and easing concerns commonly faced by newcomers to the U.S.
"Yvette taught me that what international students truly remember about their interactions with our office is how we make them feel once they arrive," said OISS Associate Director Greg Grassi '96. "We often are so focused on making sure our students are aware of all the immigration regulations, which are certainly important, but it's the relationship building that puts us in a position to help in a time of challenge or crisis."
One of the most challenging times, Fontaine explained, occurred in the wake of the 9/11 attacks. National security became an absolute top priority. Visas and passports were scrutinized for anyone coming in and out of the U.S.
"The university needed to be certified before Homeland Security and the State Department would let us continue bringing international students to campus," she said. "The certification process put gray hair in my head."
Twelve years later, USD's international community is robust. Students attend USD in droves to get their education. Their presence on campus provides a unique educational opportunity for the rest of the USD community. It's especially resourceful for students at USD, which is ranked No. 1 in the nation for undergraduate study abroad participation percentage, to enhance knowledge before and after they've visited or studied in the country of a current international student.
Helping students understanding others better is what Fontaine did for 14 years as a USD professor for multicultural counseling in the School of Leadership and Education Studies (SOLES). She also served as an internship advisor for counseling students.
"I'm one of the many fortunate international students who arrived at USD and was instantly showered by a warm welcome and caring love from Yvette," said Chia-Yen Lin. "As a student in her multicultural counseling class, I remember looking forward to it each week with excitement and anxiety. She was the type of professor who would touch your heart, challenge your mind and make you a humble person. Being inspired by her, it's no surprise I wanted to be an international educator myself."
Lin moved to New York to launch her career in 2001, wanting to create a "home-away-from-home" for international students just as Fontaine had done. Five years later, Fontaine called Lin to gauge her interest in an OISS job opening. Lin applied, got the job and has enjoyed being mentored by Fontaine again in recent years. Shortly after Fontaine's retirement was known, Lin was promoted to OISS director.
"She's been an incredible mentor who considers international students as part of her extended family or close friends," Lin said. "She's always ready to listen and share their success and frustrations — that's the legacy I'd like to continue in the years to come."
Fontaine's penchant for strong, close relationships is evident throughout the OISS team. She hired Lin, Grassi and Reyes, all of whom will now build on what Fontaine started. "They're the best team of professionals I could have hoped for and I say that from my heart," Fontaine said. "They are absolutely dedicated professionals. Together we've done some wonderful things."
Denise Dimon, USD associate provost of international affairs and Ahlers Center for International Business director, said Fontaine's commitment to international students, scholars and the university will live on through OISS staff she mentored.
A retirement celebration for Fontaine will take place from 3:30-5:30 p.m., Friday, Sept. 27 at Mother Rosalie Hill Hall's (SOLES) West Patio area. Those who've benefitted from Fontaine's expertise, whether it's been her work with international students, mentorship — or being "spot on" with the latest fashion and make-up trends or tips, Espiritu recalled — can thank her in person.
"So many of our international alumni remember Yvette. Whenever I meet them they always ask me how Yvette is doing," Dimon said. "They remember how she welcomed them to USD and made them feel at home. Her ideas and leadership helped build the international character and focus of our campus. What now is a natural part of our university is something Yvette helped create. Her legacy will continue across our campus and certainly in our office. Chia-Yen is someone Yvette trained, supported and mentored. She did this for so many of our students, serving as a role model, support person and advisor."
-- Ryan T. Blystone