USD Welcomes Gov't and Military Officials, Unveils Law School's Veterans Initiative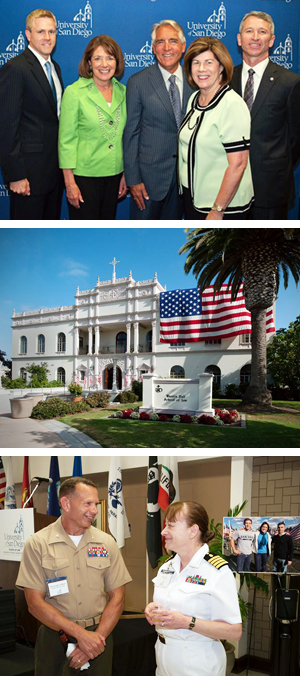 San Diego (July 15, 2013) – On Thursday, May 30, 2013, University of San Diego (USD) leaders welcomed U.S. Congresswoman Susan Davis (D-San Diego), San Diego Mayor Bob Filner, Coronado City Councilman Richard Bailey, military officials, and veterans to a special reception to unveil USD's Initiative to Protect Student Veterans.
The first program of its kind in the nation, the initiative educates and protects military veterans from the misleading practices of some for-profit educational institutions and lenders through a multipronged approach that focuses on research, advocacy, and the provision of free legal services through the law school's Veterans Legal Clinic.
"Late last summer we began the clinic, opened the doors and quietly built a good foundation," said Col. Patrick Uetz, USMC (ret.) and director of the initiative in an interview on KUSI-TV's "Good Morning San Diego" the morning of the launch reception. "Right now we're ready to showcase [the clinic] and share it with the rest of the San Diego community."
"Many veterans' futures have already been derailed due to their reliance on promises from for-profit institutions," said Col. Uetz in his opening remarks to the crowd of nearly 150 distinguished guests at the launch event. "The Initiative to Protect Student Veterans is focused on countering these harmful effects by providing legislative and regulatory advocacy and clinic-based individual assistance."

USD President and retired Navy captain Dr. Mary Lyons described her personal dedication to grow and prepare student veterans so that they may achieve their dreams wherever they may choose to study. Noting that USD has a rich tradition of encouraging veterans to continue to develop in any manner or direction necessary to achieve their dreams, Dr. Lyons impressed upon those gathered that USD's sole interest is to ensure student veterans receive accurate information and make their own informed education choices.
San Diego Mayor Bob Filner, well known for his federal civil service as former chairman of the House Committee on Veterans Affairs, worked for many years to increase veterans' benefits and support the new GI Bill.
"In past wars, we failed to properly support our returning military troops," said Filner at the event. "We're not making that mistake again by providing our military veterans the support they not only need, but deserve."
Price Professor of Public Interest Law Robert C. Fellmeth and Center for Public Interest Law (CPIL)/Children's Advocacy Institute (CAI) lead attorney Ed Howard spoke about the advocacy component of the initiative.
"Our collaboration with several others who also advocate for better regulation in both Sacramento and Washington, D.C. has proven remarkable," Fellmeth said. He noted that several hours just before the event, USD's team convened a significant meeting with Federal Trade Commission Chair Edith Ramirez in Washington that included other leading advocates for consumers, veterans and education.
Howard, the CPIL/CAI legislative advocate working in Sacramento with the San Francisco-based public interest law firm Public Advocates, reported on the recent passage of California Assembly Bill 2296. The law, which sets a new national standard for state legislation, requires schools to disclose graduation and subsequent employment records, among other data. This legislation and its new requirements—shaped in large measure by USD's efforts—form the most extensive and specific state regulation of its nature in the country.
Veterans Clinic Supervising Attorney Robert Muth—also a Marine Corps veteran—oversees the upper-level USD School of Law student interns who work with veterans and military family members in disputes with for-profit institutions over the use of GI Bill funds and related loans. In his comments to the crowd, Muth outlined the new clinic's function.

"We conduct outreach education events with veteran and military groups," said Muth. "We meet with veterans one-on-one and assist with their specific situation. And if need arises, we represent student veterans in court, arbitration or other resolution discussions."
With an estimated veteran population of about 250,000 in San Diego County and more than two million veterans living in California, there is no doubt that many will benefit from USD's first veteran-centric program and newest legal clinic. The USD School of Law Veterans Clinic may be reached at veteransclinic@sandiego.edu or (619) 260-7470.
About University of San Diego School of Law
Recognized for the excellence of its faculty, curriculum and clinical programs, the University of San Diego (USD) School of Law enrolls approximately 900 Juris Doctor and graduate law students from throughout the United States and around the world. The law school is best known for its offerings in the areas of business and corporate law, constitutional law, intellectual property, international law, public interest law, and taxation.
USD School of Law is one of the 81 law schools elected to the Order of the Coif, a national honor society for law school graduates. The law school's faculty is a strong group of outstanding scholars and teachers with national and international reputations and currently ranks 23rd worldwide in all-time faculty downloads on the Social Sciences Research Network (SSRN). The school is accredited by the American Bar Association and is a member of the Association of American Law Schools. Founded in 1954, the law school is part of the University of San Diego, a private, nonprofit, independent, Roman Catholic university chartered in 1949.