USD Law Students Meet with Justice Scalia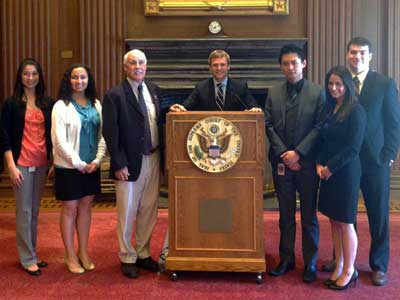 San Diego (May 3, 2013) – Five USD law students participating in the Washington D.C. Externship Program this spring had a memorable experience when they met with Justice Antonin Scalia at the U.S. Supreme Court.
Ashley Dixon, '13 (JD), who externed at the D.C. Office of the Attorney General, admitted she was a little intimidated when Justice Scalia stood at the podium and very directly asked, "Well, what do you want to talk about?"
"Luckily," said Dixon, "Professor Minan stepped in and broke the ice, and from then on it was easy to move to the topics that interested us." (Professor John Minan is the Washington, D.C. Faculty Externship Supervisor.)
"What impressed me most is when you meet Justice Scalia, you get Justice Scalia," said Erik Keto, '13 (JD). During his semester in Washington, Erik externed at the Securities and Exchange Commission and met with several important government officials whose answers to his questions tended to be very general and cautious. "Not so with Justice Scalia. He told us honestly and succinctly what he thought."
In the 40-minute meeting, Justice Scalia expressed strong opinions on a variety of topics, among them legal education. "He thinks all law students should read 'The Federalist Papers' in their entirety," noted Mary Alfred, '14 (JD), who spent her semester with the U.S. House Committee on Education and the Workforce. "He also expressed his view that law schools need to do much more to teach students about statutory interpretation."
Mary also noted that Justice Scalia expressed a belief that what makes America different from all other countries (and so successful) is not so much the Bill of Rights, but the structure of our government with its three branches, including the bicameral legislative branch. Many other countries have strong bills of rights but lack the structure to protect those rights.
Whether they agreed with his views or not, the students were unanimous in their respect for Justice Scalia's candor, wit, passion and intelligence. Erik Keto remarked, "You could almost see the wheels turning inside his head as he considered how to respond to our questions."
The day following their meeting with Justice Scalia, the students returned to the Supreme Court to hear oral arguments in a workplace bias case. Danielle Vallone, '14 (JD), found the process fascinating. "It amazed me to see how relaxed the justices seemed to be, many leaning back in their chairs, resting their chins on their hands or looking up at the ceiling." Danielle, who externed with the Environmental Protection Agency, was surprised by the many jokes the justices made: "the courtroom erupted in laughter several times." Also instructive according to Danielle was seeing how the different attorneys responded to questioning from the Court.
All five of the USD students agreed that these experiences—meeting with Justice Scalia and observing oral arguments—were two days they will remember the rest of their lives. Chuck Zhang, '14 (JD), who worked at the Securities and Exchange Commission, summed it up when he said, "It was the perfect ending to what was an amazing semester in Washington."
About the University of San Diego School of Law
Recognized for the excellence of its faculty, curriculum and clinical programs, the University of San Diego (USD) School of Law enrolls approximately 900 Juris Doctor and graduate law students from throughout the United States and around the world. The law school is best known for its offerings in the areas of business and corporate law, constitutional law, intellectual property, international and comparative law, public interest and taxation.
USD School of Law is one of the 81 law schools elected to the Order of the Coif, a national honor society for law school graduates. The law school's faculty is a strong group of outstanding scholars and teachers with national and international reputations and currently ranks 23rd worldwide in all-time faculty downloads on the Social Sciences Research Network (SSRN). The school is accredited by the American Bar Association and is a member of the Association of American Law Schools. Founded in 1954, the law school is part of the University of San Diego, a private, nonprofit, independent, Roman Catholic university chartered in 1949.