Kathryn Kamenski's Busy Life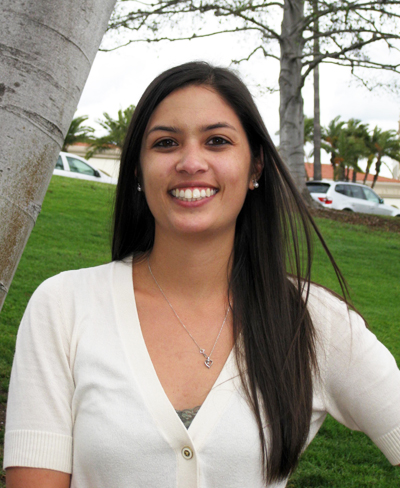 San Diego (April 9, 2013) – Thursday night is the time when Kathryn Kamenski, '14 (JD), takes a break from her busy schedule to let off some steam. First it's intramural softball playing catcher for her team "Torts Illustrated." "I know we're not the best team out there, but we have such a lot of fun." Then it's on to Bub's Dive Bar in Pacific Beach for trivia night.
Kathryn thrives not just on competition but also on the camaraderie generated when she works with others, something she realized about herself when she played on the Berkeley field hockey team. The rest of the week Kathryn doesn't slow down but stays active by running and going to the gym, and she also likes to jet ski. All this physical activity helps give Kathryn the energy to tackle both her studies and her extracurricular activities.
To begin with, Kathryn is a member of the law school trial team. "I tried out at the end of my first year, but I didn't make the team." Then the summer after her first year she had a community service grant supporting her while she worked at Disability Rights California. "I argued for claimants with disabilities in administrative hearings, and I really loved it, so I decided to try out again." She competed in the Thorsnes Closing Argument Competition in the fall, and this time she was successful. "I was so nervous. I felt like my legs were going to give out when I walked into the Grace Courtroom. But once I started talking, I was O.K."
Kathryn is also developing her advocacy skills interning with the Chula Vista City Attorney and appearing in probate court through the law school's Education and Disability Clinic. Given Kathryn's interest in trial advocacy, it's not surprising that two of her favorite classes have been Evidence with Professor Michael Devitt and Civil Procedure with Professor Shaun Martin.
Kathryn's other major activity is participation in the San Diego Journal of Climate & Energy Law. "I wrote my comment in conjunction with a paper class, Professor Folsom's International Trade Law. My topic was the World Trade Organization's dispute settlement system and how it deals with environmental issues. Writing that comment was a lot of work!" Kathryn is now the journal's Volume 5 managing editor. "We co-sponsor a symposium in the fall with USD's Energy Policy Initiatives Center (EPIC), and one of my main responsibilities will be working with the presenters for the event. The presenters are also the authors of the articles that we publish."
About the University of San Diego School of Law
Recognized for the excellence of its faculty, curriculum and clinical programs, the University of San Diego (USD) School of Law enrolls approximately 900 Juris Doctor and graduate law students from throughout the United States and around the world. The law school is best known for its offerings in the areas of business and corporate law, constitutional law, intellectual property, international and comparative law, public interest and taxation.
USD School of Law is one of the 81 law schools elected to the Order of the Coif, a national honor society for law school graduates. The law school's faculty is a strong group of outstanding scholars and teachers with national and international reputations and currently ranks 23rd worldwide in all-time faculty downloads on the Social Sciences Research Network (SSRN). The school is accredited by the American Bar Association and is a member of the Association of American Law Schools. Founded in 1954, the law school is part of the University of San Diego, a private, nonprofit, independent, Roman Catholic university chartered in 1949.