Kati Ansert: Peace Corps Volunteer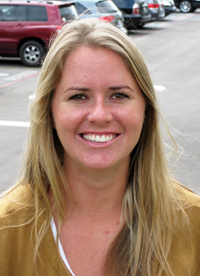 San Diego (March 28, 2013) – Kati Ansert, '15 (JD), knew she wanted to join the Peace Corps in her freshman year at USD, so she started the application process early and was sent to Togo on the west coast of Africa the August after graduation.
After three months of training and learning French and Akposso with 13 other volunteers in Gbatope, a farming village two hours outside the capitol, she went by herself to a village of 2500 in the mountains where there was no electricity or running water. "There were seven water pumps that had been brought to the village, but they were all broken, and none of the villagers had the training needed to repair them." Obtaining needed water took up to two hours a day. "I helped some of the women dig a hole next to one of the broken pumps and line it so they at least had a nearby place to collect water." The villagers grew coffee for a living, selling most of their beans to Nestle Corporation. "My host father walked five miles every day to get to his coffee farm. It was grueling work." One ofAnsert's projects was to help the local farmers develop business plans for coffee-growing.
Ansert learned to be flexible about many things during her stay, including her diet. "My host father came home one night, so pleased, holding a very large dead bush-rat by the tail: 'We will eat well tonight, Kati!'" For New Year's Day, the villagers butchered a ram for a feast. "As the guest of honor, I was given the heart." And then there was the day her host father brought home a tin filled with fat, juicy grubs. "Now, I'll eat anything!"
Ansert was ill with dysentery twice during her stay. "Disease is a part of life in the region, and many people suffer from periodic bouts of malaria." Then she came down with the mosquito-borne Chikungunya virus, for which there is no treatment; she had to leave Togo after only six months to recover at home. "This was bitterly disappointing to me, so as soon as I could, I thought about reapplying to the Peace Corps." But this time there would be a waiting period before she could be assigned, and she was by then thinking about law school. So she decided to sign up for an immediate six-month placement with a human rights watchdog group in Cambodia.
Government land-seizures and forced relocations had led to protests in Cambodia which Anserthelped to monitor. In one case, a group of women marched in protest, forming a line across the main road in Phnom Penh. When three of the women were arrested, the organization Ansert worked for raised money to hire lawyers to represent them. In another case, a lawyer who spoke out against the government was charged with treason and obstructing justice, and the government threatened to disbar him; again her organization came to his defense. "I was also assigned a project creating a radio script about the women who were protesting government land grabs within the capitol. I pieced together interviews with the women involved to create the story."
Law school has meant adapting once again. "In Togo and Cambodia, I learned to work cooperatively to solve problems. The law school culture puts much more emphasis on competitiveness, with everyone trying to be on top." To keep herself from getting lost in the daily grind, Ansert takes study breaks to check out the top stories in the New York Times, "so I can remember why I came to law school in the first place!" The best stress-reliever of all comes once a week when she gets to ride her thoroughbred bay, Holden. "We are so close, and we communicate so well on a non-verbal level. I really think some of the communication skills I was able to use in Togo and Cambodia, where my language skills were often imperfect, I learned from the many hours I've spent working with horses developing sensitivity to non-verbal cues."
About the University of San Diego School of Law
Recognized for the excellence of its faculty, curriculum and clinical programs, the University of San Diego (USD) School of Law enrolls approximately 900 Juris Doctor and graduate law students from throughout the United States and around the world. The law school is best known for its offerings in the areas of business and corporate law, constitutional law, intellectual property, international and comparative law, public interest and taxation.
USD School of Law is one of the 81 law schools elected to the Order of the Coif, a national honor society for law school graduates. The law school's faculty is a strong group of outstanding scholars and teachers with national and international reputations and currently ranks 23rd worldwide in all-time faculty downloads on the Social Sciences Research Network (SSRN). The school is accredited by the American Bar Association and is a member of the Association of American Law Schools. Founded in 1954, the law school is part of the University of San Diego, a private, nonprofit, independent, Roman Catholic university chartered in 1949.