Julianne Kelly-Horner: Research Assistant to the Dean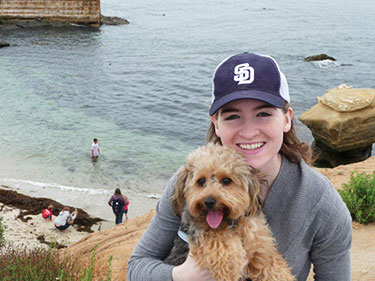 San Diego (March 27, 2013) – As a literature major, Julianne Kelly-Horner, '14 (JD), came to law school already accustomed to doing a lot of reading.
Reading is still her first love and escape. She's reading, and in some cases re-reading, all of Ibsen's plays in my spare time this semester. Although literature was her first love, Kelly-Horner wanted to find a way to use her reading and writing skills to make an impact.
"I had a literature professor at Point Loma Nazarene University who was also an attorney," says Kelly-Horner, "and he encouraged me to consider pursuing a law degree."
Kelly-Horner has participated in a variety of activities. A member of the Vis International Commercial Arbitration Moot Team (VICAM), she co-wrote a brief that students argued in Vienna. Working with VICAM, she learned there were many complex international issues dealing with everything from voiding a contract to using child labor.
Volunteer work at the Family Justice Center is another of Kelly-Horner's activities, providing her experience preparing restraining orders in a public interest setting. Julianne also served as a mentor in the law school's mentorship program.
"Because mentoring and networking contribute so much to success in law, I enjoy not only learning from those with more experience but also mentoring those interested in a law career."
In spring of 2013, Kelly-Horner was judicial extern in the federal district court where she observed proceedings and drafts orders, especially in connection with pro se litigants. When she's not busy at school or at the court, she stays physically active through hiking and kayaking.
But working as a research assistant to Dean Stephen Ferruolo has been her most intriguing experience. One of the dean's interests is trying to figure out why law firms fail. Ferruolo had Kelly-Horner gather statistical data about firms for the last 25 years to analyze whether there are any recurring patterns in failing or failed firms. She noted that Dean Ferruolo is also committed to responding to negative press about law schools in general, saying "he's a very enthusiastic person—excited about the research he's doing and passionate about the value of legal education."
About the University of San Diego School of Law
Recognized for the excellence of its faculty, curriculum and clinical programs, the University of San Diego (USD) School of Law enrolls approximately 900 Juris Doctor and graduate law students from throughout the United States and around the world. The law school is best known for its offerings in the areas of business and corporate law, constitutional law, intellectual property, international and comparative law, public interest and taxation.
USD School of Law is one of the 81 law schools elected to the Order of the Coif, a national honor society for law school graduates. The law school's faculty is a strong group of outstanding scholars and teachers with national and international reputations and currently ranks 23rd worldwide in all-time faculty downloads on the Social Sciences Research Network (SSRN). The school is accredited by the American Bar Association and is a member of the Association of American Law Schools. Founded in 1954, the law school is part of the University of San Diego, a private, nonprofit, independent, Roman Catholic university chartered in 1949.