Loleena Ansari: Excelling through Cooperation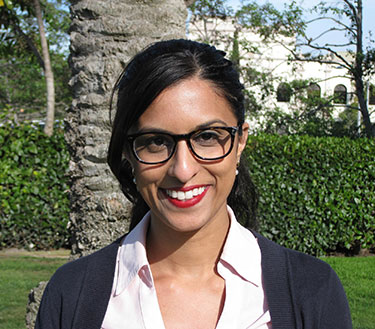 San Diego (March 27, 2013) – Loleena Ansari, '13 (JD), is energized by working collaboratively. "When I came to law school, I was initially attracted to student government, but instead I tried out, and was chosen, for an associate position on the Appellate Moot Court Board at the end of my first year.
"Ansari went on to compete in two competitions as a 2L, and she became Vice-Chair of National Teams in her third year. "USD has twelve national teams, and I help out with all of them, as well as being on a team that will compete in Brooklyn arguing evidentiary issues. My partner, Miller Freeman, and I will be arguing a case involving the expansion of the doctrine of forfeiture for wrongdoing, among other issues, with facts that include a scheme to hunt endangered elephants." Loleena is also finishing up her comment on the deterrence of sexual violence for the San Diego International Law Journal. "I always hate the idea of starting a big writing project, but about four drafts in, I become totally absorbed."
The third week of February 2012 was Ansari's perfect storm: she had to finish her comment for the law journal; her brief for the moot court evidence competition was due; and the Paul A. McLennon, Sr., Honors Moot Court Competition, for which she had responsibilities as a member of the moot court board, was underway.
"Oh, and then I'm a bridesmaid in my best friend's wedding this spring as well. I just need to keep reminding myself to focus on what I have to do each day and try not to worry about everything all at once; otherwise, I'd go crazy." Judging by Ansari's calm and gracious outward manner, one would never guess that she was balancing so many competing claims on her attention.
As an undergraduate, Ansari attended University of California San Diego, going on to get a Masters in Industrial/Organizational Psychology at Hofstra University. She returned to California and worked while deciding whether to continue her graduate studies. While studying at Hofstra, Loleena had learned a lot about human resources and the many interesting legal issues that were often involved. "I came to the conclusion that a life doing research was not what I wanted. Even though I love to write, I also want to create change, and a career in law will let me do that."
Like many law students at the end of their first year, Ansari felt her confidence somewhat shaken, but that was about to change. She had landed an internship for the summer at the Office of the U. S. Attorney in San Francisco. "I started my internship later than most of the other clerks, many of whom were from elite east coast law schools. I had to overcome my insecurities and ask for help getting up to speed. By opening up to others, I started to form real friendships, and we became a very close-knit group, figuring things out together." The satisfaction of working as part of a group was a big reason why her moot court experience was so rewarding. "It was tough, a lot of hard work, but I am so proud of what we've accomplished together."
Ansari's other favorite group activity in law school was intramural softball. "The only way my team won our first year was if the other team forfeited. But now, not only are we good, we are like a family. Things like this kept me grounded in law school."
About the University of San Diego School of Law
Recognized for the excellence of its faculty, curriculum and clinical programs, the University of San Diego (USD) School of Law enrolls approximately 900 Juris Doctor and graduate law students from throughout the United States and around the world. The law school is best known for its offerings in the areas of business and corporate law, constitutional law, intellectual property, international and comparative law, public interest and taxation.
USD School of Law is one of the 81 law schools elected to the Order of the Coif, a national honor society for law school graduates. The law school's faculty is a strong group of outstanding scholars and teachers with national and international reputations and currently ranks 23rd worldwide in all-time faculty downloads on the Social Sciences Research Network (SSRN). The school is accredited by the American Bar Association and is a member of the Association of American Law Schools. Founded in 1954, the law school is part of the University of San Diego, a private, nonprofit, independent, Roman Catholic university chartered in 1949.