Rainbow Educator Program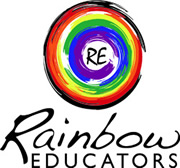 The Rainbow Educators (REs) are a group of students, staff, faculty, and alumni/ae who create and present workshops at the University of San Diego. In the past, workshops have been offered to residence halls, athletic teams, staff and faculty groups, Greek organizations and student clubs. The workshops are interactive and dynamic; they include videos, role-plays, visualizations, Q&A, and personal stories.
Purpose Statement
The purpose of the Rainbow Educator program is to build awareness, educate, and engage the USD community around identities such as sexual orientation, gender, race, ethnicity, and class, while promoting the inclusion and visibility of the Lesbian, Gay, Bisexual, Transgender, and Queer (LGBTQ+) communities. Rainbow Educators are committed to holding themselves and others accountable for working against all forms of oppression.
Rainbow Educator Advisory Team
The purpose of the Rainbow Educator Advisory Team (REAT) is to assist the United Front Multicultural Commons (UFMC) Director and Associate Director with program planning and development that supports the purpose of both the RE program and the UFMC. REAT members are appointed based on recommendations from the REAT and the UFMC Associate Director. They serve annual terms with option for reappointment. Learn more about the REAT.
Undergraduate Rainbow Educator Leadership Team
The Undergraduate Rainbow Educator Leadership Team members, in addition to serving as facilitators of the RE program, will be appointed to specific positions that will contribute to the overall program development by collaborating on projects connected to their individual roles. The Undergraduate RE Leadership Team members are appointed during the RE recruitment process each spring semester and will receive a stipend each semester when serving on their role. Learn more about the Undergraduate RE Leadership Team and how to get involved.
Program History
The Rainbow Educator Program of the University of San Diego (USD) began in September 1999 as part of the Rainbow Visibility Grant. Funded by the Irvine Foundation through USD's Cultural Competencies Project Team, Rainbow Visibility was a comprehensive plan to raise the collective awareness of the university community to LGBTQ+ cultures, histories, and advances.
After two years of receiving funding from the Irvine Foundation and Cultural Competencies Project Team, in the 2001-2002 academic year, the program was institutionalized and funded through the Student Affairs Division and housed within the Office of Student Affairs at USD.
In accordance with its mission statement, the Rainbow Educators Program at USD supports the principles of Catholic Social Thought (CST). To read more about these principles, visit the USD CST website.