Have you ever wondered if what you've heard about recycling is true or if what you want to recycle is accepted in a recycling bin on campus? Here are some facts about recyclables, non-recyclables, and a few recycling dos and don'ts.  
Waste Reduction Hierarchy
Almost everyone has heard the mantra: reduce, reuse, recycle.  What the quippy phrase lacks, however, is emphasis on the order of the three R's.  The most important tenet of the trio is to reduce the amount of waste you produce.  Even before that, many environmental enthusiasts recommend adding refuse, the notion that you should always try to say 'no thank you' to unnecessary goods (like plastic straws, excess napkins, plastic bags, etc.).  The next step is to reuse the things you have rather than purchasing new ones.  Recycling is really meant to be a last resort- once something has reached the end of its life and can no longer be reused, you should recycle what you can.  And when you get to that stage, it's important to know what can be recylced in YOUR area.  Learn the below USD Recycling Rules...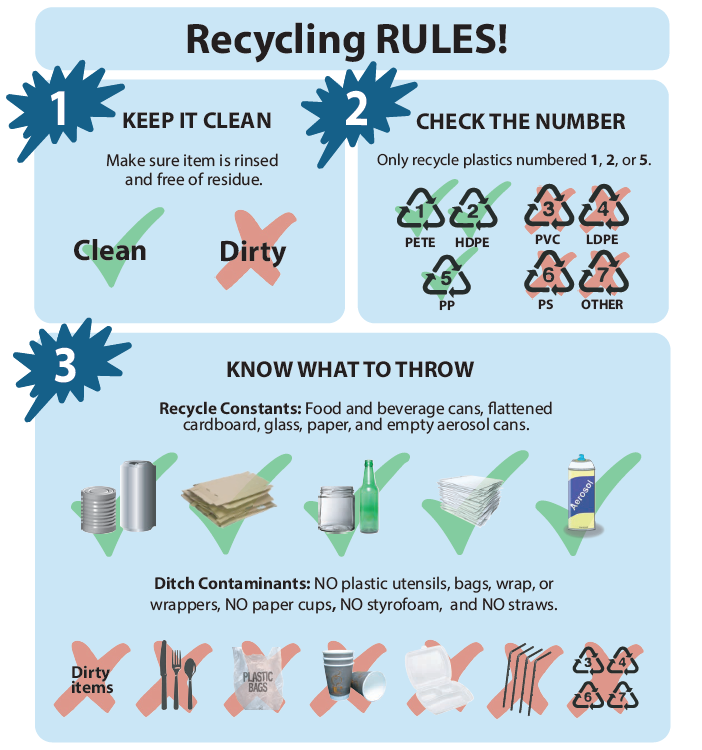 Items that CAN be recycled on campus
Plastic bottles, pails, tubs, and jugs that have a recycle symbol on the bottom with number 1, 2, or 5.

Glass bottles and jars.
Paper- including magazines and flat cardboard.
Metal cans and food tins.
Batteries- but only if placed in a battery specific container.  If you do not have a specific container for batteries in your office or residence hall, contact Environmental, Health, and Safety at ehs@sandiego.edu to request one.
Toner cartridges- empty or full (any brand).  Toner collection boxes are in Maher Annex, Coronado (first floor), Warren Hall 208, Olin Hall 235, Mother Rosalie Hill Hall 223A, and the Sports Center (first floor).
Electronics and light bulbs- USD employees and USD housing residents must place a work request with Facilities Management and they will send someone to pick up the items for proper recycling.

If the electronics are still in working condition, donate them in one of the donation collection bins on campus instead.  Review the sustainability filter of the campus map for locations.

On campus, tree trimmings are recycled and repurposed as mulch.
Items that canNOT be recycled on campus
Plastics with a recycle number of 3, 4, 6, or 7.

Plastic straws/utensils.

Snack/chip bags.

Styrofoam peanuts/containers, foil, wax paper, and plastic wrap.

Broken glass, ceramics, and mirrors.

Paper towels, napkins, and tissues.

Food scraps (compost them).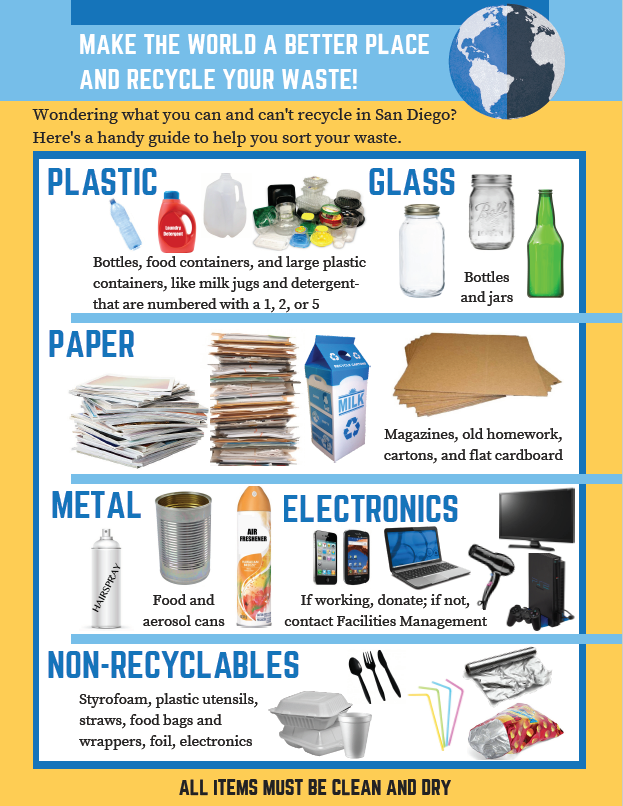 Recycling Myths
You do not need to remove staples when recycling papers but remove as much tape as possible from an item before tossing it in the recycling bin.

Plastic bags are not recyclable, so d

o not put recyclables in a plastic bag. Plastic bags should be kept out of the recycling bin.

Most parts of a pizza box

can

be recycled.  Be sure to rip off any parts of cardboard that are soiled and recycle what is clean.

Paper, including old magazines and homework assignments

, can b

e recycled, but photos, sticky notes, and paper that is soiled cannot.

Items that end up in landfills do not decompose over time. Should non-recycled plastics end up in the ocean or elsewhere, they can take up to 1,000 years to decompose, while glass can take thousands of years!
Recycling Facts
When recycling products of any material, the item must be rinsed and free of residue or liquid; that includes bottles, cans, and food containers. If the item still has food remnants it can contaminate the entire bin and then none of the items inside the bin can be recycled.

Coffee cups with a wax liner cannot be recycled. But usually, the lid can- look for the recycle symbol and be sure to rinse it off.

As a best practice, remove caps and labels from plastic water bottles. However, some facilities can take these pieces of plastic, so check with you local facility.

Aerosol cans (e.g. air fresheners, cleaning products, hair spray, sunscreen, etc.) can be recycled as long as the can is completely empty of all contents.

Recycling helps save energy- on average, it takes 50% less energy to make products from recycled materials, than making them from new materials.
Understanding Plastic Codes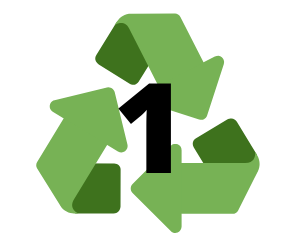 #1 PET / PETE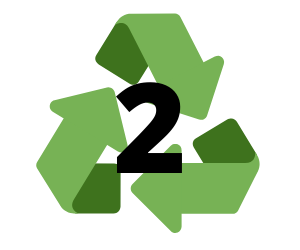 #2 HDPE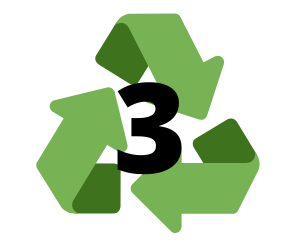 #3 PVC
#4 LDPE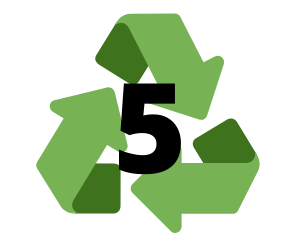 #5 PP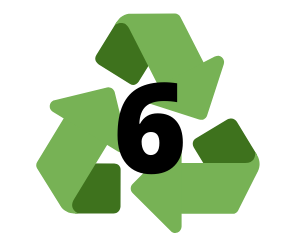 #6 PS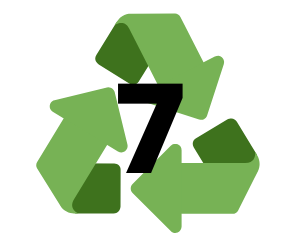 #7 Other
Recycling Buddy System
On the University of San Diego's campus, 34 exterior trash bins throughout campus were converted to recycling bins and relocated to be paired up with existing trash bins to create a buddy pair- one trash bin and one recycle bin side-by-side. The goal is to have a recycle bin within a few steps of every trash bin.