Student Resources
We don't just admit students. We believe in them.
Our faculty have high expectations—and an even higher commitment to nurture every student, whatever your background, strengths or circumstances. If you're here, it's because we believe in you.
To support your journey, we provide multiple resources: from the Health Center to the Writing Center, Financial Aid to Graduate Housing and much more. Should life events arise during your studies, such as military duties or parenting obligations, we will help you navigate the situation so you can succeed.
Overall, we offer an atmosphere of balance. You'll be challenged, but mentored. Busy, while calmed by the tranquil environment. Preparing for the future, yet embracing present growth.
We invite you to explore the many resources available for our nursing students.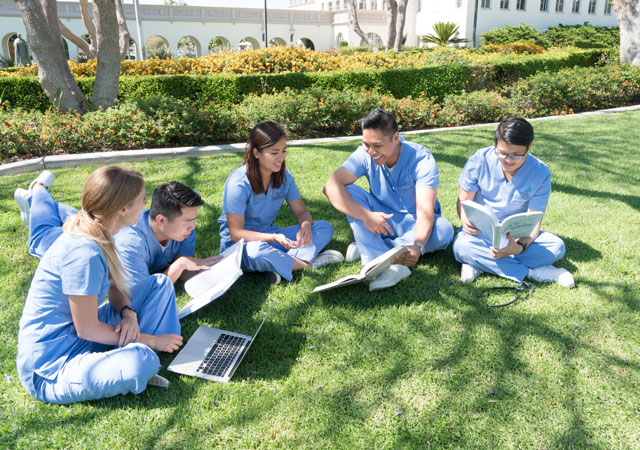 Prospective Students
Admitted Students
Academics
Support for your scholarly success.
You're part of the next generation of nurse scientists and advanced clinicians preparing to meet the most urgent needs of humanity. You're filling a vital role, and we do all we can to support you in your studies. From the One Stop Center to technology resources, you're never alone in your academic pursuits. 
Student Life
Life beyond classrooms and clinics.
Stretch your wings by studying or relaxing on our picturesque campus, refreshing your senses with sunshine and ocean breezes. Socialize at multicultural "Food for Thought" events. Visit the Alcalá Bazaar, an involvement fair that helps you get connected to various student organizations. And of course, experience San Diego's museums, galleries, hiking and more than 60 beaches.