Institute for Civil Civic Engagement

Restoring Respect's Ninth Annual VIRTUAL Conference
October 7, 2020

#ActsOfCivility: A Conversation With Cindy McCain
Watch the interview with Cindy McCain on C-SPAN (45 minutes)
Watch the full Restoring Respect Morning Conference with Cindy McCain on Zoom (1 hour)

Videos from more conference programs:
Watch USD Conversations Panel: The Impact of Misinformation on American Democracy, Past and Present
Watch USD PS/IR Panel: Voting 2020: Fact v Fiction
---
"Multitudinis coram se." "Community before self."
— Malin Burnham
Civil discourse in our country, our city and our communities has become increasingly divisive and even hostile, to the detriment of our ability as communities to come together to achieve the public good. The Institute for Civil Civic Engagement (ICCE) has been formed as a partnership between San Diego's Mesa, City and Miramar Colleges and the University of San Diego to encourage, promote and increase civility in civic discourse by our fellow citizens and public officials, both interpersonally and in all manner of media. ICCE's mission is to promote ways to be civil in our disagreements and respectful in our debates, as we confront the political challenges that shape our community. We will foster community initiatives, develop educational resources, and provide models of effective civil civic engagement for implementation and replication across the San Diego community and beyond. Let's make San Diego America's most civil community. 
Interested in becoming a sponsor? Fill out this form here.
---
University of San Diego President James Harris Discusses ICCE & USD's Mission to Improve Civil Discourse in Politics and in Life
---
San Diego Community College District (SDCCD) Chancellor and USD Trustee, Constance Carroll, Discusses Restoring Civility to Civic Dialogue 
---
Watch Tani Cantil-Sakauye Keynote Interview at the 8th Annual Restoring Respect Conference on April 17, 2019 at the USD Institute for Civil Civic Engagement.
---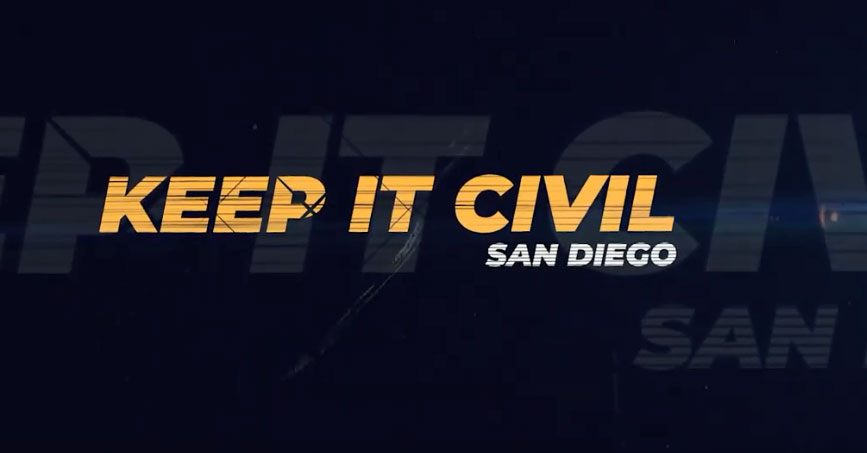 ICCE, USD and SDCCD launch new show on politics and current events, aiming to 'Keep It Civil San Diego"
ICCE Director Carl Luna is hosting a new program called "Keep it Civil San Diego" that showcases respectful discussions on important issues with local thought leaders and political figures. Programs are anchored by interviews recorded before an audience at the Joan Kroc Institute for Peace and Justice Theater at the University of San Diego and at the television studio of San Diego City College. Programs also include person-on-the-street segments, profiles, and commentaries. 
Keep It Civil San Diego is carried on Youtube
Watch our Keep It Civil Programs and Interviews:
Summer Stephan, San Diego County District Attorney speaking on Community, Civility, and the Child: Our obligation as a civil community to protect our most vulnerable. Watch the interview here.
Mara Elliott, San Diego City Attorney speaking on Transcending the Partisan: Moving beyond political theater and having real community conversations. Watch the interview here.
Cody Martinez, chairman Sycuan Band of Kumeyaay Nation, Kristie Orosco, Cultural Resources Manager for the Sycuan Band of Kumeyaay Nation, and her sister Lorraine Orosco, Board of Trustees Member and Instructor at Kumeyaay Community College discussing Civility, Sustainability and San Diego's Indigenous Community: Lessons from the past to help save the future. Watch the interview here.
---

In the
News
// February 12, 2021

In an effort to reverse a significant spike in on-campus COVID-19 positive cases, the University of San Digeo has implemented a series of te…

// September 15, 2020

"If you want to go fast, go alone; but if you want to go far, go together." A wise piece of advice taken from a timeless proverb…

// September 2, 2020

Whether we are physically or virtually connected, there's no denying the strength of the USD bond. These are unprecedented and unsettl…