Margaret Daley, PhD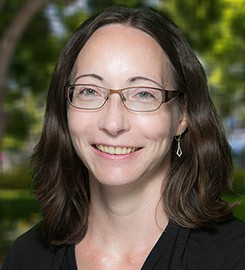 Office:
Mother Rosalie Hill Hall 238
Director of Liberal Studies Program
Adjunct Assistant Professor
B.Sc., Biochemistry, University of Waterloo

Ph.D., Biochemistry, University of Alberta

Canadian Institutes of Health Research Postdoctoral Fellow, University of Washington

Margaret Daley, PhD, is the Director of the Liberal Studies Program in the College of Arts and Sciences at USD. Dr. Daley, along with the Liberal Studies Advisory Council and affiliated faculty in Liberal Studies, is devoted to ensuring that all Liberal Studies majors receive outstanding instruction and advising as future teachers.
Dr. Daley is also a faculty member in the Department of Chemistry and Biochemistry, which she joined in 2007. She enjoys sharing her enthusiasm for chemistry by teaching upper-division laboratory courses in biochemistry and biophysics as well as courses for non-science majors, including Physical Sciences for K-8 Teachers.
Scholarly Work
Dr. Daley enjoys the puzzle of piecing together molecular structure using nuclear magnetic resonance (NMR) spectroscopy. An undergraduate biophysics class got her hooked when it was demonstrated that it is possible to apply NMR to large protein molecules. Both her PhD and postdoctoral research used NMR to investigate the relationship between protein structure and function. She has studied various interesting proteins using these techniques, including insect antifreeze and bacterial signaling proteins
Areas of Interest
Dr. Daley is currently teaching the upper-division Biochemistry laboratory courses. She is always seeking to engage students in topics with classroom activities and interactive, team-based learning.
Office Hours
Section 03
1/27 - 5/13
M
1:00 pm - 3:00 pm
Mother Rosalie Hill Hall - 238
1/27 - 5/13
TH
8:00 am - 10:00 am
Mother Rosalie Hill Hall - 238
1/27 - 5/13
F
10:30 am - 11:30 am
Mother Rosalie Hill Hall - 238