Impact Linda Vista Initiative (ILVI)
Impact Linda Vista Initiative (ILVI)
The Changemaker Hub, in partnership with the Mulvaney Center for Community, Awareness, and Social Action, launched The Impact Linda Vista Initiative in Fall 2013. Sponsored through a grant from U.S. Bank, the initiative seeks to strengthen the Linda Vista community through co-development of innovative social initiatives by USD students and Linda Vista residents, where research, learning, and service are integral components. This community-collaborative learning program directly impacts Linda Vista residents while building a committed student body prepared to make change in very personal and effective ways.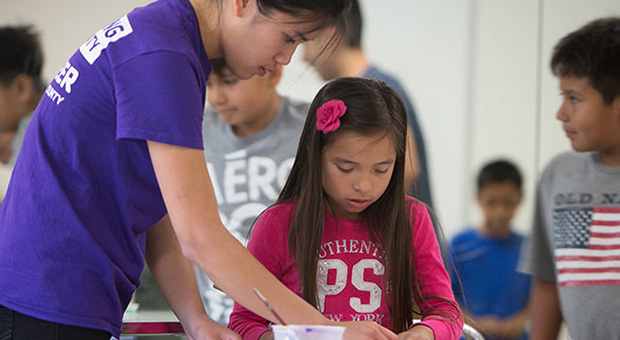 The Impact Linda Vista Initiative is an educational and community engagement program designed by the Changemaker Hub to develop empathy and changemaker capabilities among USD students, while creating economic and social value in the Linda Vista Community. ILVI enhances teaching beyond the classroom as course work requires students to participate actively in social innovation, conduct research on the social issues addressed by the organizations in the community, and co-develop sustainable solutions with community members in a variety of issues such as lack of access to financial services among low income groups in Linda Vista, insufficient small business development, low quality education, childhood obesity, and other issues identified by the community itself. Each year USD faculty is invited to submit proposals for undergraduate or graduate courses. Proposals demonstrate an experiential or solution-based approach within the course and research that addresses the issues identified by Linda Vista community leaders.
ILVI Components
Collaborative Design
The process of on-going dialogue is essential to ensure that students' learning, volunteer work, and proposed social innovations respond to the needs of the Linda Vista community. The Changemaker Hub, in partnership with the Mulvaney Center stages a series of discussions with community leaders and faculty to better inform the design of the program and the implementation in the field. The intent is to expand on successful ongoing initiatives such as the Montgomery Intercession Academy and the Financial Opportunity Center as well as developing new community-identified services.
Faculty Support
Professors receive support for the development and implementation of ILVI courses. The Changemaker Hub and Mulvaney Center provide the logistics for the implementation of these problem-based courses that involve intense engagement with organizations for social change in the community.
The Linda Vista Social Enterprise Map
Involvement in the wellbeing of the Linda Vista community will increase as different stakeholders better understand current needs and opportunities. The current map of social enterprises and innovations in Linda Vista will continue to develop and evolve in the coming years. A click on the map provides information on the type of innovative services currently provided in Linda Vista. But more than that, the map also highlights current needs and opportunities by presenting issues such as the access that low-income groups have to financial and other services. Mapping serves as another way to connect USD students and faculty with the social needs in the community and the possibilities for engaging in volunteer work and research.
Changemaker Hub
5998 Alcalá Park
San Diego, CA 92110
Phone: (619) 260-4600