Debbie Finocchio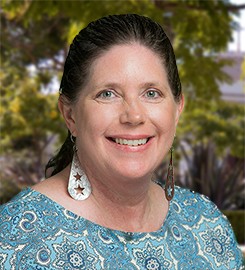 Office:
Shiley Ctr for Science & Techn 440
Adjunct Instructor
M.S., University of California, Los Angeles; Chemistry

B.A., University of San Diego, Chemistry (1988)
Debbie Finocchio '88 began working at USD in 1992. She has held positions of Adjunct Professor, Laboratory Coordinator, and Director of General Chemistry. She writes the laboratory manuals for general chemistry laboratory courses, has overseen operations for general chemistry laboratory for many years, and played a key role in designing general chemistry laboratory spaces for the Donald P. Shiley Center for Science and Technology.
Scholarly Work
Finocchio has enjoyed incorporating her hobbies into educational events for students, such as Wine Appreciation 101, a chemistry-based wine-tasting workshop for USD science students, and World Food, a series of ethnically diverse lunches with students.
She has led workshops for middle school-aged girls at Expanding Your Horizons conferences and the Sally Ride Festival and has facilitated continuing-education workshops for elementary school teachers from under-represented schools through the Reuben H. Fleet Museum's Inquiry Learning Partnership.
In addition to writing the department's general chemistry laboratory materials, Finocchio authored the study guides that accompany the 3rd and 4th editions of Chemistry, by John Olmsted and Gregory Williams (John Wiley & Sons). Her presentations at conferences focus on chemical education. Finocchio was a finalist for USD's Staff Employee of the Year in 2006, received a USD Exceptional Service Award in 2005, and was nominated for a USD Exceptional Service Award in 2004.
Areas of Interest
Finocchio teaches general chemistry lecture and laboratory, chemistry and society, and physical science for K-8 teachers. She employs interactive learning techniques in the classroom and likes to emphasize that chemistry is an experimental science by having students perform mini-experiments, analyze experimental data, and use trends in data to make predictions as part of the lecture.
Office Hours
Section 51
8/17 - 11/20
M W
3:30 pm - 5:00 pm
TBD - TBD