Contact:
School of Peace Studies

Email: peacestudies@sandiego.edu
Phone: (619) 260-7919
Fax: (619) 849-8109

Location: KIPJ Room 113
Joan B. Kroc School of Peace Studies
5998 Alcala Park
San Diego, CA 92110
>
Biography
Stephanie Chiu
Program Officer for Women PeaceMakers
Stephanie Chiu is the Women PeaceMakers Program Officer at the Joan B. Kroc Institute for Peace and Justice (IPJ). Chiu's involvement with the institute began in 2012 when she was a Peace Writer documenting the life story of a Woman PeaceMaker from Kenya.
Chiu possesses over a decade's worth of experience working in programs that are gender sensitive and focus on peace, justice and conflict transformation. While living in Fiji she facilitated inter-ethnic training and conflict transformation workshops for women and earlier, she was a facilitator and manager at a restorative justice program for victims and offenders of crime for the Department of Attorney General & Justice in Australia. In addition, Chiu has lived in Pakistan and Afghanistan where she worked with Afghan refugee women on education, health and livelihood programs and helped to establish a network of independent community radio stations serving women throughout Afghanistan. In Australia her work has included supporting homeless people, implementing humanitarian responses for refugee youth and managing events to fundraise and promote awareness of global poverty.
Chiu holds an M.A. in peace and conflict studies from the University of Sydney. Her treatise explored violence among the Bosnian diaspora in southwestern Sydney and the potential of restorative justice to advance reconciliation.
Contact Information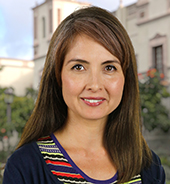 Email | schiu@sandiego.edu
Phone | (619) 260-6765
Office | KIPJ 113B