It is virtually impossible to grasp the devastating consequences caused by the BP oil spill on April 20, 2010. Government and independent scientists now estimate the well emits between 35,000 and 60,000 barrels of oil a day. Numbers like these are unfathomable, and the cleanup involved will take years, possibly decades.
Scott Myers-Lipton '81 (Political Science), however, has an idea.
A professor in the Department of Sociology at San Jose State University, Myers-Lipton serves as an advisor for many student-led initiatives focusing on community service and recovery programs. One such program is the Gulf Coast Civic Works (GCCW) project. It's a national student movement aimed at passing the Gulf Coast Civic Works Act — a federal bill to create 100,000 jobs for Gulf Coast residents and evacuees of Hurricane Katrina to rebuild public infrastructure.
"My students watched 'When the Levees Broke' directed by Spike Lee," said Myers-Lipton about a 2006 documentary depicting the aftereffects of the levees collapsing during Hurricane Katrina. "They started looking into public work projects and how the country was rebuilt during the '30s. And this was the birth of the GCCW: to rebuild the infrastructure of the Gulf Coast."
Four years later, the bill initially aimed at alleviating the effects of Hurricane Katrina has yet to pass. However, with the recent devastation caused by the oil spill in the Gulf Coast, Myers-Lipton sees this as another opportunity to push for reform and is running full speed ahead — and has no plans of stopping until something is done.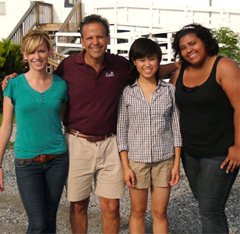 "And that's when I saw so much poverty... How do we have a world with so much violence, war and genocide?"
Scott Meyers-Lipton
"It has been a four-year struggle to get the GCCW Act passed," Myers-Lipton said. "It was first developed as a campus movement. And now we've got over two hundred organizations involved, including Catholic and faith organizations, who have been a huge help in passing this. They realize a moral response is necessary."
It is an idea that certainly has some strong merit. There are thousands of residents — from fishermen to store owners to community members — that have been affected by the oil spill. Under the GCCW, those residents would be tasked, and thus employed, to help clean and rebuild the Gulf Coast. They would be able to rebuild their homes.
And you would never know that this unshakable hope for change stems from a man who once played tennis at the University of San Diego and went on to become an All-American tennis star. With a degree in political science, Myers-Lipton traveled the world playing tennis. "And that's when I saw so much poverty," he said. "How do we have a world with so much violence, war and genocide?"
With those heavy issues on his mind, Myers-Lipton went on to receive a teaching credential from Mills College, a master's degree in humanities from San Francisco State University, and a doctorate in sociology from the University of Colorado at Boulder.
After landing a teaching position at San Jose State, his interest quickly grew towards encouraging students to create their own community projects and programs that tackle issues such as homelessness, poverty and workers' rights.
"College students can make a difference, working in collaboration," Myers-Lipton relates. "I advise them to be humble, but have big ideas."
And the GCCW project is certainly a big idea. Although Obama has yet to pass such a federal government-controlled relief effort as the GCCW project, advocates continue to push for change. Support for the project continues to grow. Kerry Kennedy, board member for Amnesty International and daughter of Robert Kennedy, recently spoke about the importance of a civic works program on MSNBC on June 18. It's proof that Myers-Lipton and his students' big idea just might be working.
- Kelly Machleit
For more information on the GCCW project, go to www.solvingpoverty.com.