Lum began attending games with her Sociology Department colleague JJ Schlichtman, PhD and his wife, Monique. The three of them wanted to be near the action, so they moved to the family section, which is closer to the court.
"We got to know the families pretty well, because when we walked in they'd ask 'Who do you belong to?' They were trying to figure out if we were someone's family," Lum said.
It was the beginning of a number of lasting friendships. Lum, who claims that sociologists are naturally curious about people, began chatting with the parents before games and during the 20-minute half-times. Soon enough, both parents and athletes came to know the professor as a friend and ally.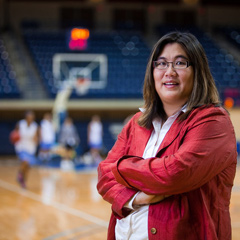 "Dr. Lum is a amazing woman. She is indeed a supporter and passionate about what she does!"
Dominique Conners '12
"I love looking up in the stands and seeing her sitting right next to my mom," Samantha Childs '11 said. "She's one of our biggest fans. Win or loss, she always has the most positive things to say."
Tom Hatch, father of Emily Hatch '11 said it feels good to know that his daughter has the support of a faculty member.
"She impresses me as the type of person who would go the extra mile to help students on the spot, or get help to them in a hurry," he said. "That's very comforting as a parent."
Lum built such outstanding rapport with basketball families that one mom actually helped her sneak into the family section at Maples Pavilion during the 2008 NCAA tourney.
"She was so appalled that JJ, his wife and I were in the bleed seats," Lum said.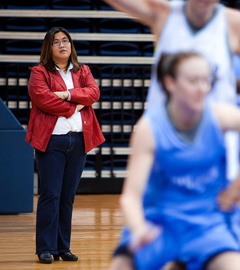 "Dr. Lum is a great teacher and an amazing support system for our women's basketball team. She is a wonderful woman who has taken time to get to know not only us as players and individuals, but also our families."
Morgan Woodrow '12
Sitting with the families has become something of a superstition for the professor. She was feeling ill one night and decided to sit higher in the stands, where she wouldn't be around too many people. Five minutes into the game, the team was down 16 to nothing.
Lum looked at her colleague Judy Liu, PhD and said, "I have to go back to my normal seat. They're losing!"
After she moved back, the women won the game. She hasn't strayed from the family seats since then, and the parents couldn't be happier.
"It speaks very highly of her that she takes the time out of her day to come and support the players, said Sally Pitt, Childs' mother. "She's there to help my daughter, and I think it's great that she takes a genuine interest in me as a mom."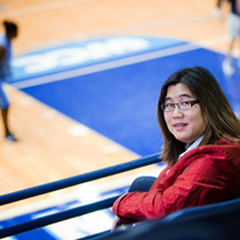 "I love looking up in the stands and seeing her sitting right next to my mom. She's one of our biggest fans. Win or loss, she always has the most positive things to say."
Sam Childs '11
Lum said that she has a great deal of respect for the basketball parents, who often fly around the country to see their daughters play, spend holidays apart, and work around their daughters' practice schedules whenever they come to visit. Through it all, they still appreciate the dedication that Lum and other professors require from the athletes as students.
"Every one of the parents on the team sees school as the most important thing that their daughters need to accomplish," Lum said.
"I've had some really fantastic students who work hard, who understand that they have two jobs to do and do whatever it takes to make it happen," Lum said. "I think it speaks well of their coaches and how their parents have taught them."
- Anne Malinoski '11