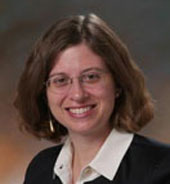 Download vCard
---
Office: Loma Hall 219
Susan Lord, PhD
Professor, Electrical Engineering
Chair, Electrical Engineering
Susan M. Lord is Professor and Coordinator of Electrical Engineering at the University of San Diego. Author or co-author of over eighty publications, her teaching and research interests include electronics, optoelectronic materials and devices, service-learning, feminist pedagogy, lifelong learning, and engineering student persistence. From 1993-1997, Dr. Lord taught at Bucknell University. Her industrial experience includes AT&T Bell Laboratories, General Motors Laboratories, NASA Goddard Space Flight Center, and SPAWAR Systems Center. In Spring 2012, she taught at Southeast University in Nanjing, China.
Education
Ph.D. Stanford University, Stanford, CA M.S.E.E. Stanford University, Stanford, CA B.S. Electrical Engineering & Materials & Science Engineering, Cornell University
Teaching Interests
Dr. Lord's research in engineering education has been supported by several National Science Foundation (NSF) grants from programs including CAREER, instrumentation and laboratory improvement (ILI), scholarships for STEM (SSTEM), gender in science and engineering (GSE), and research in engineering education (REE). These projects span a range of topics from engineering student persistence, to helping military veterans transition to engineering programs to optoelectronics experiments for first-year students. Since entering college, Dr. Lord has been committed to increasing diversity in engineering particularly supporting women and underrepresented minorities.
Dr. Lord is active in the international engineering education community. She is a senior member of the IEEE and Society of Women Engineers (SWE) and a member of ASEE and Tau Beta Pi. She served as General Co-Chair of the 2006 Frontiers in Education (FIE) Conference and as the Vice President (2007-2008) and President (2009-2010) of the IEEE Education Society. She was Guest Co-Editor of a 2010 Special Issue of the International Journal of Engineering Education (IJEE) on Applications of Engineering Education Research. Dr. Lord is an Associate Editor of the IEEE Transactions on Education and a member of the Editorial Board for IJEE. She was the 2011 National Effective Teaching Institute (NETI) fellow. She and her co-authors received the William Elgin Wickenden Award for the best paper in the Journal of Engineering Education for 2011.