Homecoming and Reunion Weekend
Save the Date for Homecoming and Reunion Weekend 2010
On October 8 - 10 thousands of USD alumni, students, faculty and staff will gather together again for the tradition of Homecoming to celebrate and honor our university.

Class Reunion Ambassadors Needed
Reunions are taking place for the classes of '60, '65, '70, '75, '80, '85, '90, '95, '00, and '05. If you are having a reunion, we need you to help us contact your classmates and encourage them to return to campus for the weekend. Contact information will be provided for your use and can be done at any time. If you are interested in or have questions about this opportunity, please contact Christine McAuliffe, Volunteer Coordinator, at (619) 260-4819 or christinem@sandiego.edu.

Sponsorship Opportunities for Homecoming Weekend
Sponsorship opportunities are available for the weekend. Sponsors of Homecoming increase corporate visibility and build brand awareness while supporting USD's favorite tradition. Sponsors will have prominent name and logo placement at all events and in marketing materials sent to over 50,000 alumni. For sponsorship opportunity information, contact David Stephens, Alumni Relations Office at dstephens@sandiego.edu or by calling (619) 260-4819.

Affinity Reunions
Are you interested in organizing a reunion for your student organization, athletic team or academic group? Contact Kara Marsh '04, Associate Director of Alumni Relations, at kmarsh@sandiego.edu.

Torero Athletics
Toreros Win Third Straight WCC Commissioner's Cup
USD Athletics has won a third straight West Coast Conference Commissioner's Cup. The WCC Commissioner's Cup presented by Comcast Cable is an all-sports award presented at the end of each academic year to the league's top performing school in conference play based on a point system. USD becomes just the second conference school to win the trophy for three consecutive years. For more information click here.

#25 Torero Golf Played in NCAA Championships for 2nd Straight Year
Torero Golf made it to Nationals for the 2nd consecutive year. "It feels great to get back to Nationals," said head coach Tim Mickelson. "The guys played great all season and it was no different this [past] weekend. They have proved all along that they belong with the best teams in the nation." Click here for more.

#15 Torero Baseball to Open Regional Play Against Hawaii
The 15th-ranked University of San Diego baseball team will open up NCAA Regional play this Friday with a 2 p.m. game against Hawaii at the Tempe Regional. Good luck Toreros! Should USD defeat Hawaii, they will advance on to play the winner of the Arizona State and Milwaukee game on Saturday at 6 p.m. Or should USD lose, they will face the loser of the ASU/Milwaukee game on Friday in a 2 p.m. game This is a double-elimination format. Click here for more.


Women's Rowing Earns Five CRCA Scholar Athlete Awards
The Collegiate Rowing Coaches Association (CRCA) announced the 2010 Division I all-region award-winners as well as the Scholar Athlete recipients with the USD Toreros bringing home one Second Team All-West Region honoree and five Scholar Athlete honorees this year. These awards recognize the outstanding performances of rowers and coxswains from each of the five regions, organized into first and second-team selections on the All-Region award while the Scholar Athletes must have a certain GPA and participated in 75 percent of the team's competition. Click here for more.

Summer Sports Camps
When: throughout Summer 2010
Where: USD Athletic Facilities
Details: Summer Sports Camps for all ages and skill levels led by Division I coaches on the USD Campus. USD alumni receive discounts! Camps for youth, high school age and adult participants are available in individual sports — baseball, boys and girls basketball, football, boys and girls soccer, softball, strength and conditioning, swimming, boys and girls tennis and volleyball. There is an all-sports camp option for boys and girls ages 6-12 who want to learn basketball, tennis, baseball and activities such as archery and capture the flag. The cost and camp schedules vary for each sport.
For more information: please visit www.usdcamps.com.

College of Arts and Sciences
Opening of exhibit "Pimans: A Bountiful Life in a Harsh Environment"
When: Exhibit open Tuesdays, Thursdays, and Fridays from 1 p.m. until 3 p.m.
Where: David W. May Gallery, Serra Hall, University of San Diego
Details: Curator Dr. Amadeo M. Rea is an ethnobiologist who has worked with the Desert Pimans for over 45 years. He shows how their cultural ecosystem has collapsed due to environmental changes set in motion by European contact. Exhibit Designer is Julie Gay.
For more information: click here.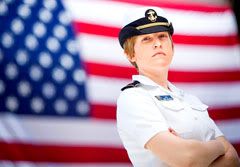 Kimberly Roe '10
Kimberly Roe '10 has been selected as one of the first women assigned to submarine duty for the U.S. Navy.
Kimberly Roe, a graduating senior at the University of San Diego, has been selected as one of the first women to ever be assigned to submarine duty for the United States Navy. A mathematics major in the College of Arts and Sciences, an Honors Program participant and a Midshipman in the San Diego Naval Reserve Officers Training Corps (NROTC), Roe has achieved extensive academic and personal success while at USD. Click here for more.

Hahn School of Nursing and Health Science
USD Graduate Research Day Update
The USD Graduate Research Day was a fabulous success! Sixty-five students (55 from the School of Nursing) participated. Special thanks to Ms. Susie Merrill, Dr. Kathy James (MSN '85, DNSc '91) and the Graduate Nursing Students Association for their hard work coordinating this great event.

Congratulations Are in Order
Congratulations to incoming PhD student and alumna Miriam Bender (MSN '08) and DNP student Brian Piatkowski, who have recently received "Nurse of the Year" awards from UCSD Medical Center and UCSD's Thornton Hospital.
Dr. Linda Urden (DNSc '90) was the invited keynote speaker for the 17th Annual Spring Conference of the Philippine Nurses Association in San Diego on April 24, 2010. Her presentation topic was "XXX: What's Next for Evidence-Based Practice?", in which current healthcare challenges, key quality and safety issues, and the criticality of transformational and visionary leadership were detailed.

Joan B. Kroc School of Peace Studies

How Not to Fight Mexico's Drug War
When: Monday, June 28 at 6:30 p.m.
Where: Institute of the Americas, Hojel Hall of the Americas Auditorium, UCSD
Details: Ken Roth, executive director of Human Rights Watch, will address whether human rights concerns should be a factor in withholding U.S. funding that supports Mexico's fight against drug cartels (Merida Initiative). He will discuss the direct impact of the drug war on Mexican society and the nexus between drugs, security and human rights.
For more information: click here.

MNCs: Challenge the Crisis
When: Wednesday, June 23 at 9 a.m.
Where: Salon Domo, Hotel Lucerna, Tijuana
Details: Provide global economic competition and the related restructuring of most contemporary workplaces present huge challenges for our understanding of the world of work in the current phase of globalization. Multinational Corporations (MNCs) are at the forefront of the movement of capital, productive capacity and know-how and jobs across borders and within international supply chains.
For more information: click here.

School of Business Administration

Professors Thomas Copeland and Jaime Alonso Gomez
Bloomberg BusinessWeek Gives USD Business School Specialties High Marks
In academic specialty rankings released by Bloomberg BusinessWeek in May of 2010, USD had three top-10 placements and appeared in the top 30 in the following eight different categories: Accounting #9, Business Law #7, Ethics #13, Financial Management #28, Macroeconomics #14, Marketing #17, Microeconomics #16, and Sustainability #4. Click here for more.

World-Class Faculty Join USD School of Business Administration
Most business schools would be happy to add one internationally recognized scholar to their faculty but the University of San Diego managed to land two of the biggest names in one year. Click here for more.

Real Estate Newsletter Online
To read the Office Newsletter of the Burnham-Moores Center for Real Estate at USD click here.

Annual Real Estate Scholarship Fundraiser
When: Tuesday, July 13 at 6 p.m.
Where: East Village Tavern and Bowl, Downtown San Diego
Details: Presented by Real Estate Chapter of USD's Alumni Association (REAA). Come join alumni and faculty as we bowl for a cause. All proceeds from this event go to the REAA Scholarship Fund which provides scholarships to undergraduate and graduate real estate students at USD.
For more information: click here.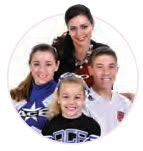 Lane Fabby '08 MSGL with her
children

MSGL Alumna Featured in the Latest Issue of Delta Sky
Master of Science in Global Leadership alum Lane Fabby '08 was recently highlighted in Delta Sky magazine. Fabby described her experience while in the MSGL program and shared her thoughts on being a distance learner while raising a family and working full time.

When asked why she chose distance-learning, Lane replied, "I was working full time and raising three kids while my husband was serving a tour in Baghdad. I knew the only way I was ever going to get a master's degree was online." Click here for more.

School of Law

USD Law Featured in U.S. News & World Report
Assistant Dean Carl Eging gave the inside scoop on getting into USD School of Law in U.S. News & World Report's recently published annual issue of America's Best Graduate Schools. The Q&A-style story answers such questions as, "What can applicants do to set themselves apart from their peers?" and "What do you look for in recommendation letters?" Click here for more.

Law School and CONNECT Launch Unique Law Clinic for Technology Start-ups
CONNECT, regarded as the world's most successful regional program linking inventors and entrepreneurs with the resources they need for success, and USD School of Law are launching a new Technology Entrepreneurship Law Clinic. The clinic will provide USD law students with mentoring from practicing attorneys along with real world experience assisting start-ups in CONNECT's internationally recognized Springboard mentoring program with corporate, intellectual property and employment legal needs. Click here for more.


W. Willard Wirtz

In Memoriam: W. Willard Wirtz, Distinguished Visiting Professor of Law
Former USD School of Law Distinguished Visiting Professor of Law W. Willard Wirtz passed away of natural causes on April 24. He was 98 years old. During his time at USD, from 1986 to 1999, Professor Wirtz taught the advanced, upper-level seminar, Contemporary Labor Problems. Click here to read the full New York Times obituary.



School of Leadership and Education Sciences
ELDA 10th Birthday Celebration
When: Wednesday, June 9 at 4 p.m.
Where: Mother Rosalie Hill Hall, University of San Diego
Details: Dean Paula A. Cordeiro cordially invites you to join her and ELDA faculty, alumni, students, and mentors for heavy hor d'oeuvres, a hosted bar, and good cheer as we celebrate a decade of achievement and success by the Educational Development Leadership Academy here at the University of San Diego. Please RSVP by June 1, 2010. ELDA alumni are encouraged to send photos of themselves and their cohorts prior to the event. Photos can be emailed to Carmen McBride at carmenmc@sandiego.edu.
For more information: and to RSVP contact Carmen McBride at (619) 260-8839 or carmenmc@sandiego.edu.

Community College Leadership Academy (CCLA) Conference
When: Sunday, June 13 through Wednesday, June 16
Where: Mother Rosalie Hill Hall, University of San Diego
Details: You are invited to join community college leaders from across California, Hawaii and the Western Pacific for the fifth annual Summer Leadership Academy, sponsored by the Department of Leadership Studies at the University of San Diego.
For more information: click here.

Promoting Student Responsibility and Character by Teacher Effectiveness
When: Monday, June 28 through Tuesday, June 29
Where: Mother Rosalie Hill Hall, University of San Diego
Details: The theme of this year's conference is "Promoting Student Responsibility & Character By Increasing Teacher Effectiveness." The Featured Speaker is Dr. Michelle Borba, Building Moral Intelligence: Raising Hearts & Minds in Today's Racy, Raunchy, Complex World. Dr. Borba is an internationally recognized educational consultant, author of 20 books, winner of the National Educator Award and has been seen on The Early Show, the Today Show and heard on NPR. Feature Speaker: Don Peslis, Public Relations Director, Sandridge Corporation, will also be a featured speaker. The conference will also include six interactive sessions teaching strategies, peace education and service learning.
For more information: click here.

Other News and Events

USD Bookstore
All new Alumni apparel including Nike Alumni Polos and the new "Campus Classic" and "Collegiate" crew neck sweatshirts now available. Alumni Association members always receive a 10% discount on apparel and gifts at the USD Bookstore and at www.USDBookstore.com. Order on-line between June 1 and June 30 and get FREE Ground shipping*. Enter the coupon code "ALUM2010" in the Customer Notes at checkout to take advantage of this offer. *Does not apply to orders for textbooks, computer hardware, computer software, or diploma frames.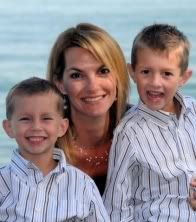 Kristin (Collins) Watkins '93
Featured Torero: Kristin (Collins) Watkins '93
Kristin (Collins) Watkins graduated from the USD with her bachelors degree in Political Science. In the last few years Kristin has been working with the Christopher J. Collins Foundation to raise money for youth organizations in San Diego.

When asked what she has been up to since graduation Kristin responded, "Since graduation I have worked in various businesses and have been blessed to spend the last several years home with my two wonderful boys. My major work in the last 5 years has been creating and running a foundation in memory of my brother who died tragically in a car accident. The Christopher J. Collins Foundation has donated over $100,000 to youth organizations around San Diego since our founding. Being a native to San Diego, I felt it important that we give back to the community that Chris and I enjoyed so much as children." Click here for more about Kristin.

News About You
A whole lot has happened since graduation, so why not take a moment to update your fellow alumni on the latest news? Submit a class note for publication in USD Magazine via e-mail at classnotes@sandiego.edu. Keep in mind that the magazine has long lead times and that class notes may be edited for length and clarity. Also, be aware that policy dictates that engagements, pregnancies, personal e-mail addresses and telephone numbers cannot be published. Please include your name, year of degree and a phone number or e-mail address in case we have a question or need to follow up. Thank you!

Campus Recreation
Want to have some fun in the pool this summer? Campus Recreation is offering children's (age 3 to 14) and adult (ages 14 plus) aquatic classes. Certified American Red Cross instructors teach the classes and class start 6/21/10. Children's classes include tot, beginner, intermediate, and advanced swimming skills. Classes are 30 minutes long and each session is 2 weeks long and $60 per session. Adult classes include Jr. Lifeguard, stroke technique, and masters swim training. Adult classes vary in duration and fee. We also offer pool passes for those who just want to splash around during open swim time. Click here for more information.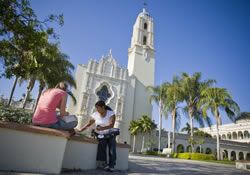 Alumna Makes Pioneer Gift
Maureen Partynski '82 took advantage of a unique opportunity to give back to her alma mater while securing additional income during retirement. Partynski completed a gift arrangement that could be viewed as a "charitable" supplemental retirement plan using a deferred payment gift annuity. The plan, administered by USD, was funded by Partynski and will begin making guaranteed fixed income payments to her for life at a future date of her choosing. The longer she waits the bigger the payments.

Call the Office of Planned Giving at (619) 260-4523 for more information on how you can make a similar gift to USD.

This is not legal advice. Any prospective donor should seek the advice of a qualified estate and/or tax professional to determine the consequences of his or her gift. The California Life Insurance Guaranty Association does not back up payments of annuities.

Corporate and Professional Education
Don't miss out on the alumni discounts offered through USD Corporate and Professional Education. Ensure you remain competitive, sharpen your skills and garner new knowledge through a variety of professional development and personal enrichment programs. This month's programs are listed below:





Join us for one of these continuing education oppotunities!



If you are having trouble viewing this email please click here for the online version of the Alumni e-newsletter.