Initiative to Protect Student Veterans
The USD Initiative to Protect Student Veterans joins the efforts of military leaders and elected officials to educate and protect our military veterans from the misleading practices of some for-profit educational institutions and lenders.  The Initiative's multi-pronged approach includes research, advocacy and the Veterans Legal Clinic.  The Initiative is made possible by the financial support of a family foundation interested in veterans' education issues. 
Robert F. Muth, Supervising Attorney and Adjunct Professor of Law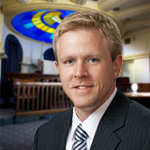 Robert F. Muth is the supervising attorney for the Veterans Legal Clinic.  Recently, he was a litigation associate at Godes & Preis LLP, a civil litigation firm with offices in Orange and San Diego Counties.  Previously, Muth was a Captain and Judge Advocate in the U.S. Marine Corps, serving in Iraq and Camp Pendleton in San Diego.  While deployed, he served as the Senior Defense Counsel for the Marine Corps in Iraq.  Muth was named the Defense Counsel of the Year in 2008-2009 by the Navy-Marine Corps Trial Judiciary, Western Judicial Circuit.  The Evans Scholars Foundation named him 2002 National Leader of the Year.  He earned his BA in 2002 from Northwestern University and JD in 2005 from Duke University School of Law.
Robert C. Fellmeth, Price Professor of Public Interest Law
Professor Fellmeth is responsible for the Initiative to Protect Student Veterans' efforts on both the state and national level to raise awareness of the issues related to veterans' education and to propose changes in current law and regulations to protect future abuses.  Prior to joining the USD School of Law faculty in 1977, Fellmeth was an attorney with the Center for the Study of Responsive Law in Washington, D.C. from 1968 to 1973, and was one of the original "Nader's Raiders, investigating the Federal Trade Commission in 1968.  He served as a deputy district attorney for San Diego County and as an assistant U.S. Attorney for the U.S. Department of Justice in San Diego.  In 1980, he founded USD's Center for Public Interest Law and in 1989, he founded the Children's Advocacy Institute there.  Fellmeth chairs the Maternal and Child Health Access Foundation (city or state), serves on the boards of the National Association of Counsel for Children and First Star, and is counsel to the Board of Voices for America's Children.  He is the former California State Bar discipline monitor and chairs the board of the Public Citizen Foundation in Washington, D.C. He earned his AB from Stanford University in 1967 and his JD from Harvard in 1970."
Margaret A. Dalton, Professor of Law; Faculty Director, Clinical and Placement Education
Professor Margaret A. Dalton is the faculty director of Clinical and Placement Education, supervising attorney for the Education and Disability Clinic and affiliated faculty with the Center for Education Policy and Law.  She oversees all aspects of the USD Legal Clinics, which provides free legal services annually to more than 600 individuals.  Her work in special education law and legal training has been recognized with awards from the Law Library Justice Foundation, San Diego Volunteer Lawyer Program, State Bar of California and COMPASS Family Center.  She earned her BA, magna cum laude, from Immaculate Heart College in 1971 and a JD from USD School of Law in 1994.
Related Links