West Coast Conference 2020-21 Men's Basketball Schedule Revealed
West Coast Conference 2020-21 Men's Basketball Schedule Revealed
San Diego men's basketball will open its 2020-21 West Coast Conference schedule on Thursday, Dec. 31 at San Francisco as the WCC announced the Toreros' full 16-game slate on Thursday.
USD is set to play two of its first three conference games at home and will close out its nine-week WCC schedule with back-to-back games in the Jenny Craig Pavilion in late February.

The Toreros will host three teams who were locks for the NCAA Tournament in 2019 before it was canceled due to the COVID-19 pandemic – Gonzaga, BYU and Saint Mary's – while other postseason contenders Santa Clara, Pacific and Pepperdine join LMU and Portland as the Toreros' eight home opponents.

USD hosts two of the NCAA Tournament-bound teams to open the home portion of its conference schedule. The Toreros face BYU on Saturday, Jan. 2 for their second WCC game of the year and then play host to Saint Mary's five days later on Thursday, Jan. 7.

The Toreros host defending conference champion Gonzaga on Thursday, Jan. 28, a few days after USD's spring 2021 semester begins.

In addition to BYU, Saint Mary's and Gonzaga, USD faces Santa Clara (Jan. 16) and LMU (Jan. 30) in weekend home contests in January.
Over the course of three weeks from mid-January to early February, San Diego plays four of its six conference games at home, culminating with a Feb. 6 contest against Pacific.

From Feb. 13-20, the Toreros will play three straight road games in the seven days: at BYU on Saturday, Feb. 13; at Santa Clara on Thursday, Feb. 18; and at Gonzaga on Saturday, Feb. 20.

The Toreros then close out the regular season with back-to-back home games against Portland (Thursday, Feb. 25) and Pepperdine (Saturday, Feb. 27).

The 2021 WCC Basketball Tournament is scheduled for March 4-9 at the Orleans Arena in Las Vegas.

As announced in June, USD will not host San Francisco nor travel to Saint Mary's as part of the WCC's 16-game format within the WCC Men's Basketball Enhancement Plan, which was established prior to the 2018-19 season.

The 16 conference games are a portion of the USD schedule for the upcoming season. The full non-conference slate will be announced at a later date.
USD will continue to follow local, state and federal health regulations in determining attendance at home games this season due to the ongoing pandemic. More information regarding fans and protocols inside the Jenny Craig Pavilion will be released at a later date.
In September, the NCAA announced the official start date to the 2020-21 college basketball season will be Nov. 25. Teams can schedule 24 regular-season games and participate in one multiple-team event that includes up to three games; 25 regular-season games and participate in one multiple-team event that includes up to two games; or 25 regular-season games if a team does not participate in a multiple-team event.

The Toreros, under third-year head coach Sam Scholl return six letterwinners and feature nine newcomers. Yauhen Massalski and grad transfer Josh Parrish represent the senior class.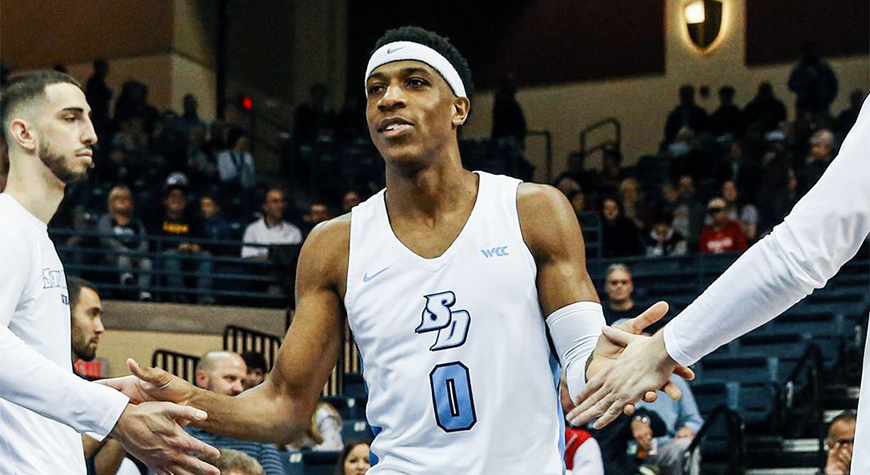 Post Contact
Chris Kutz, Associate Athletics Director, Strategic Communications
ckutz@sandiego.edu
(619) 260-7930