Soccer's Amber Michel Receives WCC Sportsmanship Award; Heading to Iceland
Soccer's Amber Michel Receives WCC Sportsmanship Award; Heading to Iceland
Outgoing senior goalkeeper Amber Michel '20 has received the West Coast Conference's Female Sportsmanship Award, it was announced on June 15.
Michel was honored by the conference for exemplifying sportsmanship throughout the year through integrity, honesty and the constant support of her teammates. A primary example was when Michel met with head coach Louise Lieberman and her staff prior to the final home game of the 2019 campaign. She agreed to let her fellow senior goalkeeper play the entire first half, despite her consistent starting role. The Toreros went on to win against Pacific, 1-0.
"Amber is one of the most phenomenal people I have ever coached, and I feel incredibly fortunate that she was a member of our team," said Lieberman. "She is a teammate that asks what she can give, instead of what she can get."
"It was obvious from the day I met Amber that she possessed all the leadership qualities required to help steer our ship progressively towards our goals."
This marks the third WCC accolade Michel has earned during her senior year campaign, after being named the WCC Goalkeeper of the Year and being an All-WCC second-team selection.
A four-year starter, Michel finished her intercollegiate career by rewriting the record books and stands alone as San Diego's all-time saves leader. She also graduates as a three-time captain and a United Soccer Coaches All-West Region second-team selection.
Read more about Michel, who is headed to play soccer professionally in Iceland.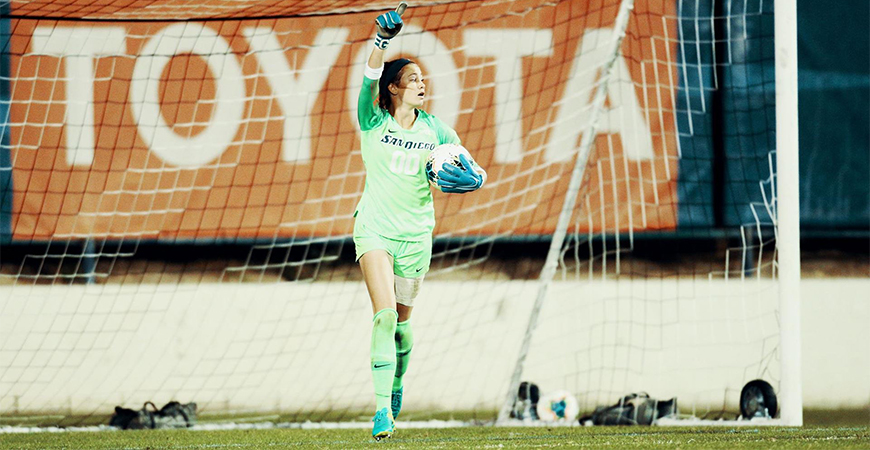 Post Contact
Amanda Roussin, Assistant Director, Strategic Communication
aroussin@sandiego.edu
(619) 260-2323