Student Training Opportunities
Mini-Workshops
During the summer months and early Fall semester, Project TeamUP faculty and community partners provide a series of mini-workshops to CMFT and HSON students on a variety of behavioral health topics. For the 2019-2020 academic year, these mini-workshops covered topics, such as: working with linguistically diverse communities, behavioral health provider bias, school-based mental health counseling, accessing local community resources. 
Case Simulation Events
Case simulation is a well-established training method in medical education, but is under-utilized in behavioral health professions. Project TeamUP, in collaboration with USD's Dickinson Nursing Simulation Center, has developed innovative training events for students to practice their clinical skills in a safe and supportive environment. Students complete a series of clinical encounters with "Standardized Patients", actors trained to portray clients, and receive immediate feedback from instructors. We currently have a fully developed and piloted integrated care event and another focused on evidence-based practices for child and adolescent treatment. We have a Spanish-language counseling/therapy event in development.
"The integrated care case simulation was such a valuable experience because it provided opportunities to refine the assessment and diagnostic skills specific to integrated care settings. Behavioral health patient encounters during medical visits are often brief and this experience helped us develop the skills necessary to gather relevant patient information and provide concise, well-informed treatment recommendations to medical providers."
—Cara Pozun '19, MFT Graduate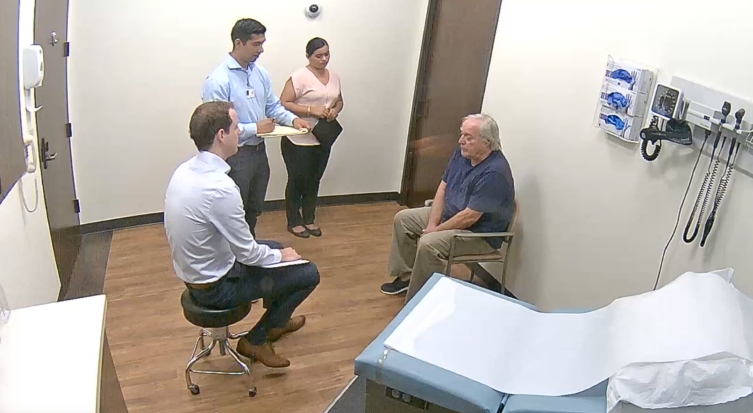 Spanish Language Course
This "Work at your own pace" online course is tailored to students who have at least a conversational level of Spanish fluency but struggle with the professional terminology we don't often learn and is so critical to providing effective counseling or therapy to our Spanish-speaking clients. The course covers important concepts like: initial client contact, informed consent, clinical intake and risk assessment, transdiagnostic techniques for the assessment and treatment of depression, anxiety, trauma, ADHD and marital distress.
Pláticas for Spanish-Speaking Students
Spanish-speaking CMFT students are invited to participate in these monthly pláticas. The aim of this student-led group is to build community and support for behavioral health trainees committed to providing counseling and therapeutic services to Spanish-speaking populations. If you're a student interested in attending or a Spanish-speaking community clinician interested in sharing your experiences with our students, please contact our student facilitators, Estefani Mejia (CMHC), 
estefanimejia@sandiego.edu
, Jazmine Rodriguez-Esparza (SC),
jrodriguezesparza@sandiego.edu
or Sergio Felipe Hernandez (MFT), 
shernandez@sandiego.edu
.
"Being a first-generation bilingual Latina student has been a beautiful and challenging journey. I learned to seek out spaces that make me feel included and that provide me with resources to help me succeed. Platicas has provided this for me and more. It has allowed me to aspire for more, to believe in my worth as a bilingual counselor, and connected me with other bilingual professionals in the mental health field. I am grateful to Platicas and look forward to empowering my future clients as a professional counselor."
—Jazmine Rodriguez-Esparza, School Counseling Graduate Student, Class of 2020