Sustainable Toreros
We want to celebrate students, faculty, and staff who participate in sustainable behaviors at work and in their personal lives. Do you know someone who composts for their office, uses alternative transportation, encourages others to bike or take public transportation, creates a reuse, recycling, and zero waste culture, works towards energy efficiency or water conservation? Whatever their sustainable behavior is, we want to recognize these individuals working towards a better local and global environment!
Please contact us at sustainability@sandiego.edu if you know someone that deserves recognition for their sustainable practices.
Geneva Lee
Teacher, Manchester Child Development Center
In her role at USD, Geneva takes great pride in sustaining and cultivating USD's edible community garden (behind Mission Crossroads). What's really cool is how she rolls that passion into teaching moments with the young students at MCDC. Geneva leads regular class fieldtrips to the garden to teach the kids about weeding, planting, harvesting, checking out worms, slugs and bugs, and just simply getting down and dirty with nature. The lessons learned in the garden are far more than any classroom instruction could give for this type of sustainability. She and the kids are hands-on and having a blast while gaining an appreciation for our outdoor resources. The positive impact she leaves on these impressionable minds (and their families!) will be lifelong – fostering a sense of community, gaining a respect for natural resources and reaping the benefits from our well-cared for earth while caring for our common home.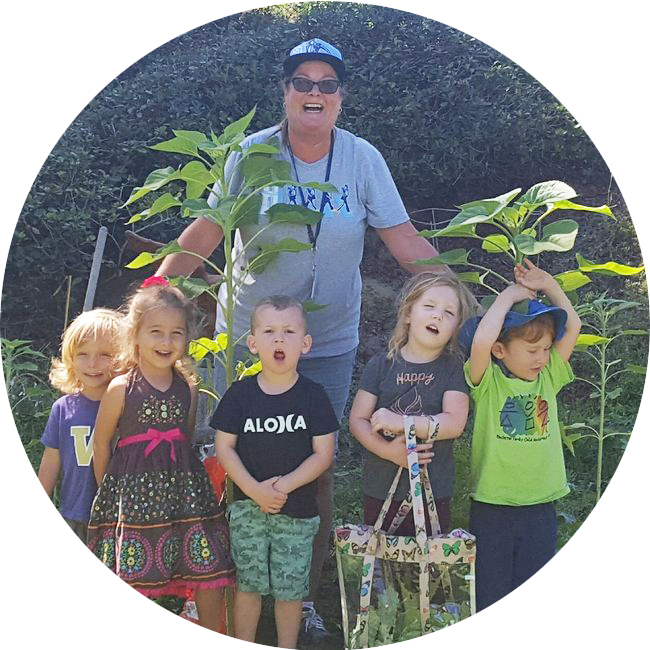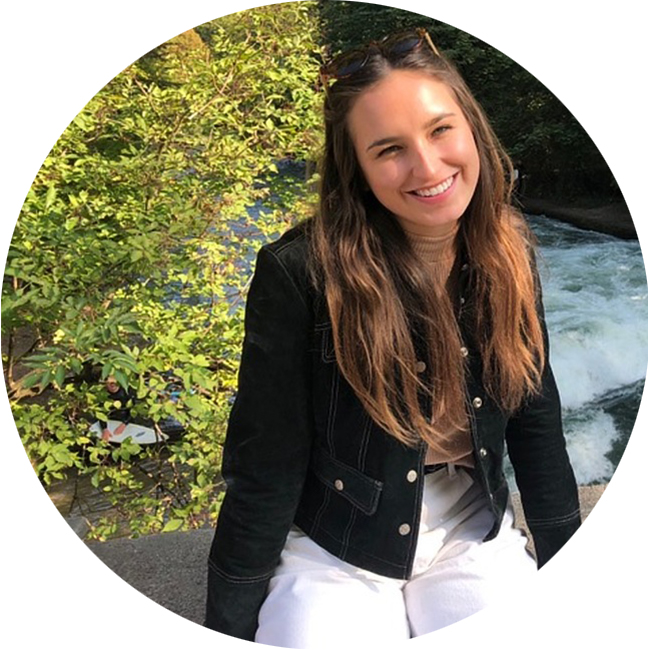 Katherine Stolin
BA, Business Economics | 2020
Katherine consistently practices sustainability while also encouraging her peers to adopt the same good habits. Katherine is the President and co-founder of USD's Fair Trade Club that organizes events and meetings to spread awareness of our responsibility as consumers to purchase products that are ethically and sustainably sourced. She has proven to practice what she preaches by only working for ethical companies in positions geared towards analyzing supply chain in order to significantly cut carbon emissions and waste. Her two internships in sustainability have been with Genesis Fair Trade and Dr. Bronners. In terms of personal responsibility and creativity, Katherine excels with ideas such as cutting bedsheets into small squares to use as washable, reusable napkins. Knowing that the average American uses 2200 napkins each year, she has inspired our house of 6 girls to eliminate use of 13,200 napkins/paper towels during our 1-year lease. 
Taylor Ulrich
Executive Assistant, Undergraduate Admissions
Taylor Ulrich has been practicing, promoting, and inspiring sustainability at work since she started her role last fall. Prior to Taylor joining the Admissions team, colleagues would cycle through numerous disposable cups and silverware per day. However, since the day Taylor started, she slowly introduced easy alternative methods for the rest of us implement in our daily routines so that we can all help make a difference in our environmental footprint. Now, the entire Graduate Admissions team has a reusable ceramic coffee mug that we can wash and use the next day – no more throwing out countless cups! Taylor also purchased a set of forks, knives, and spoons for the office which resulted in a decrease of discarded plastic utensils. Taylor has also encouraged policies and procedures to reinforce office related sustainability efforts. We now power down our computers when departing for the day, or switch over to energy saving mode on electronics when heading out to lunch or a meeting. Taylor has made a huge impact on our office's sustainability efforts.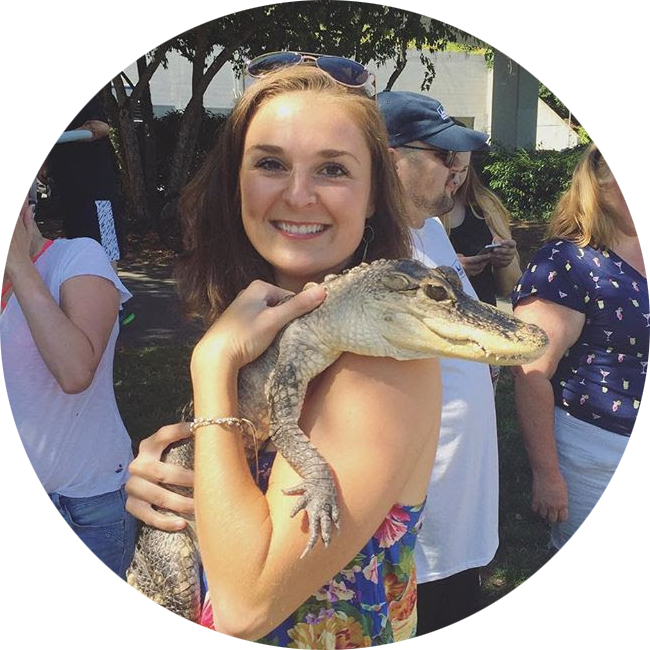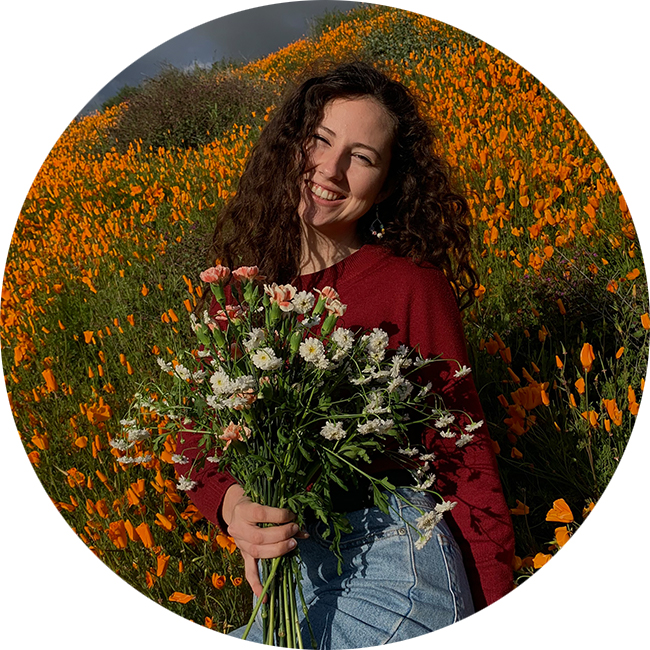 Savannah Robledo
BA, Environmental Studies | 2022
Savannah is a vegan queen. She lives for being sustainable. She wants to have a career in making the world more sustainable. She loves to recycle and enjoys making the world a better place. She is also a member of Be Blue Go Green, the sustainabilty student org on campus. She buys most of her clothes through second-hand stores. She is always encouraging others to use reusable products and to be more conscious of meal choices and how they impact the environment.
Claire Graziano
BA, Environmental Studies | 2021
Claire Graziano is the Eco-Resident Intern at the Office of Sustainability. She is dedicated to educating others about sustainability by giving them easy steps they can take to live more sustainable lives. She has certified 46 students as eco-residents through her work at the Office of Sustainability in the last year. In addition, she is improving sustainability within the ROTC program.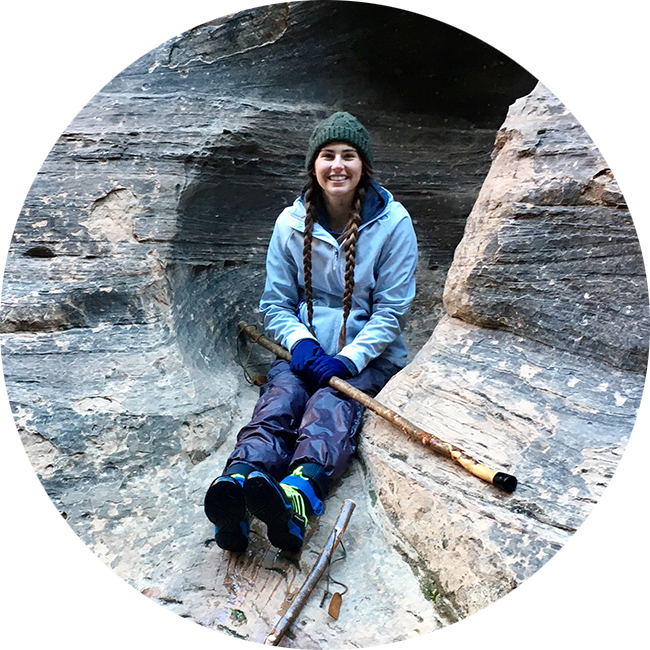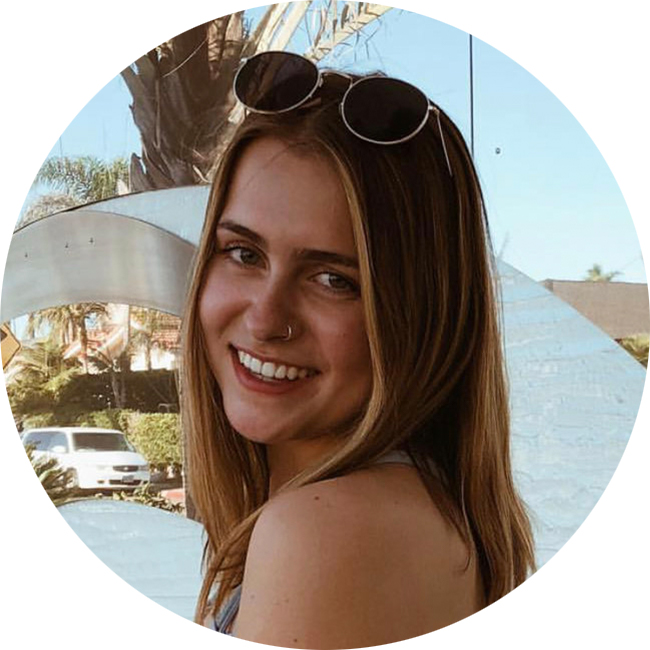 Kate Curran
BBA, Marketing | Minor: Environmental Studies | 2021
Kate Curran is a dedicated environmentalist whose practices influence the people around her to become involved with sustainability as well. Kate and I work together in our non-affiliate student club known as "Sustainable Students Association" and her leadership skills, ideas, and commitment to her work are unmatched. Kate is VP of our club and works to create meetings with Dining Services and the Office of Sustainability. Kate helps to maintain communication between our club and different orgs on campus as well as different departments. Kate works for the Office of Sustainability as a marketing intern. Kate's sustainable commitment is not reserved solely for environmentalist groups, because she actively promotes her lifestyle through her sorority and friendships. Kate has given presentations to her chapter, Kappa Delta, about the importance of sustainability: living green, cutting back on meat, avoiding plastics etc. Kate is what it means to be an environmentalist, not just because she is vegan and uses reusable bottles, or the fact that she is a leader in multiple realms of environmental activism on campus-- Kate is a leader of the environmentalist movement because she brings others into the conversation and inspires them to care as much as she does through her kindness and genuine love for the Earth. Kate Curran is my hero and is changing the way people on campus practice sustainability through her leadership.
Jessica Blandón
MA, Peace and Justice | 2020
Jessica works with the Office of Sustainability on campus. She is always talking about interesting eco events happening in the community, and she provides tips on how to be more sustainable in our classes. Her commitment to sustainability is seen through her posts via social media and informal discussions in the ideation station at the Kroc School. She is a great role model and reminder to think consciously about the choices we make in our daily lives.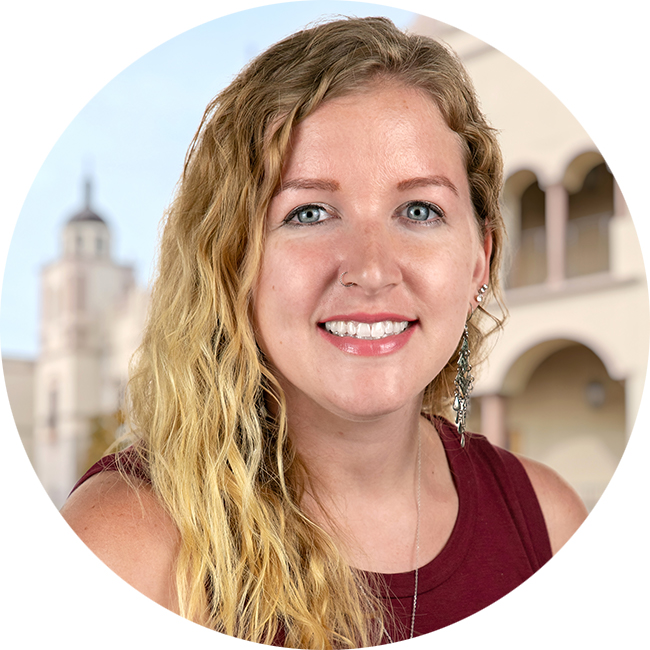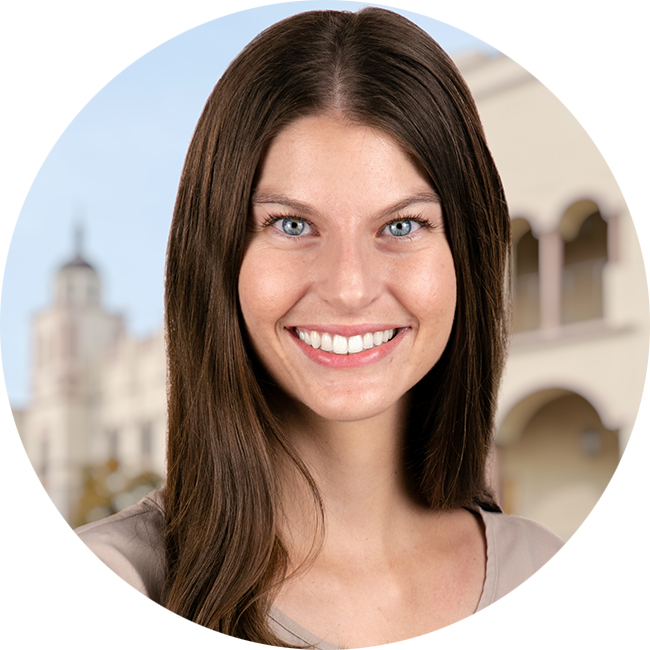 Nicole Munoz-Proulx
MA, Peace and Justice | 2020
Nicole is always going out of her way to share environmental issues with our cohort at the Kroc School. She is always sharing events with us related to sustainability or climate change, trying to engage her peers at school on these topics. I also believe in her personal life she practices sustainability and promotes its importance.
Avery Zink
BA, Behavioral Neuroscience | Minor: Gender Studies | 2021 
Avery is very passionate about the environment and is always challenging her fellow staff members to utilize sustainable practices within our programming. Avery has challenged us to think about the utensils we use when serving food, the need or lack there of for stylophone products, and the value and importance of recycling. Avery often displays bulletin boards that are educational around sustainable practices and is overall committed to advancing more sustainable practices within our work in Residential Life.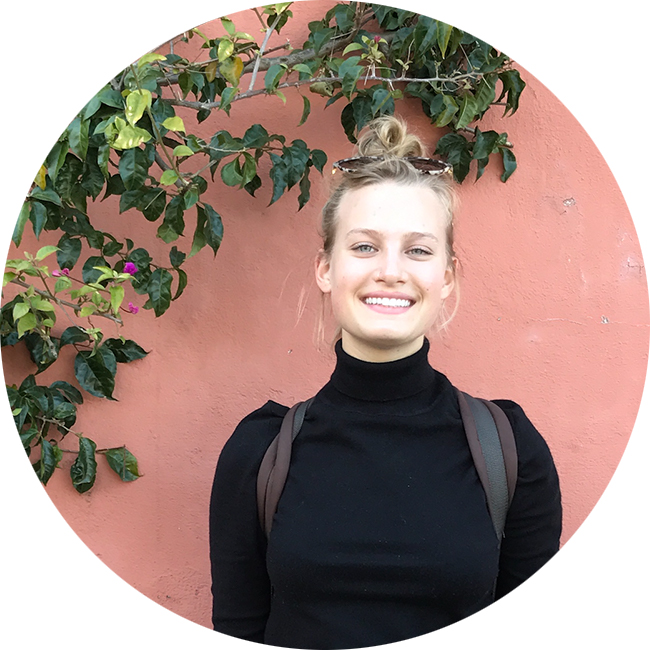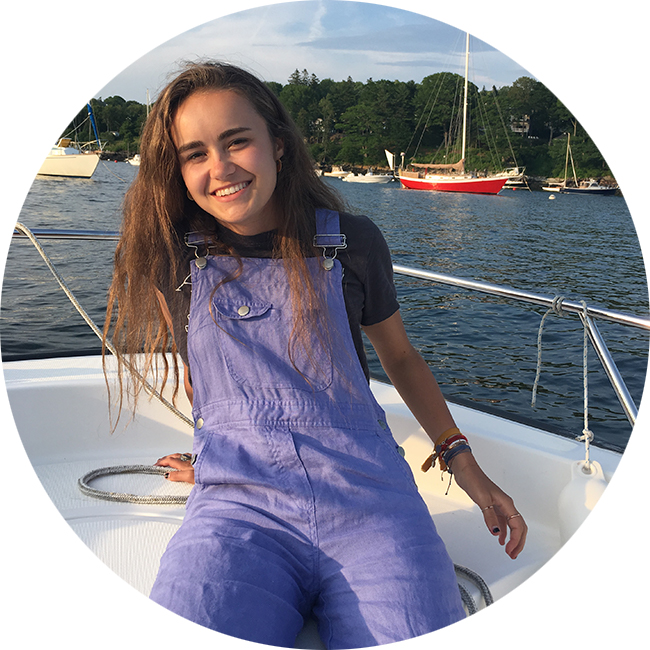 Mia Westphal
BA, Environmental Studies | 2021 
Mia promotes sustainability in every aspect of her life. She encourages and teaches her roommates to compost, recycle, cut down on single use plastic, become more zero waste, and make eco-friendly eating choices. She is the Vice President of Be Blue Go Green, where she puts on creative and engaging programs for the USD community. She is also interested in always bettering herself and participated in yearly sustainability audits from the Office of Sustainability. She uses this information to take a critical look at her own practices and ways she can improve. She cares about the environment and she successfully gets the people around her to care too.
Lexie Rollings
BA, Psychology | Minors in Environmental Studies & Sociology | 2021 
Lexie Rollings is an inspiration because of her passion and drive for environmentalism. Lexie created a petition in Spring 2018 to hold USD accountable for its claims to recycle and compost. Through that petition, she put together a team of students passionate about bettering USD's sustainability. She spearheaded their campaign to work with dining to remove the compost bins, as the contents were not being composted and instead directed to the landfill, and get better bins and signage to help educate USD students and staff on what can and cannot be recycled. Not only does Lexie advocate for sustainability on USD's campus, but she consistently goes to the beach and cleans up trash and promotes living a greener, zero waste lifestyle on social media and to her friends and sorority. Lexie Rollings is one of the most passionate people I have met, which is why I have nominated her as my sustainability hero.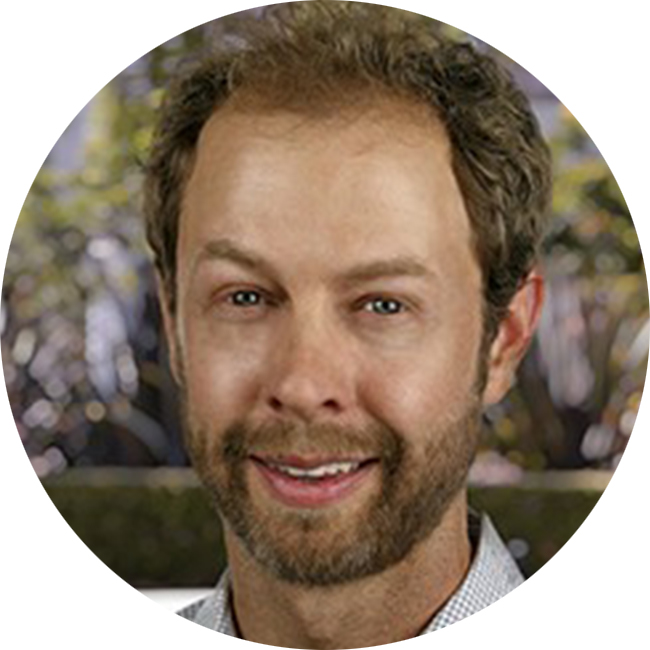 Daniel Codd
Assistant Professor, Department of Mechanical Engineering
Daniel is currently teaching, mentoring and advising engineering students. His active sustainability efforts include the development of a new "Solar Energy Conversion and Storage" course as this spring semester at SMSE, and collaborative research developing a hybrid solar energy converter with USD undergraduates and alumni (the prototype device on the roof of Loma/BEC was featured in last year's USD research week). He also partnered with USD EPIC law faculty and other SMSE faculty to support the Southern California Energy Innovation Network as a technical advisory board member, providing energy efficiency and renewable generation expertise to San Diego regional startups. Lastly, he retrofitted a classic 1930s home with inconspicuous solar heating and power systems.
Kiyonna Navarro
Executive Assistant, School of Leadership and Education Sciences
Kiyonna has continued to become a sustainability "go-to" for colleagues in SOLES looking for advice or guidance on how to make events more sustainable. She co-facilitated a successful event with this topic in the fall and continues to model sustainable practices in event planning on both small and large scales. More generally she has become a pillar of stability for the SOLES sustainability committee and has elevated the committee's work with her energy and efforts.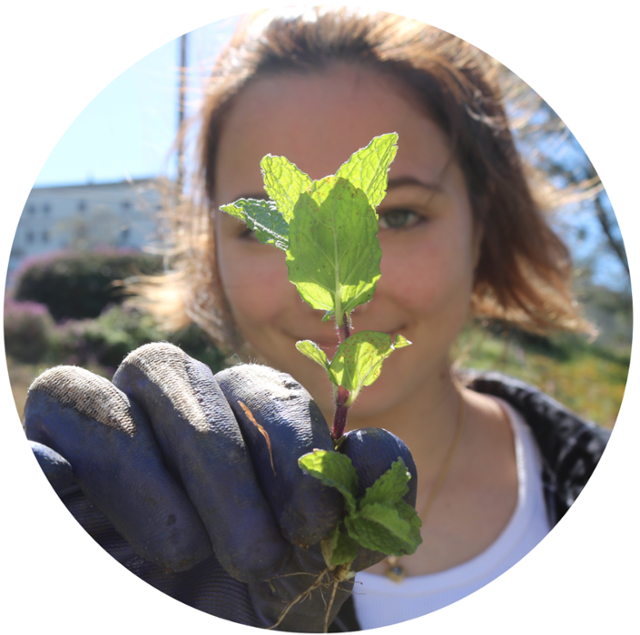 Gianna Peterson
BA, Environmental Studies & Changemaking | 2021 
Gianna is an Environmental Studies major who lives a lifestyle that aligns with sustainable practices.  She is well educated when it comes to environmental issues and the impact of our individual and collective behaviors, systems and policies. When she's not working with the Office of Sustainability, she reaching out to student orgs to implement talks about the environment and to friends on how to be more conscious of the environment. She has inspired me and so many other students through her actions, dialogue, and passion for sustainability. She organized a Climate March on campus at the end of April. The gathering consisted of a professor speaking and different campus organizations tabling and providing information and resources on the issue of climate change to participants. The point of the march was to raise awareness on campus for the issue of climate change and show our institution as well as our community that students want both action and accountability.
Truc Ngo, Ph.D.
Professor and Chair, Department of Industrial & Systems Engineering
Dr. Ngo has pioneered the integration of sustainability into engineering program curriculum within USD's Shiley-Marcos School of Engineering since 2013. She has developed course materials and program concentration to provide career paths for students to pursue the field of sustainability in industry. Her research projects also take on a sustainability and climate change focus, where she and her students work to develop products, materials and processing solutions to address climate issues on a global scale. Working with students and international collaborators, Dr. Ngo has traveled to the Dominican Republic to implement successfully several of her sustainable engineering solutions to help improve people's lives in the region. Dr. Ngo and her Sustainability in Engineering class have worked with different offices and departments at USD to find ways to improve the sustainability of their operations, processes and services. These projects have not only helped students become aware of routine operations around campus, but have given them the opportunity to improve sustainable practices around their college campus.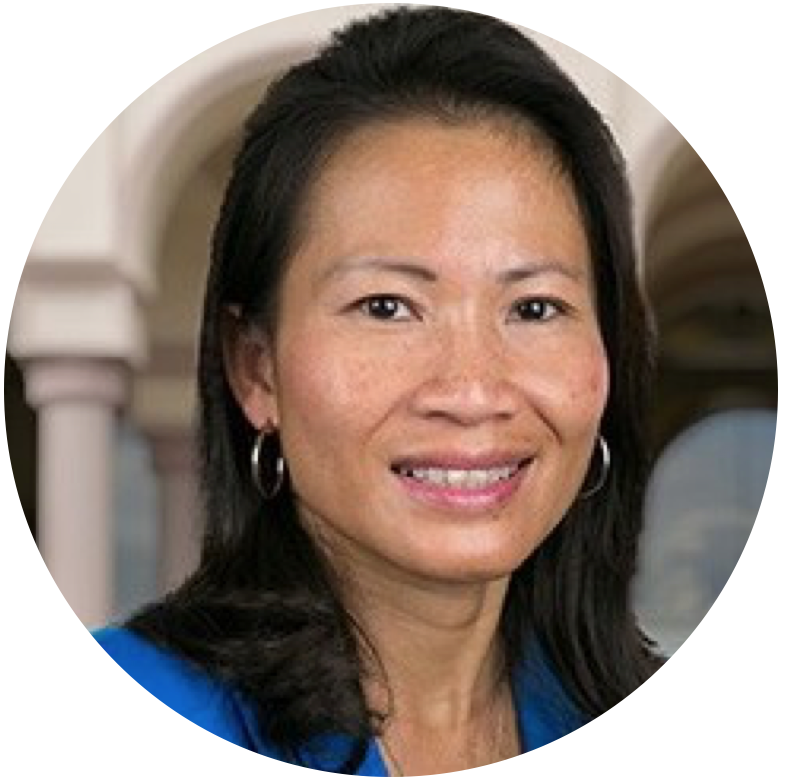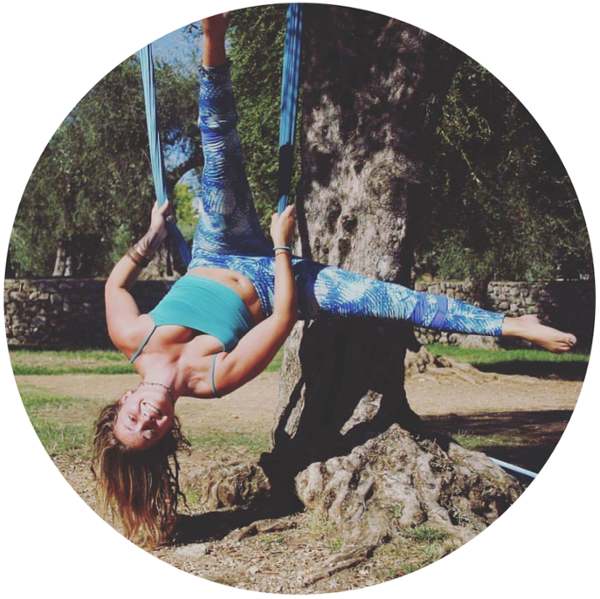 Leah Bethany Gage
MA, Peace and Justice | May 2019
Leah has been a relentless champion for integrating sustainability into the culture in Kroc Institute for Peace and Justice (KIPJ) and in her master's program, as it is an component to her academic program and the values of USD. She met with numerous faculty and staff around campus to get their input and guidance on how to most effectively get a sustainability committee started in KIPJ and/or finding more opportunities for KIPJ graduate students to access professional development and internship opportunities that are centered around sustainability. She has put an incredible amount of effort into creating systemic and organizational changes.
Chris-Marcus Kitchings
MA, Higher Education Leadership | 2019
Chris-Marcus was able to collaborate with The Office of Sustainability to add a Sustainable Living section to USD's webpage for commuter students. This is something that he was particularly excited to add because of the wide reach it has on both current and future Toreros! In his personal life, Chris-Marcus tries to use reusable items to cut down on the amount of plastics he is consuming and recycles all disposable plastic items. His latest effort is switching over to reusable straws and being conscious about not accepting them from fast food and quick-service restaurants. Along with his supervisor, he hopes to begin taking steps towards making the Commuter Commons a zero-waste space. 
Hannah Phelps
BA, Environmental Studies | 2022
Hannah is a co-founder of ECOLLEGEY, a blog for college students looking to live more sustainably.  While gearing up for her college move, Hannah was surprised by the lack of resources and tips specifically written for college students.  Instead, she found beginners advice like "bring your own water bottle" and "don't use plastic utensils".  So she founded ECOLLEGEY with a friend, to help college students access tips and informationally specifically tailored to the unique experience of being a student.  Hannah is a huge proponent of thrifting, tries to carpool as much as possible, limits using single-use plastics, and is mindful of her energy and water consumption. She encourages friends to do the same and is the Marketing Chair for the Be Blue Go Green student organization.